Boxing Betting Odds – Vegas Odds

The popularity of betting of boxing is sky-high these days and shows no sign of slowing down. There are more and more online gambling sites available every day looking for your money. That makes it a great time to gamble on learn how to read boxing odds before placing a bet online. That means that it is essential for punters to understand what each of the betting markets entail, and what is required for a winning bet.
Boxing and gambling have always gone hand in hand, and betting on boxing is quite entertaining. Before laying your next boxing wager, you'll want to be sure you know all of your options. I am here to help with just that and have done the research for you, so let's go over all of your options when placing a wager on boxing.
These are the latest boxing bouts you can check Vegas Odds for:
Boxing Betting Odds
Top Boxing Betting Sites in 2021:
These are the best sportsbooks that we recommend as of 2021 based on bonuses, odds and overall betting experience:
#1
First Deposit Bonus
50% UP TO $1000
US Players Accepted
Promo Code: BOL1000 (Minimum Deposit: $55)
#2
First Deposit Bonus
50% UP TO $1000
US Players Accepted
Promo Code: SB1000 (Minimum Deposit: $55)
#3

First Deposit Bonus
125% UP TO $3125
US Players Accepted
Promo Code: JOIN125 (Minimum Deposit: $100)
#4
First Deposit Bonus
50% UP TO $250
US Players Accepted
Promo Code: VEGASODDS
#5
First Deposit Bonus
100% UP TO $1000
US Players Accepted
Promo Code: VEGASODDS
Tips to Win on Boxing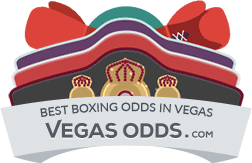 There is not one way that punters are guaranteed to win on their boxing bets, but there are steps that can be taken to ensure that punters have the best possible chance. The initial stage that comes before placing a bet on boxing is fundamentally the most important and ensures that the bet that is made has the best possible chance of being a winner.
It is essential that the punter has researched thoroughly before placing a bet as if they have just gone into betting aimlessly, then they could be placing a wager on the completely wrong aspect. It's better to be well-read on the subject, and that's where the punter can stand the best chance of winning. Here are some of the tips that all punters must follow to ensure they have the best possible chance of a winning bet.
Tale of the Tape- Before every big boxing bout, the tale of the tape would be stretched across everything that covers the bout. This will offer punters a heads up on which fighter is taller and which one of them weighs more. Both are important aspects, but the most important is the reach. The reach advantage in boxing is massive and could be the difference in how a bout may play out.
Record- The first thing that punters must examine is the record of the fighters that are involved. Are they undefeated? How many fights have they won by knockout? Have they gone the distance? All are essential aspects that should be considered before placing a wager.
Head to Head- If the fighters have fought before, then, this would be an immediate point of call for punters. Re-watch the previous fight and see whether any patterns could offer you a route to a lucrative return.
Venue- The final aspect that punters should consider in the research is where the bout is taking place. Home advantage can be significant for fighters as they will be cheered on by the fans. Consider this before placing a bet.
Boxing Odds Explained – How They Work
Betting Market: Moneyline
The Moneyline wager is the simplest and most popular way to understand how to read boxing odds. All you have to do is pick the winner. Of course, nothing in sports gambling is that simple. When wagering on a boxing Moneyline, you are playing against the odds, and before placing the wager, you'll need to weigh the risk versus reward that the odds offer.
For instance, heavy favorites are easy to pick. However, heavy favorites will not pay out well due to their odds. Taking underdogs can pay out much better. But, of course, they won't win as much. This is what makes the wager interesting.
The best way to approach a simple wager is to keep it simple. If you have the winner, take that wager. You'll quickly learn when the odds become too long, making the bet not worth your time or money.
Betting Market: Round
The Round boxing wager is very similar to betting the Moneyline as it is another simple wager to place. All you are doing is picking the winner, just like the Moneyline, and the round the bout will end.
Obviously, the round boxing wager has much better odds than the Moneyline wager as the degree of difficulty is kicked up a notch. Having the winner and going the distance is one of the more popular bets with a round wager. However, it will not pay back as well as many other round bets. Although, it will pay better than a simple Moneyline wager.
The key to this wager is knowing your fighters. Some fighters are great knockout artists. However, others are adept at not being hit and outlasting their opponents, and therefore are more accustomed to winning on points. Understanding the strengths and weaknesses of both fighters is essential. It takes two to tango, and two to box. Liking one fighter is fine but knowing both is the critical element to winning boxing wagers such as this.
Betting Market: Group Round
A different version of the round boxing wager is the group round betting market. For this wager, you don't have to pinpoint the exact round when the fight ends. Instead, the rounds are divided up into groups. For example, rounds one through three are group one. Rounds four through six are group two.
Rounds seven through nine are group three, and the remaining rounds are group four. As you can see, it is a little easier than the round betting market. You just need to pick the winner and the round group when the fight is won. The odds and payouts are not quite as good as with the round wager, but still much better than the usual Moneyline bet and could offer a good insurance rather than having just the one round.
Betting Market: Method of Victory
Another very popular boxing bet can be found in the method of victory market. This bet also starts with picking the winner. However, you will also select the method of victory. This is either by KO, TKO, Disqualification, Decision, or Technical Decision.
The combination of these two outcomes makes for some excellent odds and payouts. For some events some online sportsbooks can also increase the stakes, so punters can predict the winner, method of victory, and the round in which the bout will end.
This wager will give you some of the best payouts for a boxing wager and for good reason. There are numerous ways as to why a fight can end, and predicting which one will happen can be very tough. Of course, you have to know the fighters, their approaches, and their strengths. As well as, their defensive strengths. This is a wager for seasoned gamblers with plenty of boxing experience.
Betting Market: Total Rounds
The total rounds wager is an over/under bet for boxing. In other sports, the over/under market is reserved for the total points scored in a game. Here in boxing, it is for how many rounds the bout goes. The sportsbook will set the number of total rounds fought, and you pick either less or more. The number is always set with a .5 to take away any chance for a push on the wager.
For instance, your sportsbook sets the over/under at 7.5 rounds for an upcoming fight. So, if you think the fight will go seven rounds, or less so you bet on under. If you think that the fight would end in the 8th or after, you'd take the over.
Again, the key to this wager is knowing both fighters and how they box. Is one of them a hard hitter? Is one a bleeder who cuts easily? You'll need to be concerned about anything that can end a fight and if the fighters can deliver.
Betting Market: Fight to Go Distance
One of the most straightforward boxing wagers to understand when learning how to read boxing odds is this market. For this wager, you simply choose if the fight is going to go the number of rounds allotted or end beforehand. This is a simple wager on yes or no.
If you think the fight will last until the final round and end in a decision, you will place a bet on 'yes.' If you think a knockout will end the bout, you will place your wager on 'no'.
The odds for this wager will vary wildly depending on the fighters involved. This wager is a total rounds bet where you took the over, and the fight has to last until the final bell. Just like any boxing wager, you need to know your fighters. And with this wager, you'll need to know the defensive strategy. Many fighters have a plan to go the distance and try to win on the scorecard. Some, of course, are better at this than others. Know the difference and know your fighters.
Betting Market: Will Both Fighters Be Knocked Down?
This has the potential to be one of the most lucrative betting options open to punters, but they should be aware of how rare this can be. This betting market is a simple yes or no. Punters will lay their stake on yes if they believe that both fighters will be knocked down during the fight. The option of no has incredibly low odds due to the rarity of this happening.
Punters should be aware of all the divisions in boxing before placing a bet on this market and identify the ones where this could be a realistic chance. The most common of which is in the heavyweight division. These bouts can be changed by one punch.
That was evident during the Andy Ruiz Jr and Anthony Joshua bout in New York. Joshua knocked down Ruiz in the opening rounds before Ruiz knocked down Joshua twice on his way to a seventh-round victory. If a punter would have placed their stake on yes for this bout, then they would have won the bet. It isn't common even in the heavyweight scene, but it remains the most likely division for punters.
Betting Market: To Be Knocked Down and Win
Like the prior mentioned market, this betting option could also be incredibly popular and lucrative. That is because it is extremely rare for a fighter to get themselves back off the canvas and regain their composure to win a fight. The Joshua/Ruiz bout was a good example of just how rare it is.
Punters would be able to place their wager on either fighter successfully doing this, and it could be the most lucrative way to bet on the favorites. The odds for this market would be a lot higher than the Moneyline and could offer an interesting betting avenue once the punters have read through the recent records and performances of both fighters.
Much like the previously mentioned market, this is also much more common in the heavyweight division than it is in the others. That is because, lightweight fighters and welterweight fighters are more accustomed to fighting tactically and are prepared to win on points, while heavyweight fighters always want to win with a big shot.
Betting Market: To Be Knocked Down
This has many similarities to the previous betting market that I spoke about, with the one crucial difference being that the fighter selected doesn't need to go on to win, and instead, they will just need to be floored at some point during the bout.
It is again a very common betting selection when it comes to heavyweight clashes, but there is value to be had in all divisions. That is especially the case when it comes to the fights where the best fighters are involved.
The punter would bet on one of the fighters to be knocked down during the bout. The bet is a winner as long as the fighter that the punter has betted on is knocked down. If the fighter selected doesn't get floored, then the stake is lost.
Betting Market: Gone In 60 Seconds
There are not many more emphatic displays in sport than a fighter knocking out their opponent inside a minute. It has become a trademark for certain fighters throughout their careers, which has seen their stock rise massively, and punters can bet on whether that will happen in upcoming bouts.
Punters have three options when it comes to this market. They can pick one of the fighters, or simply bet on either of the fighters winning inside a minute. The outsider on the Moneyline will have the higher odds, while the favorite will have the smaller odds. The odds on either fighter winning inside 60 seconds will also be lower than the Moneyline favorite since the punter would just need one of the fighters to win.
It could be a potentially lucrative selection for punters as the odds are typically pretty big for this to occur. That is especially the case for the bigger fighters, but it certainly isn't impossible, and anything could happen once the fighters square off in the middle of the ring. Punters should look at each fighter's knockout record before even becoming a little interested in this market.
Accumulator Betting
The most common way to maximize your returns when betting on the Moneyline is by adding multiple selections into a longer bet. The most common way of doing this is through an accumulator. Punters can select multiple bouts on the Moneyline and bet on a number of bouts. Each winning punt ensures that your bet stays alive.
However, if one selection should lose, then the bet in its entirety is lost, and so is the stake. There are other multiple bets that punters could take advantage of to ensure that they receive some money back. These can be found by using Lucky 15's, Yankees, or Trixies. Each will require the punter to have a different number of selections.
But, inside of these bets, the punter would have singles, doubles, trebles, and four-folds. If one selection wins, they will receive something, and the more selections that win; the more that the punter wins. It is a good way of ensuring some kind of returns. However, the punter will be required to place a larger stake on this bet to cover the necessary selections.
When to Bet on Boxing
Boxing bouts are made months before taking place, with some fights even booked a year in advance. For punters, these can sometimes be hard, as they would need to examine when the best time to place a wager on these would be. Betting on the ante-post market can be incredibly lucrative, but the same issues should also be looked at before betting.
The odds would change the closer that the fight gets, with the favorite likely to start at a higher price when the market is first set up on an online site. This could be the perfect opportunity to get maximum returns on the fight itself. However, punters should be aware of how much could change before the bout takes place.
Injuries could occur in training, which means the favorite may no longer be at their peak physical condition. This could have a damaging effect and could lessen their chances of winning the bout. This is an important aspect to be aware of before placing the bet, and it could have a damaging effect on your bet.
Latest Boxing Headlines