25 Highest-Paid Athletes in the World in 2020
The American magazine Forbes is famous for its lists of the richest people in the world. The lists are separated into many different categories, one of the most interesting is the Forbes' highest-paid athletes category.
As you've probably guessed it, this list ranks the world's highest-paid athletes in 2020. It's been like that for years, but 2020 is a special year for one particular reason – COVID-19. So while these entrants are far from the highest-paid athletes of all time, they certainly give 2020 a run for its money.
Due to the global pandemic, sports had to go on a lengthy break. With no sports, there are no prizes for elite athletes. At the moment of writing, some competitions still remain on hold, although we did see some major championships returning from the break, most notably the NBA.
Speaking of the NBA, the league is home to most people from the rich list, although most of them are not near the top. The sportsperson at the very summit of the list of 25 highest-earning athletes plays tennis for a living. That person's name is Roger Federer.
1. Roger Federer (~$106.3m)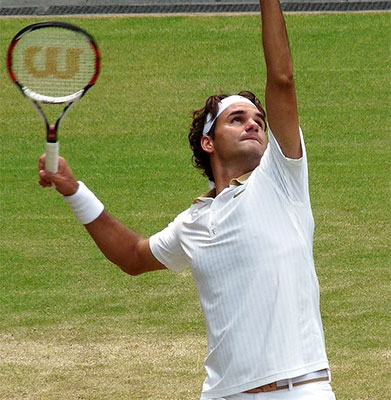 Roger Federer is the most paid athlete in the world as of August 2020. It's the first time he's ended up at the top of the rich list, even though he's been an elite tennis player for years. In fact, the 39-year-old Swiss won his first Grand Slam back in 2003.
In 2020, he hasn't earned too much from tennis, having played only at one tournament so far. The tournament in question is Australian Open, in which he reached the semifinal where he lost to Novak Djokovic.
He had probably planned to take part in the 2020 Wimbledon, but the tournament got canceled for the first time since World War II. The reason? COVID-19 outbreak. Actually, the outbreak put the entire world of tennis on hold for nearly half a year.
The coronavirus hiatus, however, did not affect Federer financially. His sponsorship deals with Rolex, Mercedes-Benz, and many other major brands will keep pouring millions into his account over the course of the next few years.
Thanks to these deals, Federer is the highest-paid athlete in the world, having thrown Lionel Messi off the throne.
2. Cristiano Ronaldo (~$105m)
Cristiano Ronaldo was the highest-paid athlete in 2018, before losing that place to his arch-nemesis Lionel Messi. The two soccer players failed to get to the top of the list in 2020, but both of them are still flying high.
CR7 is making a lot of money from his deal with Juventus. The 35-year-old is getting about $36.5m a year from the Italian club on a contract that expires in 2022. In addition, he's also getting millions from his personal deals with brands like Nike, DAZN, and Herbalife.
What this means is that we're going to see the Portuguese player on this list for at least a few more years.
3. Lionel Messi (~$104m)
Next on our list of top-paid athletes is Ronaldo's biggest rival, Lionel Messi was the highest paid athlete in 2019. He dropped to third place in 2020, but who knows what might happen before the end of the year.
The thing is that his contract with Barcelona expires next summer. If they want to keep their best player in the team, Barca's management will have to come up with an even better contract offer than the current one, which brings about $34m to his account annually.
4. Neymar (~$95.5m)
It's not surprising that Neymar is ranked so high in the rich list, knowing that his $263m transfer from Barcelona to PSG remains the highest transfer fee in sports history. Two years remain on his PSG contract, which brings him $70.5m per year.
In 2020, apart from his salary, Neymar has also cashed-in about $25m in sponsorship deals. The soccer star has deals with Nike's Jordan brand, Red Bull, Mastercard, and a few other major brands. That said, it's likely we'll see Neymar in the 2021 list as well. After all, he's only 28.
5. LeBron James (~$88.2m)
Although he's not getting any younger, King James is still one of the rulers of the NBA. He's having a fantastic season with Los Angeles Lakers in 2020, so it would be crazy to think he's going to retire any time soon.
The 36-year-old will earn a bit over $28m from his salary this year, while the rest of his fortune is going to come from endorsements. His $60m-worth sponsorship deals include those he has with Coca-Cola, Nike, Walmart, and so on.
6. Stephen Curry (~$74.4m)
The second basketball player in the rich list is Steph Currey of Golden State Warriors. Even though he's played only a couple of games in the 2019-20 NBA season due to a hand injury, his team still had to pay him his $30.4m salary.
Same as Lebron, Steph too makes most of his money from endorsements. Under Armour, Chase, Fanatics, and Callaway Golf are his main sponsors this year.
7. Kevin Durant (~$63.9m)
At the moment of writing, Kevin Durant is still without a single game played for Brooklyn Nets, the team he signed for in summer 2019. The reason? Ruptured Achilles tendon, an injury that has kept him off-the-court for more than 14 months.
Proof that trouble never comes alone is that while recovering from his injury, Durant contracted coronavirus. As a result, he had to stay outside the Orlando bubble during the NBA Restart.
Nevertheless, Durant's contract with Nets is such that he gets his pay no matter what. And his pay is $164m over the course of four years.
Apart from getting the money from the Nets, he also has several sponsorship deals, including the one with YouTube.
8. Tiger Woods (~$62.3m)
In 2020, the golfing legend has cashed-in only $2.3m from actually playing golf. The other $60m came from endorsements. Nike, Rolex, Monster Energy are just some of the brands he has endorsement deals with.
Since last year, Woods also has a deal with TaylorMade, a US-based manufacturer of golf accessories. As a result of the deal between the two parties, the Woods signature club was released. It's the first-ever golf club bearing his name. You can get yourself these clubs at the price of $1,999.99.
9. Kirk Cousins (~$60.5m)
The highest-earning NFL player in 2020 is the quarterback of Minnesota Vikings, Kirk Cousins. The 32-year-old is currently the player with the second-highest salary in the league.
He had the highest salary in the NFL for less than one month. Cousins' record was broken by Russell Wilson of Seattle Seahawks who signed a super-lucrative contract extension in April 2020.
So, why is Cousins placed higher on our list than Wilson? Because Cousins is making a few additional millions every year through his endorsement deals with Nike, Bose, Panini, and CenturyLink.
10. Carson Wentz (~$59.1m)
Just behind Cousins is another NFL quarterback. Philadelphia Eagles' QB Carson Wentz comes in tenth place with $59.1m in 2020. Same as his rival from Minnesota Vikings, he's also signed a lucrative deal last year. His contract will bring $128m his way over four years.
Another similarity between the two rival quarterbacks is that they're both sponsored by Nike and Bose. In addition to these two companies, Wentz also has endorsement deals with Amazon, NRG, Sanford Health, Bobcat, Scheels, and BlackRidge Bank
11. Tyson Fury (~$57m)
Gypsy King won his boxing heavyweight championship belt in February after defeating Deontay Wilder in one of the biggest sports events of the year. The win saw the undefeated pugilist cashing in about $26, which inflated his 2020 to about $57m.
The rest of his 2020 earnings comes from endorsements, as well as from his book deal. Around Christmas last year, his autobiography "Behind The Mask" hit the shells. The book was a major hit in the United Kingdom, selling more than 200,000 copies in the first couple of months since the publication.
12. Russell Westbrook (~$56m)
The eight-time All-Star player, who's been playing for Houston Rockets since last year, is #12 on the list of top paid athletes. This makes him the fourth-highest earning basketball player in the world.
Apart from getting a lot of money from Rockets through his salary, Westbrook has a few other sources of income. For example, he is the owner of several car dealerships in Los Angeles, one of which bears his name – Russell Westbrook Chrysler Dodge Jeep Ram of Van Nuys.
13. Lewis Hamilton (~$54m)
His sudden rise in the rich list started last year when he signed a new deal with Mercedes, which will bring about $40m into his bank account in 2020.
In addition to the Mercedes money, Hamilton also earns money from his sponsorship deals with eight other companies. This makes the British driver the most marketable person in the world of motorsports.
14. Rory McIlroy (~$52m)
The year 2019 was when McIlroy earned the most money of his career, after winning the Tour Championship and FedEx Cup. In 2020, he hasn't been as impressive, but millions of dollars keep coming to his bank account.
Aside from his on-course earning, he's also made a lot of money off-the-course. Thanks to his endorsement deals with Nike, Omega, and TaylorMade, he's currently the second-highest earning golfer in the world.
15. Jared Goff (~$49m)
Jared Goff has been playing the quarterback for Los Angeles Rams since 2016, but his contract extension from last year is what brought him up in the list. In 2019, he signed a four-year deal worth $134m, which means that the Rams will have to pay him up a quarter of that sum by the end of the year.
The remaining part of his $49m projected earning will come from his deals with Bose, BMW, Banana Republic, Nike, Pizza Hut, and Red Bull.
16. Conor McGregor (~$48m)
The Notorious has a sort of hot-and-cold relationship with the UFC, an organization that brought tens of millions of dollars to his account. In 2018, his defeat to Khabib Nurmagomedov at the UFC 229 event earned the Irish fighter about $50m according to his own admission.
After losing to the Eagle, McGregor stayed out of the Octagon for nearly two years before going toe-to-toe with Donald Cerrone in January this year. The fight saw him knocking-out the Cowboy after only 40 seconds.
Apart from getting his mojo back, the bout also brought McGregor a paycheck in the ballpark of $32. The rest of his 2020 income comes from his endorsement deals, as well as from the profits made by his whiskey distillery Proper No. Twelve.
17. James Harden ($47.8m)
The NBA's points-scoring machine is under the contract at Houston Rockets that brings over $40m a year. He also has endorsement deals with big multinational companies like Adidas and Amazon, which also add a few million to his account every year.
Harden is also one of the owners of the MLS franchise Houston Dynamo. This team, however, hasn't made much money in 2020 after failing to qualify for the playoffs of the MLS Is Back tournament.
18. Giannis Antetokounmpo ($47.6m)
The man who won the NBA MBP award the last year, and who is the biggest favorite for winning it this year as well, is the world's 18th highest-earning athlete.
Giannis Antetokounmpo's deal with Milwaukee Bucks runs out next year, but until then, he's going to make decent money, probably around $20m a year.
His vintage performances over the last two NBA seasons have put him on the radar of some of the world's biggest brands. So far, only three companies have managed to clinch an endorsement deal with Giannis, namely Nike, Hulu, and 2K Sports.
19. Anthony Joshua ($47m)
The current year hasn't been too exciting for AJ, considering that he had no professional bouts this year. He probably doesn't mind it too much, as the events from 2019 caused much more excitement than anyone expected.
It all started with a defeat to Andy Ruiz Jr., which is thought of as one of the biggest upsets in the history of boxing. Joshua did set things straight in December the same year. By getting his revenge, he also got a massive paycheck, worth $35m.
Still, Joshua's main source of revenue over the last couple of years has been his sponsorship deals with companies such as Under Armour, Jaguar Land Rover, and Hugo Boss.
20. Deontay Wilder ($46.5m)
He did lose his WBC heavyweight title after getting knocked out by Tyson Fury in February this year, but the bout brought the Bronze Bomber a lot of money he could wipe his tears with. It's estimated that he collected about $25m from this fight, which makes the biggest payday of his professional career.
More money is going to come his way from the same source as the third installment of the Wilder vs Fury fight is likely to happen. Even if it doesn't happen, Wilder will get his millions. According to the deal he has with Fury, the fighter that pulls out of the fight has to pay about $2.5m to the other one.
21. Tom Brady ($45m)
After spending two decades with New England Patriots, leading them to win six Super Bowls, Tom Brady moved to Florida this year. At the age of 43, Brady is a quarterback for Tampa Bay Buccaneers, after signing on a $50m+ two-year deal.
Even if he had decided to end his NFL career after being dropped by Patriots, he would still have nothing to fear for his future. At least not from the financial point of view. Given the fact that he has lucrative deals with Under Armour, Wheels Up, and IWC Schaffhausen, Brady is probably going to remain a multimillionaire for many years to come.
22. Drew Brees ($44.8m)
Another NFL legend has made the list of top earners in sports. The quarterback has been playing for New Orleans Saints since 2016, the team that pays him $25m per year under the current contract. Speaking of which, the deal made earlier this year also saw Brees getting a $23m sign-on bonus.
On top of having a lucrative contract with Saints, he also has several sponsorship deals. Brees has also invested money in various businesses over the last decade.
23. Novak Djokovic ($44.6m)
The year started very well for the Serbian player after he won the 2020 Australian Open, which brought him to the top of the ATP Rankings. Then, the COVID-19 outbreak came, putting professional tennis on hold.
Without any professional tennis tournaments to take part in, Djokovic has been relying on his sponsorship deals as the source of income. Some of his high-profile endorsement deals include those with Asics, Peugeot, and Lacoste.
24. Kyrie Irving ($41.9m)
Last summer, Irving signed a four-year deal with Brooklyn Nets, after leaving Boston Celtics as a free agent. According to his contract, Nets have to pay him over $30m annually.
His salary is not his only source of income. Irving has several sponsors, including 2K Sports, Nike, Panini, and Pepsi.
Speaking of Pepsi, the company made a commercial with Irving starring as Uncle Drew. It became so viral that they decided to turn it into a movie, giving Irving partial ownership of the character.
25. Phil Mickelson ($40.8)
Lefty is the world's third-highest-earning professional golfer. It's not surprising knowing that he's one of the legends of the sport, who's won 44 events on the PGA Tour so far. At the age of 50, he seems to have no intention of retiring any time soon.
In addition to making money on the court, he's been also earning millions from his endorsements. Some of his sponsors include Rolex, Heineken, and Callaway Golf.
Honorable Mention – Naomi Osaka ($37.4m)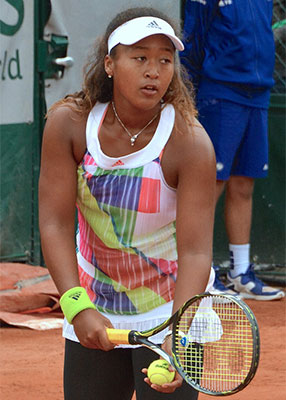 Coming in #26, the Japanese tennis player is the world's highest-earning female athlete at the moment. At the age of 22, she's making more money than Serena Williams who was the highest-paid female athlete from 2016 to 2019.
Osaka hasn't done very well on the court in 2020, after being knocked out of the Australian Open early on in the tournament. She was expected to be one of Japan's biggest stars at the 2020 Olympics, but with the Games being postponed, Osaka can focus on what's going on outside-the-court.
Her sponsorship deals with Mastercard, Nike, Nisan, and many other companies are expected to add about $30m to her bank account by the end of the year.