Betting Odds To Win The 2018 Kentucky Derby Horse Racing Event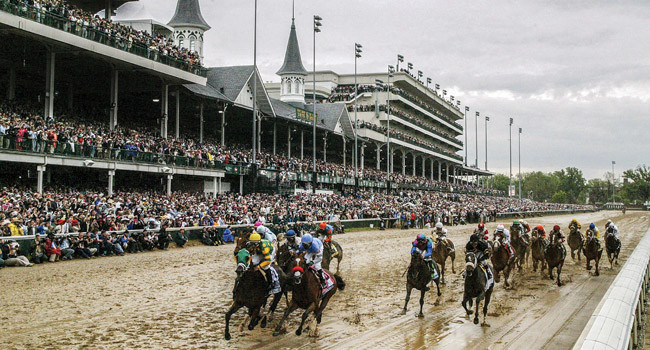 The 144th Kentucky Derby is set to get underway this weekend, with race time set for 5:30 pm CT. The 2018 Kentucky Derby is open to 20 horses and has a purse of nearly $2M. The race is a tradition that takes place in Louisville the first Saturday of May, and is at the end of the two week long Kentucky Derby Festival.
The race is known as a Grade I stakes race for three-year-old Thoroughbreds. The distance for the race is 1 1/4 miles. Let's take a look at the current odds to win the 2018 Kentucky Derby.
Kentucky Derby Race Quick Details
Where: Louisville, Kentucky
When: May 5, 2018
Distance: 1.25 Miles
Odds Listed: SportsBetting.ag
"Justify" Odds To Win +180
The odds on favorite to win the 2018 Kentucky Derby with a week to go until the race. Bob Baffert and Mike Smith have a horse that was broke in February of 2018. The horse is one of the lightest horses racing in the event. The jockey trainer combo is the best in the business, which explains his +180 odds.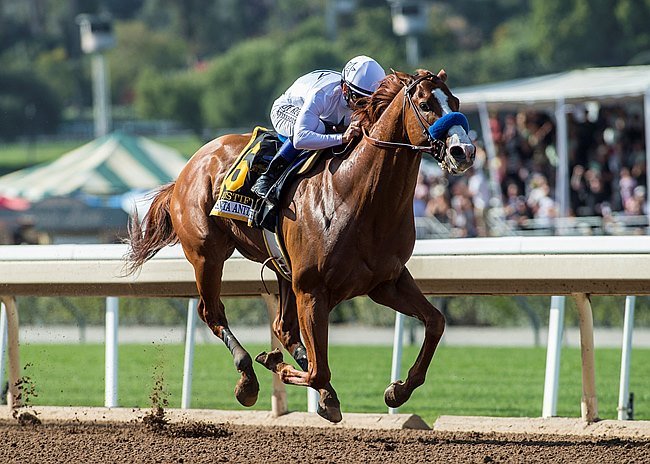 "Mendelssohn" Odds To Win +525
Mendelssohn fits right into the winning picture. But, being from overseas there is some questions. Overseas horses have a terrible track record at the derby. That is likely the reason this horse is not the favorite to win it all. He won his last race by nearly 19 strides. Coming in second in the Vegas Odds certainly puts some pressure on this group.
"Bolt d'Oro" Odds To Win +600
Nick Ruis and Victor Espinoza have put together a pretty good horse here with a great chance at winning the 2018 Kentucky Derby. The issue with this horse has been that ability to show a winning instinct. Bolt d'Oro is a fast horse, but the drive to win is questioned here.
"Audible" Odds To Win +650
Todd Pletcher is involved with this horse, with Javier Castellano riding. The first race for Audible was back in September and he broke maiden in November. Audible won four in a row, which was a big win at the Florida Derby. Audible has the ability to sprint, but the distance and ability to keep speed down the stretch has many questioning.
"Magnum Moon" Odds To Win +725
This horse rode by Luis Saez and trained by Todd Pletcher is a very young horse to race in the derby. Bred from Malibu Moon and Orb – the biggest issue will be stuck in traffic. If Magnum Moon gets stuck in traffic, that's bad news. At +800 odds, with Magnum Moon's speed, it could be worth a shot.
"Good Magic" Odds To Win +825
Good Magic is trained by Chad Brown and rode by Jose Ortiz. Good Magic broke maiden back in August at Saratoga. Also came in third in the first race of the lay-off. This horse has been brought together slowly, but many have a really good feeling about Chad Brown and his ability to have this horse ready. Good Magic is listed at +825.
"Vinno Rosso" Odds To Win +950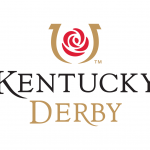 At +950 do not be surprised if Vinno Rosso is a popular betting pick. Yet another Todd Pletcher horse that broke maiden in November. Aqueduct was the grounds, with another successful run in Tampa Bay. Horses coming from Aqueduct do not have a great track record at the Kentucky Derby, but weather could make this horse a big time wildcard.
Those are the latest horses to top the 2018 Kentucky Derby Odds. BIt's a great event, and we are looking forward to the events leading up, and then of course when the race starts on Saturday. Enjoy the race!
Full 2018 Kentucky Derby Odds
Odds listed in this article are accurate as of April 29th, 2018 and courtesy of SportsBetting.ag
| | | |
| --- | --- | --- |
| 755 | Justify | +180 |
| 726 | Mendelssohn | +525 |
| 706 | Bolt d'Oro | +600 |
| 745 | Audible | +650 |
| 752 | Magnum Moon | +725 |
| 716 | Good Magic | +825 |
| 750 | Vino Rosso | +950 |
| 728 | My Boy Jack | +3000 |
| 733 | Solomini | +3000 |
| 712 | Enticed | +3500 |
| 740 | Noble Indy | +3500 |
| 761 | Hofburg | +3500 |
| 714 | Free Drop Billy | +5500 |
| 748 | Flameaway | +5500 |
| 722 | Lone Sailor | +6000 |
| 708 | Combatant | +6500 |
| 720 | Instilled Regard | +6500 |
| 753 | Bravazo | +6500 |
| 756 | Promises Fulfilled | +8500 |
| 713 | Firenze Fire | +9000 |
| 754 | Snapper Sinclair | +10000 |