Khalil Mack – Hidden Gem of the National Football League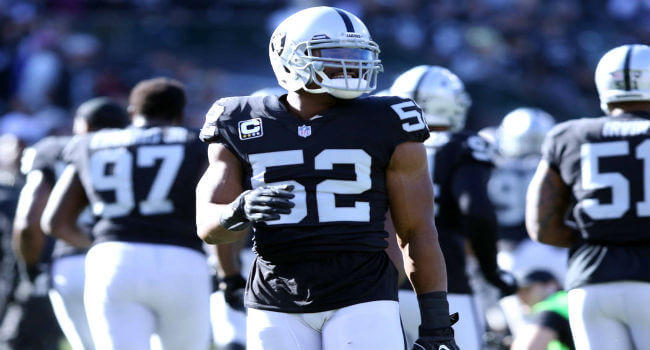 Khalil Mack has been one of the best pass-rushers in the NFL for the last few years. He's seeking a big contract from the Raiders. Read below as we discuss whether or not he is deserving of it.
Background on Khalil Mack
Taken with the 5th pick in the 2014 draft by the Oakland Raiders out of Buffalo, Khalil Mack wasted no time going to work and letting the league know who he was. Starting all 16 games in his rookie season, he finished with 4 sacks and 59 tackles. He got his feet wet and flashed a lot of potential rather quickly.
Now playing for his fourth different coach in Jon Gruden, he isn't in a position to have to prove himself as Gruden knows very well how talented he is. He impressed all of his previous coaches, in Dennis Allen, Tony Sparano, and Jack Del Rio, with his ability to quickly get to the quarterback. There aren't many players in the league who can take a QB down better than Mack can.
Why Mack should be paid
He's been a terror in opposing backfields, recording 40.5 sacks in four seasons, including 15 as a rookie. He was an integral part of the 2016 Raiders playoff appearance, which ended a very long drought for the franchise. Pair him with a player even decently talented in the pass rush, and he will be absolutely unstoppable.
If you take Mack off this team, it's most likely that they end up struggling to get to the opposing QB, and they'd be bringing different players in without a clear top guy. He's already a 3X Pro Bowler and 2X All Pro. In just his third year in the league, in 2016, he was voted as the NFL's Defensive Player of the Year, an award that shows us just how talented and dynamic he is.
Why Mack shouldn't be paid
Mack is going the Joey Bosa, Darrelle Revis, Vincent Jackson, hold-out route thus far in the early offseason. He will not take no for an answer when it comes to getting his money. He's currently slated to make $13 million in the final year of his rookie-scale deal, which is quite the compensation for a player on their first contract.
He's looking for more, as he wants to get paid Von Miller type of money. Miller got $70 million guaranteed in his last deal, while Mack wants $65 mil to be guaranteed. It's a weird time to be asking for this contract and there is no reason to be away from the team. He should allow them to pay their rookies after the draft, and all other players they may be signing before training camp.
He's already 27 years of age, having spent a long college career at Buffalo, and while he is 4-5 years from a possible decline, he certainly isn't a young player anymore. They need to spend wisely.
What Oakland will decide
The Raiders paid big bucks to Jon Gruden for him to leave the broadcasting booth and return to the league as a head coach, after years and years of rumors. It's up to him to speak with the front office and decide if he's worth it. Ultimately, they will choose the yes route here and pay Mack what he wants before the year.
The value and versatility he brings to the team on the field is just too good for them to risk losing him. It's production that is extremely hard to be replaced, and just shouldn't have to. They will need to spend more wisely in other places for the years to come as a result of this deal, but it will prove worth it. Khalil is a BEAST!