MyBookie vs Bovada — Sportsbook Comparison in 2023

Players in the US have long been on the outskirts of the sports betting world, but ever since 2018, things have started to change. Now, there are plenty of options to choose from, and you're often required to compare the available choices in your state to find the best one.
---
Click here to get up to $750 with Bovada on sports deposits
---
That's pretty much why many bettors today are wondering whether to opt for MyBookie or Bovada. Well, that's why I wanted to help you out — not by telling you which one to choose but by giving you a complete and unbiased comparison between the two major sportsbooks.
First things first, though — I need to mention that both sportsbooks have a lot of strengths. Still, I have to acknowledge that Bovada is the name more bettors know. It's been on the scene for much longer, as it dates back to 1994. On the other hand, MyBookie was created in 2014.
This makes Bovada more trustworthy, but it doesn't mean that MyBookie isn't, nor does it mean that the main features like odds, variety of sports and betting markets, and several others are better at Bovada. So, let's start with the odds.
Odds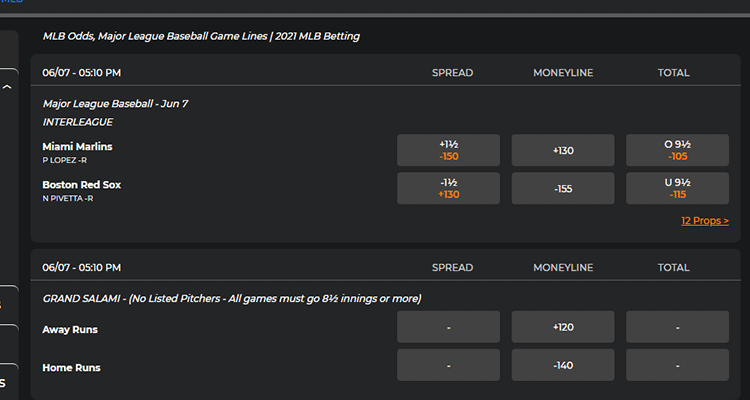 The odds are relatively similar between the two, but MyBookie does have a bit of an advantage here. For example, I checked the Boston Celtics vs. Brooklyn Nets game that was about to start, and the moneyline on the Celtics was +655 at MyBookie, whereas it was only +600 at Bovada.
The same was true with baseball and the Chicago White Sox vs. Cleveland Indians game. If you were to bet on the White Sox at Bovada, you would have gotten +130, while on MyBookie, the odds were +135.
---
Click here to get up to $1000 with MyBookie on sports deposits
---
I checked many more odds, and Bovada did come out on top several times, but the trend was clear after a while. The odds at MyBookie were slightly more favorable, but not by much. If you were to ask me, I would say that you should go for both, as such a slight difference in odds doesn't mean much, and the situation could likely be reversed on many other occasions.
Range of Sports for Betting
Both MyBookie and Bovada have a lot of sports covered. However, Bovada comes out on top in terms of the sheer number of them. It has as many as 32, while MyBookie only has 24. However, it's important to mention that all the popular sports are present on both sites.
So, the NBA, NHL, NFL, MMA, MLB, boxing, tennis, soccer, and even politics are present on both sites. However, sports like beach volleyball, cricket, darts, futsal, snooker, and winter sports are only available at Bovada.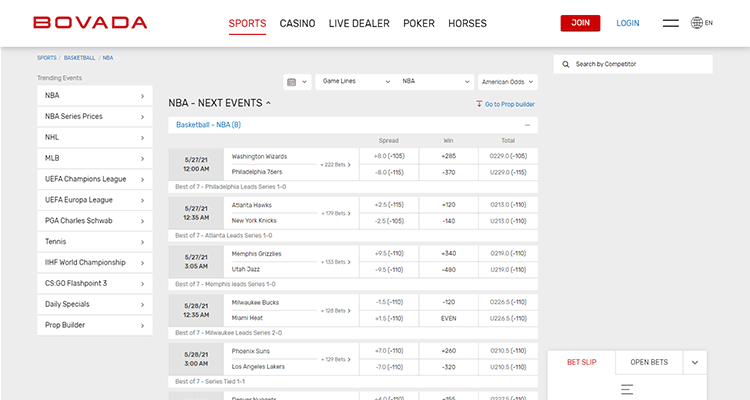 In essence, if you're interested in niche sports, you'll need to head over to Bovada, or you'll miss out on a lot. However, if you're mainly interested in the popular ones, you'll do fine in both MyBookie and Bovada.
Betting Markets
Betting markets are the essence of every sportsbook, and the more there are for each sport, the better the bookie is. We can safely say that both Bovada and MyBookies have a wide range of all notable bets. However, Bovada is the only one that goes much further with its props offer.
It's just astonishing how many props you'll be able to find in this sportsbook. In essence, Bovada will always give you access to parlays, teasers, pleasers, if bets, pre-game, straight bets, and special props.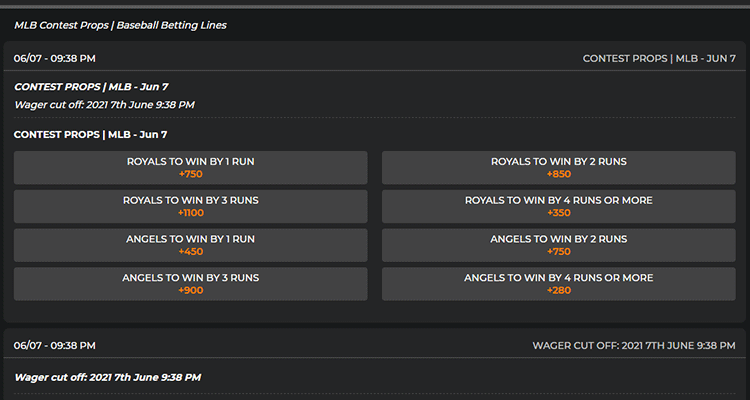 That's why I think Bovada wins this round as well. It's simply impossible to say that MyBookie stands a chance in this category, as it's evident that Bovada offers more opportunities in each sport and for practically every game or event you want to bet on.
Welcome Bonuses and Promotions
Both sportsbooks have a large number of bonuses and promotions you can choose from. When it comes to welcome bonuses, here's the situation:
At Bovada, you can get the 50% match bonus of up to $250 with a 5x rollover. You can also claim the 75% Bitcoin match bonus of up to $750 with the same 5x rollover requirement.
At MyBookie, you can get a 50% match bonus of up to $1,000 with a 10x rollover requirement. You can also claim the 10% cash bonus of up to $200, which you'll need to play through only once.
The situation is pretty similar with other promotions as well, and you can find both advantages and downsides for each. It largely depends on what you're looking for.
If you want more reload bonuses and several casino promotions, then MyBookie is the better choice. Still, if you're going to play with crypto, Bovada is the clear winner, as it offers additional crypto bonuses as well. It's really up to you to decide what matters to you the most and choose based on that.
Payment Options
Both sites have a lot of payment methods tailored to cater to players from the US.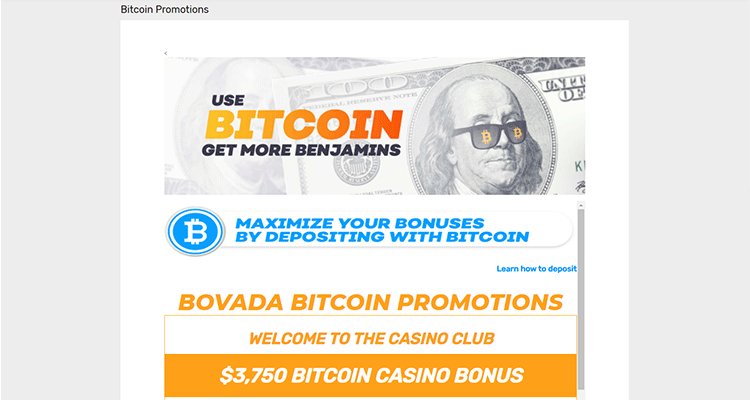 Bovada has Visa, Mastercard, American Express, MatchPay, vouchers, Zelle, Bitcoin, Litecoin, and Bitcoin Cash. On the other hand, MyBookie offers Visa, Mastercard, American Express, MoneyGram, Bitcoin, Litecoin, Ethereum, Bitcoin Cash, and Ripple.
Both bookies charge similar fees, but the limits are quite different. We won't get into every method, but when it comes to credit and debit cards, this is what you'll get:
Bovada — $20 minimum and $1,500 maximum deposit
MyBookie — $45 minimum and $2,500 maximum deposit
As for withdrawals, you can use Bitcoin, e-checks, and wire transfers in MyBookie. When it comes to Bovada, you can use checks by courier, vouchers, Bitcoin, Bitcoin Cash, Litecoin, and Ethereum. Processing times are similar, and you can get your money on the same day at both sites if you opt for crypto payouts.
Final Verdict — Which One Should You Choose?
All in all, both sportsbooks are great. MyBookie has slightly better odds, but Bovada covers more sports and betting markets. Bonuses are plentiful at both, and payment methods are reliable as well, with some minor differences that cannot help us decide which site is better.
---
Click here to get up to $750 with Bovada on sports deposits
---
Still, Bovada is probably, the better choice for most players, as most bettors want ample betting options. But if you're willing to make a few sacrifices in this regard, you'll find that MyBookie has a lot to offer as well. Ultimately, it's up to you. The important thing is that you'll have lots of fun on both sites, and that's all that matters.