As the MLB season continues on, the award races continue. Read below as we highlight the pitchers with the best odds of winning the NL Cy Young award!
Max Scherzer (-200)
Already a 3X Cy Young award winner, it's no surprise that Scherzer is right near the top of the voting yet again. He has been absolutely dominant, and on some nights, unhittable. In 154 2/3 innings of work, he has posted a 2.33 ERA, striking out 210 batters while walking 38. He has gone 15-5, one win away from tying last year's total.
In what's been a surprisingly trying season for the Nats, he has been a constant sign of hope. Every time he takes the mound, the team is racking up a win. He hasn't gotten beat up on AT ALL.
Aaron Nola (+350)
In what has been a career year for the fourth-year man, the Phillies have had team success follow. Having already tied his career-high with twelve victories, he has been major for this team. Nola has gone 12-3 this year, posting a 2.37 ERA. In 148 innings of work, he has struck out 144 batters, while walking 40.
The one thing he hasn't yet done in his career, is throw a complete game. But sooner rather than later, we should expect that to happen. As long as he's continuing to dominate, Philly will have a chance to remain atop the NL East.
Jacob DeGrom (+450)
While a pitcher's record certainly isn't everything in a Cy Young race, if it looks like DeGrom's, then well, the odds don't look so good. This man has a 1.85 ERA after 146 1/3 innings of work. 173 strikeouts and just 33 walks. But, he hasn't won a start in multiple months because he NEVER gets the run support that he needs. For all the great stats he's posted this year, DeGrom has gone just 5-7.
Felix Hernandez once won a Cy Young with a 13-12 record, but DeGrom's team in is in the cellar and look even worse whenever he takes the mound. He's going to have a chance, but let's hope to see him win at least one more game this year.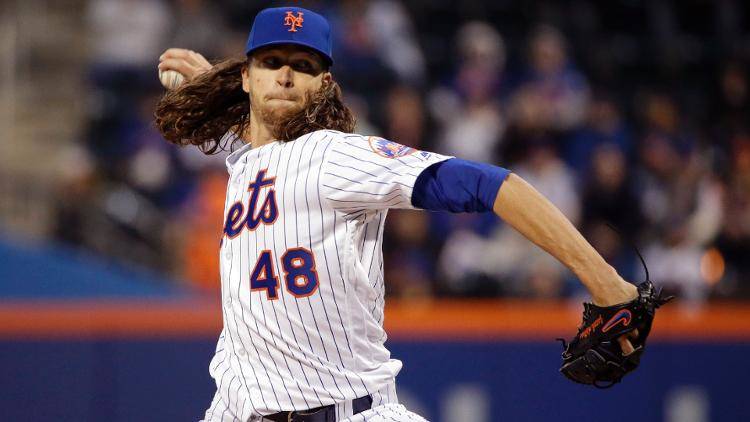 Jon Lester (+1000)
Quite a bit far behind the rest of the candidates, 2018 has been kind to Jon Lester. He's posted a 12-4 record, striking out 100 batters and walking 51 in 130 2/3 innings of work. His ERA currently sits at 3.44. He's allowed nine runs in his last ten innings of work, and gave up eight a few starts ago, taking his ERA from 2.58 to 3.14.
It's going to be tough for him to overtake any of the three NL East candidates ahead of him, but Jon Lester does have a shot, if he's perfect the rest of the way. Likely ends up being between Nola and Scherzer, though.
That's a look at our updated odds to win the National League Cy Young. We will continue to monitor the odds and bring them to you here at Vegas Odds!
Full MLB National League Cy Young Betting Odds
Here are the current Cy Young odds from SportsBetting.ag and as of August 6, 2018:
| | |
| --- | --- |
| Max Scherzer (Nationals) | -200 |
| Aaron Nola (Phillies) | +350 |
| Jacob deGrom (Mets) | +450 |
| Jon Lester (Cubs) | +1000 |
| Clayton Kershaw (Dodgers) | +1600 |