Elite Sportsbook Sportsbook Review

6.1
Sign-up Bonus
100% up to $100
Official website:

EliteSportsbook.com

Min. Deposit to Qualify Bonus:

$10

Payments Accepted:

In-person deposits, Play+ card, debit card, credit card
Elite Sportsbook is one of the newest entrants into the world of online sports betting in the United States but this has not stopped it from building a name for itself in the highly competitive sector.
Most of the well-known sportsbooks in the United States are owned and operated by big brands but this is not the case with Elite Sportsbook. Elite Hospitality Group, the parent company of the sportsbook, has been able to carve out a niche for itself as a key player in the state markets where it is currently operating in.
In addition to delivering an exceptional retail sports betting experience, the sports betting operator also offers its customers well-crafted mobile and online sports wagering experiences that are comparable to what many of the top brands boast of. Perhaps the best thing about this operator is the fact that it prioritizes the customer experience in a manner that makes the overall experience so easy to recommend to just about anyone who likes to bet on sports.
Services
Live Betting

Mobile App

Sign Up Bonus
History & Background
The Elite Hospitality Group had been around long before the launch of sports betting in the states where it was launched. It has a rich history as a provider of world-class gaming and hospitality services all of which have made it a household name in its localities. With its entry into the sports betting sector, the company has also brought its A-game to sports bettors.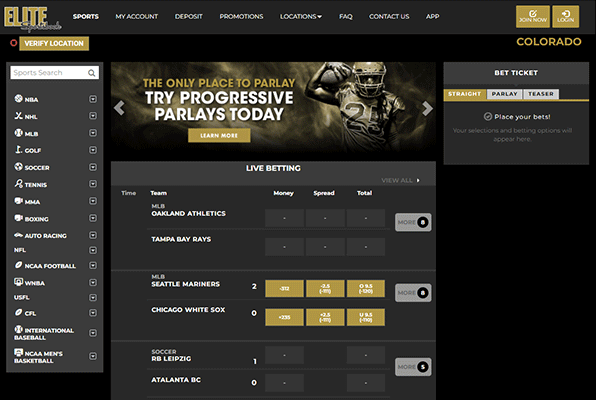 Elite Sportsbook in Iowa is available both offline and online. The retail sports betting venue is located at the Riverside Casino & Golf Resort and Rhythm City Casino in Davenport. There is also one at the Grand Falls Casino that is based in Larchwood. The online and mobile sports betting offerings are also great options for those who do not prefer retail venues. This sportsbook went live in August 2019 and the mobile offering followed just a month later. Customers have the option of both online and in-person registration.
In Colorado, Elite Sportsbook's retail offering launched in May 2020 and was followed shortly by the launch of the state's 11th online sportsbook in August 2020. The retail offering in the Centennial State is operated in collaboration with Red dolly Casino in Red Hawk. This collaboration is pretty significant and is part of the reason why the sportsbook was able to catch on so quickly in both retail and online spaces.
For now, Iowa and Colorado are the only two states where the Elite Sportsbook is available. However, given the rapid growth of the country's sports betting market, it will not be surprising to see the sports betting brand extend its footprint to more states in the coming years. Already, the reputation that the casino has built in the two states makes it a popular choice among many bettors and that is something that not many casinos, especially ones that are relatively new, can pull off.
Bonus Details
Elite Sports features a wealth of fun and exciting bonuses and promotions. All of these have been tailored to give the players the best possible value out throughout their time with the platform. It all starts with some pretty decent welcome or sign-up bonuses which are then further complemented by regular promotions. Here is a breakdown of the available on the sportsbook as of this writing:
New Sign Up Bonus – 100% Risk-Free Bet Up To $500!
ELITE Sportsbook is offering a new sign-up bonus to customers who sign up and place their first real money wager now. This is a special promotion that runs through April 30th, 2021. For any wager that is graded as a loss, the bet will be risk-free and customers will receive a Free Bet equal to their loss of up to $500.
Opening Weekend HR Special – Get $5 for Every Home Run
Bet $50+ on the money line of any opening weekend MLB game and get $5 for every homer your team hits.
College Basketball Reduced Juice! -105 Pregame Point Spreads
This lets players take advantage of the betting on the NCAA tournament with the best value by betting ELITE's pregame point spreads priced at -105 now through the National Championship Game on April 5th, 2021.
Progressive Parlay!
Here, players wager at least a 4-leg parlay on Football or Basketball point spreads. If they lose 1 leg, they still win! For the best experience, the sites' users will want to learn more and give Progressive Parlays a try by adding qualified wagers to their bet carts.
Take Control of your wagers!
Once a wager has been placed, this innovative feature allows the users to sell back or cash out of their bets at the current price depending on the current status of the wager. To make it even better, if you have a big win coming your way and do not want to risk losing it, you are still allowed to cash out!
Live In-Game Betting
The live in-game betting feature ensures that bettors will never miss out on the action! Almost all televised games can be bet live so you can wager right in the middle of the action.
Debit Card Funding Capability
Elite Play+ now offers debit cards as a funding option for Elite Sportsbook user accounts.
The Mobile Experience
Elite Sportsbook offers a pretty solid online betting experience. However, with more and more people opting to place their bets while on the go, mobile sports betting is proving to be a very lucrative sector. Thankfully, Elite Sportsbook does not fall short in that sector as well.
Just like the desktop version of the site, the mobile-optimized version of the site delivers a fully-featured offering that many players will have no problem with. Not only is the site simple and easy to use but it also maintains the unique aesthetic that the desktop version boasts of. All of the features work flawlessly and the layout is responsive enough to allow optimal user experiences regardless of whether one is playing from a mobile device or a tablet.
Banking Options
Once you have an Elite Sportsbook user account, the operator will allow you to use some very secure and reliable payment methods to fund your account and withdraw your winnings. The site is still pretty new so the number of integrated payment options is not to the levels of most other huge brands but this is not something that long-term customers of Elite Hospitality Group will need to worry about. All the funds will get to their intended destinations safely and on time.
Deposits
Players can add funds to the sportsbook accounts using the Elite Play+ Prepaid Card. Alternatively, they can visit the Cashiers at Elite Resort venues in their respective states. For players who choose to place deposits from their Elite Play+ Prepaid Card, they will first have to deposit the funds into their Play+ account. For this, they can use either a bank account or a PayPal account. With that out of the way, they can then proceed to transfer the funds from the Play+ account to Elite Sportsbook.
The steps for depositing funds using Play+ are as follows:
Visit the "Deposit" or "Cashier" section on the sportsbook.
Select the "Deposit" button that's next to the Play+ option.
Enter the amount you'd like to deposit from your Play+ account.
Enter any promo codes you may have.
Verify your account information.
Click continue and this will process your deposit.
The minimum deposit amount is $10 per transaction while the maximum daily transaction limit is set at $2,000.
There is also the option of making deposits in person at the land-based sportsbook venues. All that you will need for this is an identification document and your account information.
Withdrawals
To withdraw funds from your casino account, players can still use Play+. To begin the process, the site's customers need to make a withdrawal request. These requests are usually processed within 72 hours – this is quite reasonable but the company is always working on shortening the processing time for withdrawals even further. It is also worth noting that requests to withdraw funds at one of the sportsbook's cages are given priority review.
Players can take advantage of the sportsbook's in-person cash withdrawals which are only processed at the land-based venues mentioned earlier. Like in the case of deposits, all that the bettors need for this is their IDs and personal information.
Sportsbook
When it comes to the available Elite Sportsbook betting markets, customers will have access to a solid selection of sporting activities from the region and internationally to bet on. While the selection may seem rather limited, most American sports bettors will be very happy with the site since it manages to cover all of the major sports and leagues. These include:
NBA
WNBA
NCAA Men's Basketball
NCAA Women's Basketball
MMA
Boxing
Auto Racing
NHL
Golf
Tennis
Football
NFL
Soccer
International Baseball
PBR
NASCAR
Formula 1
International Basketball
UFC
CFL
Types of Bets on Elite Sportsbook
Elite Sportsbook has a pretty robust selection of bet types for its customers to choose from. It is not necessarily the flashiest selection in the industry but it does help the company to stay competitive in the incredibly fast-paced gambling industry. Available bet types include:
Teasers
Parlays
Point spreads
Props
Totals
Futures
Moneylines
Straight bets
Responsible Gambling
Elite Sportsbook also boasts of a pretty solid reputation when it comes to protecting all of its customers. In addition to ensuring that all patrons and their data are safe and secure from malicious third parties, the operator also puts a lot of emphasis on responsible gambling. It can do this thanks to the investments that it has made in the provision of responsible gambling guidance, tools, and even self-exclusion mechanisms.
That said, in case any player ever feels that their gambling activities are getting out of control, they can opt to setting gaming limits, going on a play break, or even closing their accounts if necessary. Elite Sportsbook makes this so easy that just about anyone can do it without having to worry about any repercussions. In addition to that, the operator provides the necessary referral to support organizations for those who need help, advice, or counseling.
Customer Support
One of the other areas where Elite Sportsbook proves its might is in how it hands customers support services. Not many operators, especially those that are just starting, invest in their customer support as much as Elite Sportsbook does. That said, in case you ever run into any issues while using the sportsbook, you can rest assured that they will be handled promptly.
Aside from a detailed FAQ page that covers basic but common issues, the site also has three channels through which the support staff can be contacted. These are:
Live Chat: Available on the website
Telephone: 1-844-777-4238
Email:

[email protected]
Cons: Areas of improvement
Limited number of sports betting markets
A somewhat limited selection of sports to bet
Restrictive payment options
Verdict
If you have gotten this far into this Elite Sportsbook review then you now have all the information that you need to take things forward. For a sportsbook of its age, the site does a great job at giving the bigger sports betting brands a run for their money. Thanks to its impressive range of bonuses and promotions, excellent customer support staff, competitive odds, and its respectable catalog of local and international betting markets, it manages to stand out among many others.
There are areas such as the selection of payment options that need to improve and hopefully the operator will look into them as it ramps up its plans to extend its footprint beyond Colorado and Iowa. All in all, Elite Sportsbook is a decent sportsbook that is easy to recommend to just about any kind of sports bettor in the states where it is currently available.