GTBets Sportsbook Review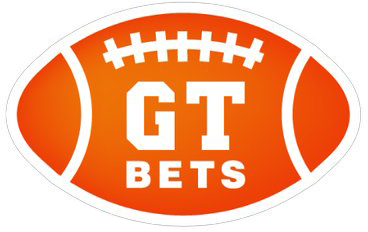 7.4
Sign Up Bonus
150% up to $750
Official website:

GTBets.eu

Min. Deposit to Qualify Bonus:

$35 (or $15 via BTC)

Payments Accepted:

Bitcoin, Visa, Mastercard, Am Express, Cash Methods, Skrill, Neteller
The popularity of online sports gambling is soaring right now and the internet has responded with plenty of places to place a wager. Some are new and some are old but, either way, they all want your action and are willing to make it worth your while. GTBets is no different. Many of these sites are looking to distinguish themselves from each other by offering big bonuses, specialty games, fast payouts, or big events. Anything to help them stand out. So, how do GTBets stand out? Let's have a good look at what GTBets brings to the table and see how it stacks up. Using the right sportsbook can help maximize your profits so the question is, is GTBets the right sportsbook for you?
Services
Sign Up Bonus

Good Offers
History & Background
GTBets is not only an online sportsbook. They also offer a casino and racebook as well although most of their business comes from U.S.-based sports leagues like the NFL, MLB, or the NCAA. Up and running as of 2011, GTBets has plenty of experience and has had a strong reputation the entire time. To start off their time online, they bought up a few sportsbooks with less than great reputations but quickly made things right by paying off their outstanding debts and losses and moving on. GTBets are not available in every U.S. state.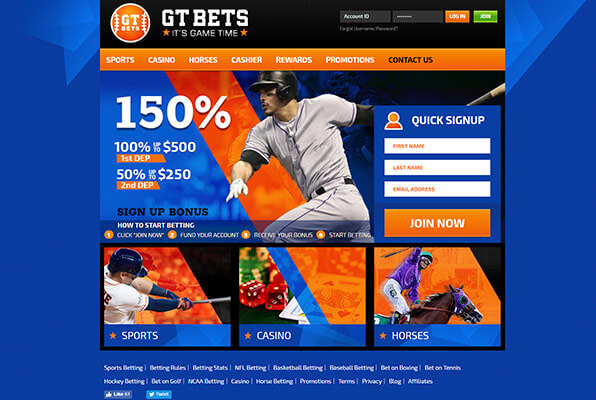 They do not allow players from Washington D.C., Kentucky, Maryland, Louisiana, Missouri, New York, and Washington State. No serious complaints have been made against GTBets as they seem happy keeping a low profile while offering a good product to reach recreational players.
Bonus Details
Welcome Bonus – GTBets has a top-rated welcome bonus which features a 100% matching bonus on your initial deposit up to $500 and then a 50% bonus up to $500 on your second deposit.
Reload Bonus – Reloading at GTBets is a bit different than other gambling sites. You can earn anywhere from 5% to 50% depending on the size of your deposit.
Refer a Friend Bonus – GTBets offers you cash for referring a friend. You will receive a 50% matching bonus of your friend's initial deposit up to $400. This works for every friend, so invite as many as you can to collect even more.
Favorite Team Play – One of the most innovative bonuses going right now. Once you've created an account you can follow the links to choose your favorite teams. Then GTBets will give you a half point on the point spreads those teams play. Remember, this doesn't have to be your favorite team but your favorite team to wager on so choose wisely.
Casino Rebate – GTBets is a full-fledged gambling site so do not forget about the casino and don't forget to play on Tuesdays when you will receive a 10% rebate on all casino losses.
Casino G.O.T.M. – The casino also features a Game of the Month which will earn you double points in the GTBets reward program.
Horse Rebate – The 1st of every month is a good day for those who play the ponies. GTBets offers a 15% rebate on all horse racing losses for the month and it's automatically deposited into your account on the 1st.
Email Promotions – Once you have created your account be sure to check your inbox for promotions sent directly to you. The bonuses and promotions will vary but are always worth a look-see.
Banking Options
GTBets has many ways to deposit into your account which is very convenient. They will accept American Express, Mastercard, Visa, Skrill, Neteller, and Bitcoin with no fees at all. Players wanting to use QuickCash see a $10 service fee for deposits under $200.
Sportsbook
GTBets is enjoying a ton of popularity right now and for good reason. They really do have a good product. However, that may be changing soon as the word about their high cashout fees and low betting limits is gaining traction in online gambling communities. The serious gamblers are always talking and always looking for the best places to play. While GTBets has no other knocks against thus far people seem to be happy to dabble and that may be just what GTBets wants. They are for "recreational gamblers only" after all.
Customer Support
Customer Service is available via phone, fax, email, or live chat. Their hours of operation vary from service to service but overlap enough to where you can always contact someone if need be.
Cons: Areas of improvement
Check & bank wire thresholds are too high
No mobile or live betting features
Verdict
GTBets is a solid online gambling site. They have good history and good lines. Their bonuses and promotions are original and some are even fun. It is nice to see a site take those aspects of the business seriously. However, while the no deposit fees are nice, they really get you on the backend with the cashout fees and low betting limits. Depending on the bonus you are able to receive, GTBets is a fine site to win a few hundred dollars on and then move on. It makes one wonder why an online gambling site doesn't simply put together a fair site. One with easy deposits, good bonuses, fair lines, and low cashout fees. That site would do very well for itself. Until then, sites like GTBets are the best we are going to get.