Tennis Betting Odds

When it comes to sports gambling, tennis might not be the very first sport that comes to your mind. Of course, football, basketball, and baseball are the big draws when it comes to sports betting action. However, you definitely want to give tennis betting a shot. The reason is that many sports bettors have found plenty of value in gambling on this sport, and with the best tennis odds it can be incredibly attractive even to the most casual of bettors.
You may not even realize it, but tennis offers plenty of good odds and a wide variety of wagers to make the sport a very viable betting option. There are plenty of ways to get in on the fun, and here we give you the low-down on everything tennis betting has to offer.
If you have a good sportsbook, they'll have tennis available with plenty of wagers and live tennis odds. Tennis fans looking to make the game more exciting, as well as sports gamblers looking for new revenue streams, take note, here's everything you'll want to know before placing your next tennis wager!
Whether you're looking for Tennis Vegas odds on the US Open, major Grand Slams or anything in between, here are betting odds today:
Tennis Betting Odds Today
Tennis Odds Explained
Moneyline
Everyone knows the Moneyline. It is the simplest of sports betting wagers and is always an option. All you have to do to win the Moneyline tennis wager is to have the winner of a particular match. That's it. No points, no spreads, no Total sets played, no nothing, just have the winner. If you think Nadal is going to beat Federer, just place a moneyline bet on the Spaniard.
Of course, with the Moneyline, there are the odds to contend with. While picking the winner may be the easy part of the wager, deciding if the odds are worth it is the part that requires the most consideration. For this reason, betting the tennis Moneyline is such a valuable play.
That good value on the Moneyline comes from your vast amount of options every tennis tournament provides. You can be certain that weekends at any tennis tourney will feature match after match with good Moneyline odds.
Whether it is top seeds or the low risers, you will see every type of Moneyline odd at your disposal. Take your time and learn as much as you can about every player on tour and you will be rewarded with a wide variety of Moneyline wagers in every tennis tournament.
Totals
Just as with every other major sports wager, Totals betting will be an option with just about every tennis match. However, unlike other sports Totals wagers which rely on scores, when betting on tennis Totals, you are actually betting on games. The question you're asked to answer with a wager is whether the total number of games played will exceed or fall short of the number set by your sportsbook.
It makes no matter who eventually wins the match or even how lopsided the match may be. The only thing that matters will be the total number of games played when all is said and done. Instead of picking one of the players, you select the over or under the number posted for the match's Total games.
Apart from betting on Game Totals, you can also bet on sets. With Sets Totals, you get to pick how many sets a match is going to see. A tennis match can have between three and five sets in total, depending on the tournament. For example, a majority of ATP tournament matches are best of three, meaning that a player can win either by 2:1 or 2:0.
The exception is Grand Slam single matches. Australian Open, French Open, Wimbledon, US Open are the four Grand Slam tournaments, in which the men's matches are decided by the best-of-five rule. This means that the winner can win by 3:2, 3:1, or 3:0 in sets.
Just as with a standard game spread with any other sport, the tennis Totals odds will be even or very close to it for your payout. Pushes, as with any wager, are possible and will come up a little more often than usual. However, this only helps the bettor in the long run.
Spread Betting
While it may seem a bit odd, tennis betting does offer two ways to wager with a spread. One of the options is called the Game Line and, as its name suggests, this bet involves Games. The other option is Set Line, which is all about the difference in sets won by the two players.
Game Line
If you are familiar with wagering on spreads, the tennis Game Line concept is quite easy to follow. Basically, you are wagering on one player to perform as expected or even better. The spread is the handicap to even up the odds and delivers a -110 payout typically. The favorite will need to win by a margin that's bigger than the handicap set up by the bookmaker.
Set Line
The other option for a tennis spread wager is the Set Line. This works just as the Game Line but with the number of sets played. All the same rules apply.
Most tennis matches are either the best-of-three sets or the best-of-five. So, for example, in a best-of-three situation where the line is set +- 1.5, taking the favorite will require that player to win in straight sets. Wagering with the underdog would mean that player would win if they were to win at least one set of the match.
Tourney Futures
In tennis betting, the Tourney Futures can be plenty of value. The most common Tourney Future is to pick the winner of a certain tournament. Although this is the most popular Tourney Future bet, others do exist as well.
Some of the examples of other future bets include picking a finalist or what round a particular player will exit a tournament. The odds fluctuate with this bet as it all depends on the strength of the players or the size of the tournament. For tennis fans who know the players, Tourney Futures are great wagers with plenty of earning potential.
And the reason why the odds are often pretty high is that we live in the era of big tennis rivalries. The odds on Federer, Djokovic, and Nadal are usually pretty similar as these guys are always among the favorites for winning major tournaments. Add to that some dark horses like Medvedev, Thiem, and Zverev, and you'll realize that tennis tournaments can be hard to predict. But, because they're always difficult to predict, the odds are also pretty good.
With a little bit of luck and a lot of tennis knowledge, you can take those odds to your advantage. The odds on a winner of a Grand Slam like the Australian Open are almost always above +150.
To Reach a Certain Round of Bets
Apart from betting on the winner of the tournament, there are many other futures you can choose from. For example, you can bet that a player is going to reach a certain stage of a tournament. If you think Djokovic is going to reach at least the semi-final of the next French Open, you can place your money on that and get a very good value.
Although the odds will not be as lucrative as if you bet Djokovic would win the title, this kind of bet comes with significantly less risk. Likewise, some books let you bet just the opposite – that Djokovic will get knocked out before the semis. That's something that seems pretty unlikely, so the bookmakers would probably give pretty long odds on such a scenario.
Zero Sets to Lose
Did you know that no player has ever managed to win all four ATP Grand Slams in one year? Obviously, these tournaments carry a lot of prestige with them, which is why every player will do his utmost to win the trophy.
But, Grand Slams are not the only ATP tournaments out there. Actually, there are nearly 70 of ATP tourneys per year. It's pretty much the same case when women's tennis is concerned, although the number of WTA tournaments is a bit lower (57 tournaments per year).
And in some of those tourneys, it's so clear who the favorite is that the odds are far from attractive. In such cases, many bettors decide to look for an alternative that brings more value. One such option is betting that the winner of the tournament won't drop a single set on their road to the trophy.
ATP/WTA Futures
Who's going to finish this calendar year on the top of the ATP/WTA table? If you think you can guess correctly, this is the right kind of future bets for you! But, if waiting January 1st is too much for you, there are some quicker alternatives.
Some bookmakers will let you bet on who's going to top the table of the ATP/WTA rankings at the end of the month or even at the end of the week. And some sportsbooks might even go so far to let you bet on who's going to be the highest-ranking player in ATP/WTA rankings at the end of the day!
If you're not too much of a tennis expert, you might not be familiar with the ATP and WTA rankings. Basically, these are the rankings of the best tennis players in the world. The ATP list ranks the best players in the men's category, while the WTA is for ladies.
Live Betting
Of course, Live Betting is not a type of wager; it is only a wagering feature of many online sportsbooks. Nevertheless, it is a strong option in tennis wagering. Tennis moves fast but getting a Live Bet down is very easy to do. After any game or any set, you can place a brand new wager with Live Betting.
The charm of Live Betting is not only in adding to the excitement of watching an entertaining tennis match; Live Betting can be your road to riches. The thing is that tennis betting odds change during the match depending on what's going on down on the court. And you can take advantage of this!
If the favorite is losing, the odds on that player are bound to go up. By betting on the favorite who's losing in the early stages of the match, you're going to grab yourself an excellent value. Of course, it's only excellent if the favorite actually manages to come from behind.
Tennis Props (Proposition Bets)
Proposition or novelty bets are the wagers focused on things that do not directly influence the outcome of a match. Although they are not among the most popular types of bets in tennis, they often come with a pretty good value.
Total Aces
How this prop bet works is that you're putting your money on whether there's going to be more or fewer aces during the match than the amount set up by the sportsbook. For instance, you can bet whether the match between John Isner and Ivo Karlovic is going to see over or under 28.5 aces.
Will There be a Tie-Break?
If the score in a set is 6-6, the winner of the set will be decided by a tie break. Whoever reaches seven points is the winner. The exception is when the score is six-points-all, in which case, the winner is the one who wins two points in a row. If the score in the final set of the match is 6-6, tie-break is skipped and the winner is the one who wins two points straight. But, in the bookies' eyes, this scenario too is called a tie-break.
Not only can you bet on whether there will be a tie-break, but you can also bet on who's going to win it. Some bookmakers will even let you bet on these things while the match is on. So, if the score is 6-5 in games and Player B is serving, it could be a smart idea to place a live-bet that the set will see a tie-break. Of course, given the fact that a tie-break would seem very possible, the odds probably wouldn't be too great.
Exotic Bets
Sometimes the sportsbooks want to have a little fun. Instead of offering bets strictly related to what's happening on the tennis court, they might decide to include a bit different kind of wagers in their offer.
What we're talking about here are exotic bets like the weather forecast. Is it going to rain during the Wimbledon Women's Final? Will a match be postponed due to bad weather at Shanghai Masters? These are the kinds of exotic bets many sportsbooks offer. And some of them often give enhanced odds on these kinds of bets in an effort to promote the upcoming tournament.
Other exotic tennis bets you might come across include the likes of:
Who is going to sing at Centre Court at Wimbledon?
How many rackets is Nick Kyrgios going to break at the Miami Open?
How many Hawk-Eye challenges is Stan Wawrinka going to call at Roland Garros?
Is someone going to achieve a serve speed higher than 150 mph in 2020?
Is Novak Djokovic' Twitter account (@DjokerNole) going to reach 10M followers by January 2021?
A great thing about exotic bets is that you can come up with your own ones. There are some sportsbooks that are very open-minded when it comes to the players' input. You can give them a betting suggestion and, if they like it, they will come back to you with the odds for such a wager.
Odds Dropping/Rising: What to Do?
If you've been in the tennis betting game for a long time, you've probably noticed that some bettors get nuts when they notice some changes in odds. Although they often suggest that there's something wrong going on, it doesn't have to be the case every time.
If Djokovic picks up an injury in the first round, it's obvious the odds on him winning the tournament are going to start to drop. But this doesn't necessarily mean Novak won't be able to shake off his injury and win the title after all!
You also need to remember that tennis odds do not always reflect the quality of the players on the court. If the odds are dropping on the player A, the reason might not be that he's in poor form or that some insider's info has sneaked out. He might be in perfect form, ready to smash his opponent. So, why are the odds dropping?
The reason why they go down is that someone's placed a lot of money on the player B. As house wants to win all the time, they need to adjust the odds so that no matter what happens in the match, the sportsbook will get its profit.
This is why you ought to rely on your own tennis knowledge and common sense, rather than basing your decisions on odds. This way, you can get yourself a really nice value.
Finding the Best Tennis Odds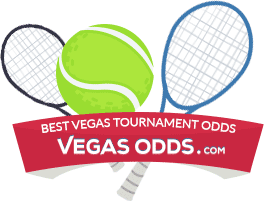 There are plenty of odds comparison sites out there, which could make you think that finding the best tennis odds is an easy job. But, if a sportsbook is offering high odds on wagers that you've set your mind on, it doesn't necessarily mean you should place a bet straight away. First, you need to check the small print.
If a bookmaker is giving surprisingly high odds on tennis events, you can be sure it's not because they're in the mood for giving money away. It's probably because there is a catch. For example, there might be some fees for withdrawing your winnings, which would knock a significant chunk off your winnings.
Another common reason why some books give more lucrative odds than others is that they don't carry a proper license. Getting an operating license from a legit gaming authority requires a sportsbook to pay up. And in some cases, the bookmarker needs to pay a tax on their profits. Unlicensed bookies do not have such expenses, which allows them to offer more attractive odds to their players.
But, how can you trust a sportsbook without a proper gambling license? Without a license protecting your interests, you're left to the mercy of the sportsbook. If they feel like it, they can simply decide not to pay out.
This is why we at Vegas Odds urge you to put your trust only in the best online sportsbooks. You can find many such bookmakers on our website. And the best thing is that many of them offer amazing tennis odds!
Latest Tennis Headlines