Top 10 Active Female UFC Fighters
Warning: This post contains graphic images.

Top UFC Women Fighters Ranked:
---
10. Mackenzie Dern – Strawweight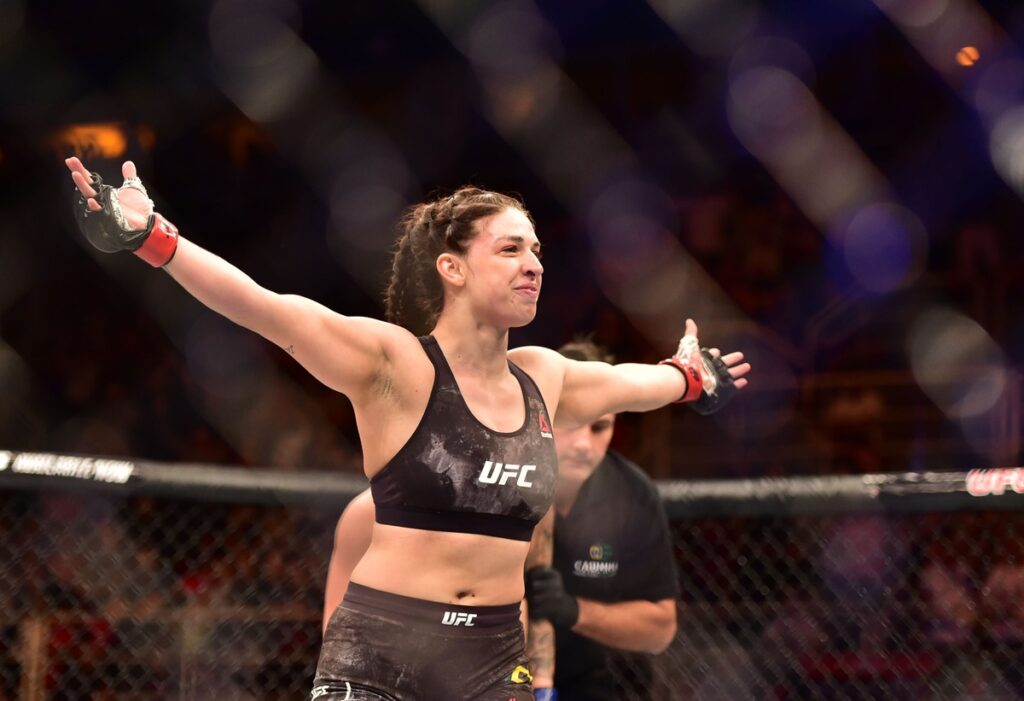 Since making her professional mixed martial arts debut in 2016, American-born Mackenzie Dern has grown to become one of the sport's most highly-rated fighters.
Dern made the transition to mixed martial arts following a hugely successful grappling career.
After racking up over 100 grappling fights, including 75 wins, the highly technical strawweight made the decision to extend her skill-set to incorporate more than one discipline.
Beginning her career with promotion LFC and then LFA and Invicta, Dern quickly racked up five wins before joining the UFC.
First UFC Debut
Bursting onto the scene, widely regarded as one of the best ground-specialists in the world, Dern debuted against Ashley Yoder on UFC 222's featured Prelim bout.
After claiming a narrow split decision win over Yoder, Dern then faced Amanda Bobby Brundage just a couple of months later.
Looking to win in a more convincing manner, it took Dern just over two minutes of the fight's very first round to submit her opponent.
After impressing against Brundage, Dern then enjoyed another quick turnaround and was matched against Amanda Ribas just four months later.
Coming into her 2019 bout against Ribas, Dern—who was still unbeaten with a record of seven wins and no losses—was looking to extend her impressive run to eight.
Winning Streak Halted
However, it wasn't to be and after enduring a tough fight, Dern received her first taste of defeat following a unanimous decision in favor of her Brazilian opponent.
Looking to get back to winning ways as quickly as possible, Dern agreed to fight Hannah Cifers in the summer of 2020.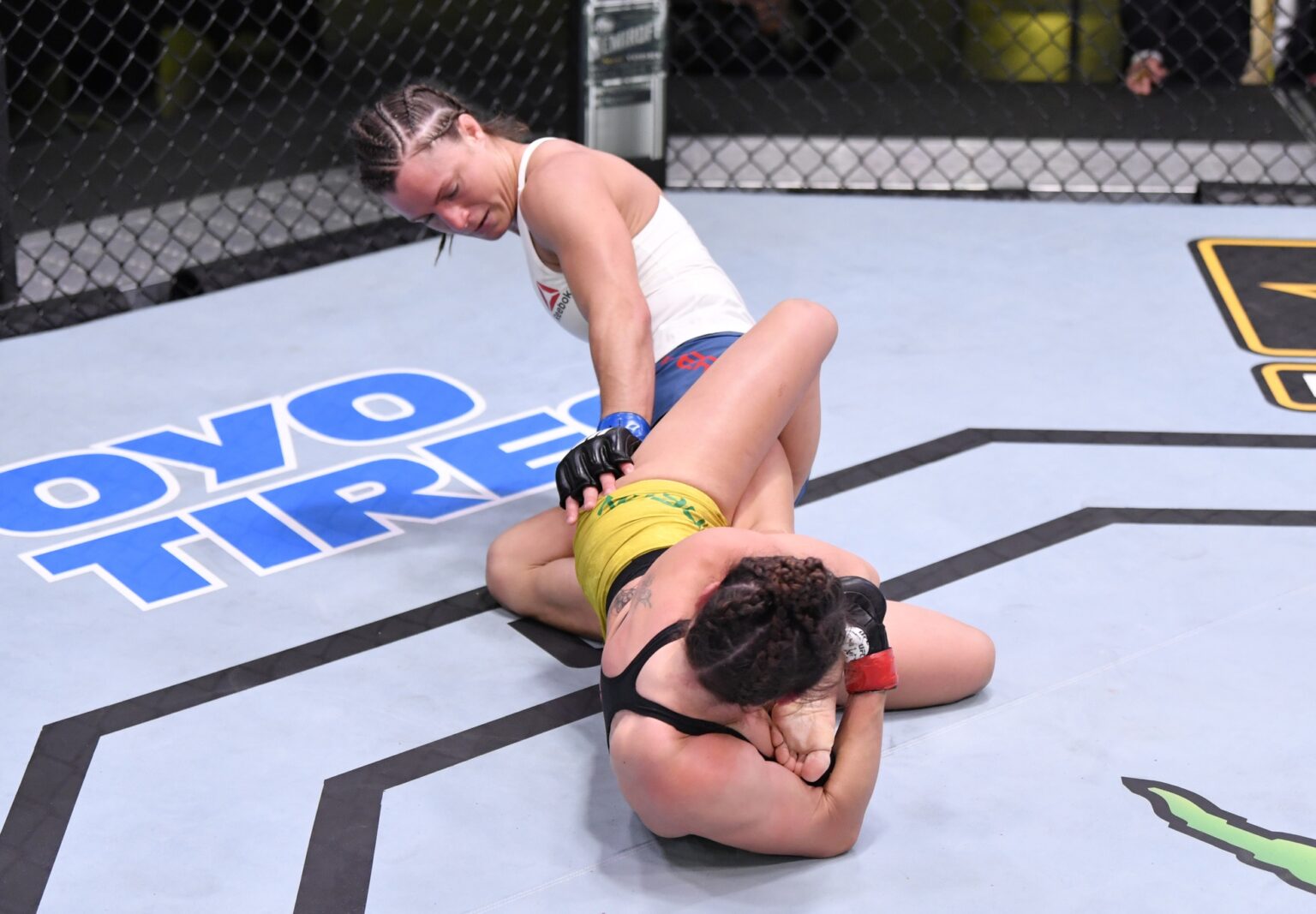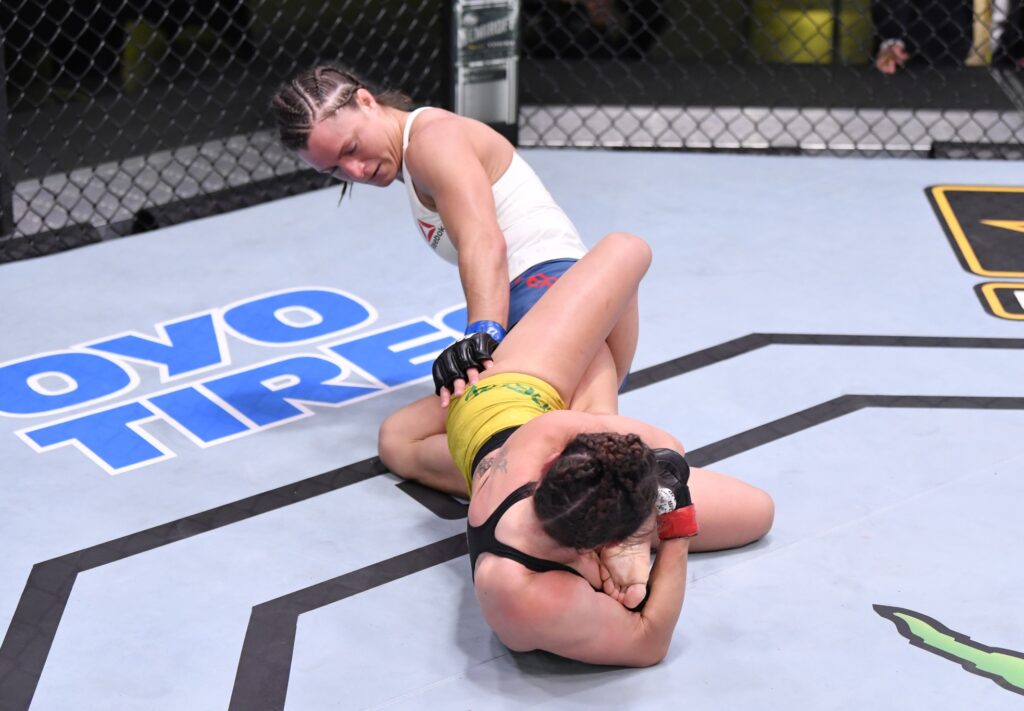 After executing a perfect kneebar, the grappling ace claimed the fifth submission win of her professional mixed martial arts career.
Similar to her bout against Cifers, September 2020 saw Dern face off against Randa Markos and complete yet another first-round submission – this time by way of a vicious armbar.
Following two first-round dominant wins, Dern was able to compete for a third time in 2020 with December seeing her return to action against Virna Jandiroba.
Although failing to complete a trio of first-round submissions, Dern did go on to beat Jandiroba by unanimous decision.
Family Time
Following her bout at the end of 2020, Dern then opted to take some time away from the cage and start a family.
Out of action for nearly 18-months, Dern—now a proud mum to daughter Moa Dern Santos—returned to action in April 2021.
The Comeback
Making her long-awaited comeback against fellow contender Nina Nunes (partner to Amanda), Dern resumed her earlier domination as she claimed yet another first-round submission victory.
Currently ranked as the strawweight's number six contender, although the American's next opponent has yet to be confirmed, a bout before the end of 2021 is expected.
9. Aspen Ladd – Bantamweight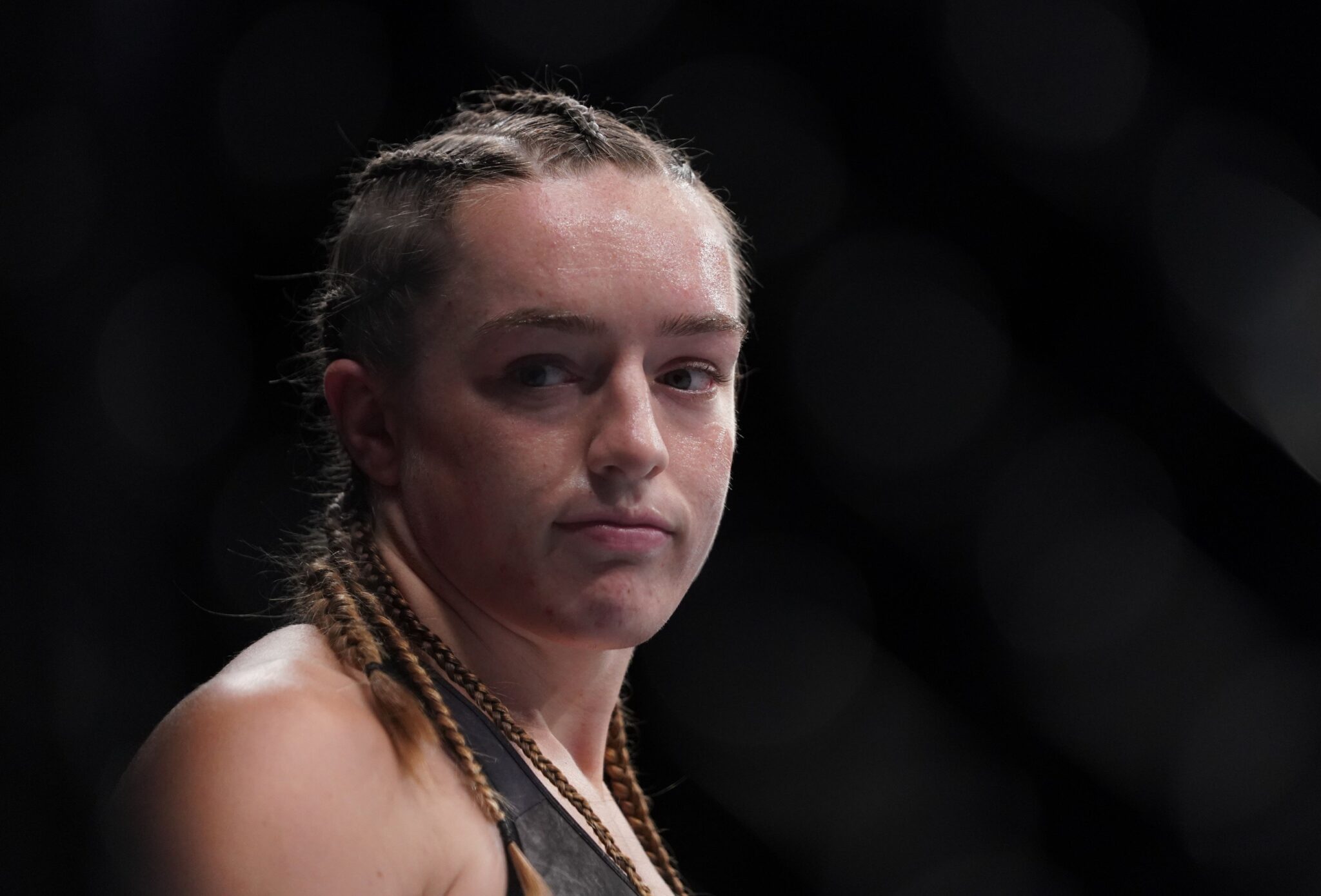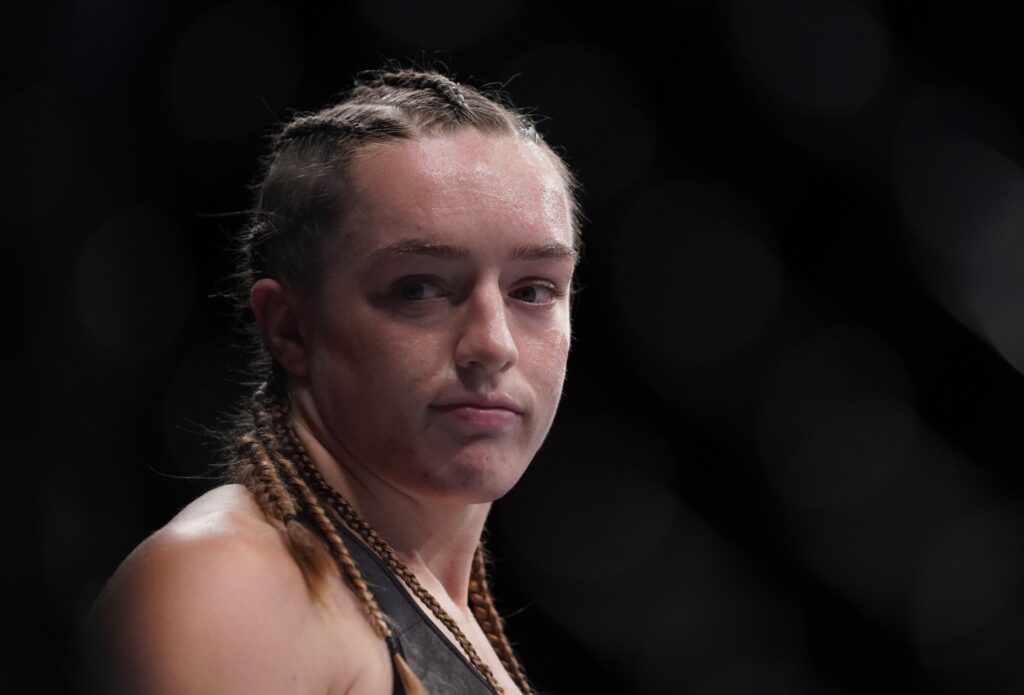 The last six years have seen American striker Aspen Ladd emerge as one of mixed martial art's most exciting young fighters.
After making her professional debut at the beginning of 2015, Ladd, who began her career fighting on Invicta, raced to five straight wins before being offered a contract with the UFC.
Coming into the UFC at the age of just 22, Ladd is one of the youngest ever fighters to compete inside Dana White's octagon.
First UFC Debut
Matched against Lina Lansberg in her debut in October 2017, Ladd, who fought on the Prelims of Fight Night 118 (Till vs. Cerrone), quickly caught the attention of fight fans.
A brutal second-round knockout victory on her promotional debut saw the American continue her impressive unbeaten run.
Following her win over Lansberg and almost exactly a year later, Ladd was matched against veteran and former title challenger Tonya Evinger.
Continuing her stunning breakthrough, Ladd claimed another victory, this time by way of a first-round knockout.
The summer of 2018 saw the highly-rated striker matched against powerful brawler Sijara Eubanks.
Although failing to emulate her most recent knockout victories, Ladd still went on to see her hand raised as the fight's judges unanimously ruled in her favor.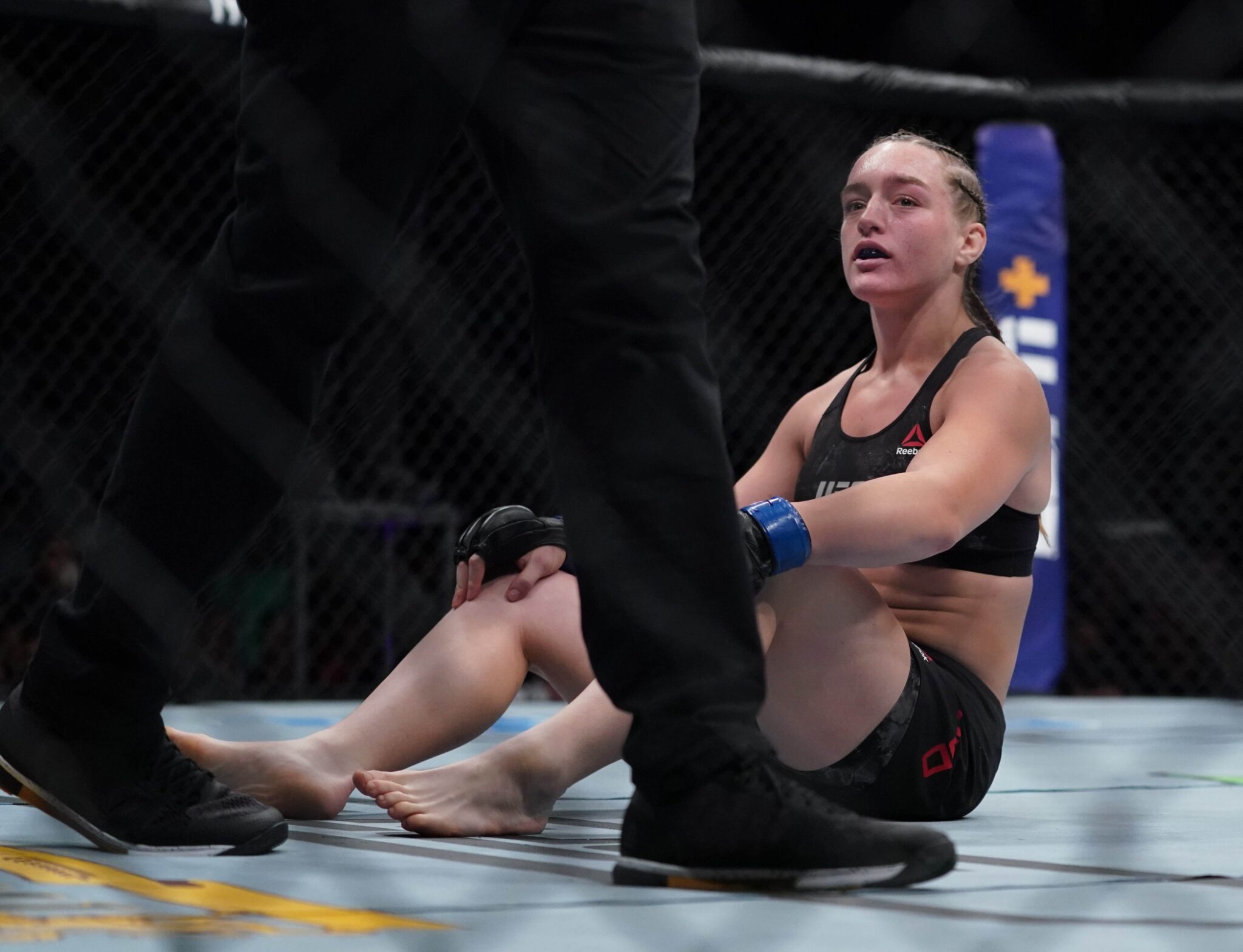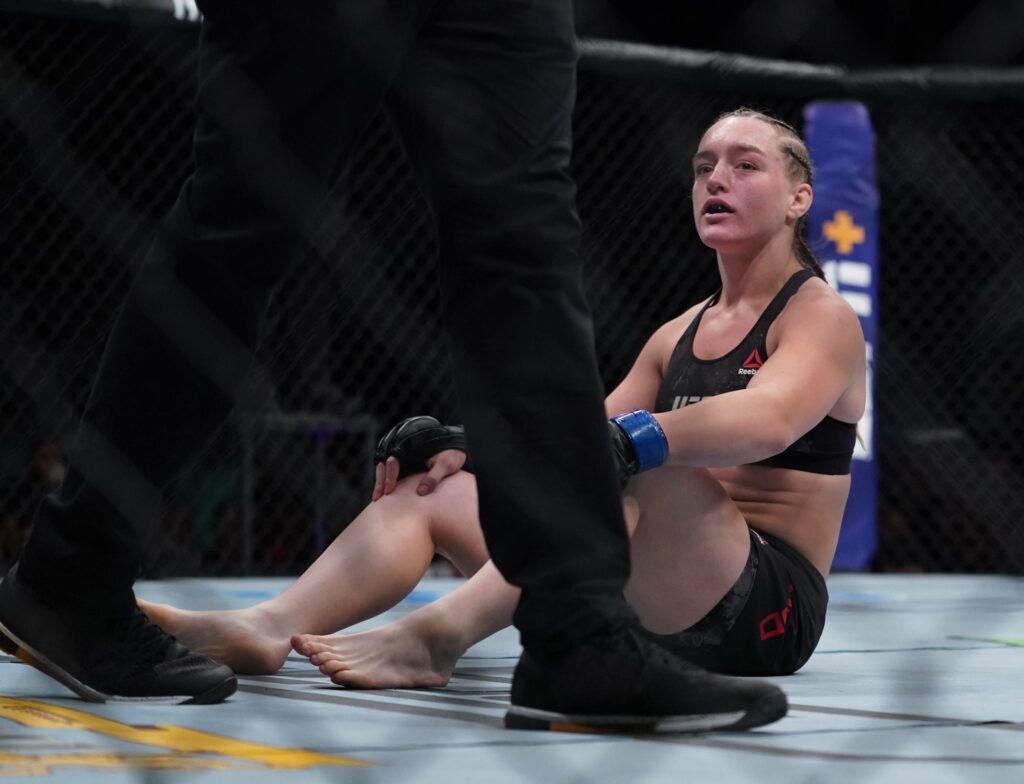 Despite emerging as one of the biggest threats to champion Amanda Nunes' title reign, Ladd suffered a shock first-round defeat against former champion Germaine De Randamie in the summer of 2019.
However, bouncing back in emphatic fashion, Ladd's most recent bout in December 2019 saw her dominate Yana Kunitskaya and claim a third-round knockout.
Ladd is scheduled to return to action at Fight Night 191 (Brunson vs. Till) in July 2021 where she will face fellow contender Macy Chiasson.
8. Jessica Andrade – Strawweight / Flyweight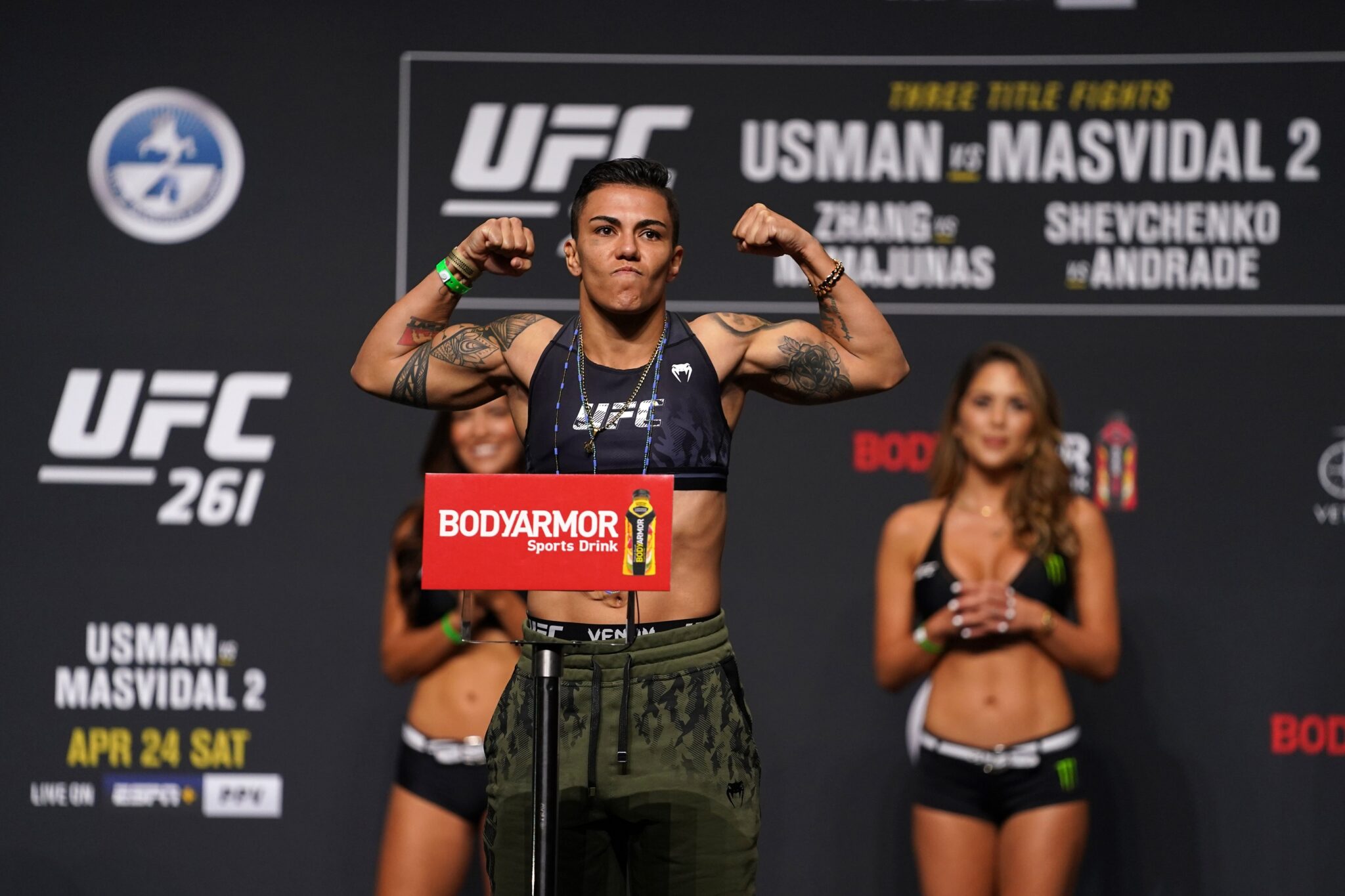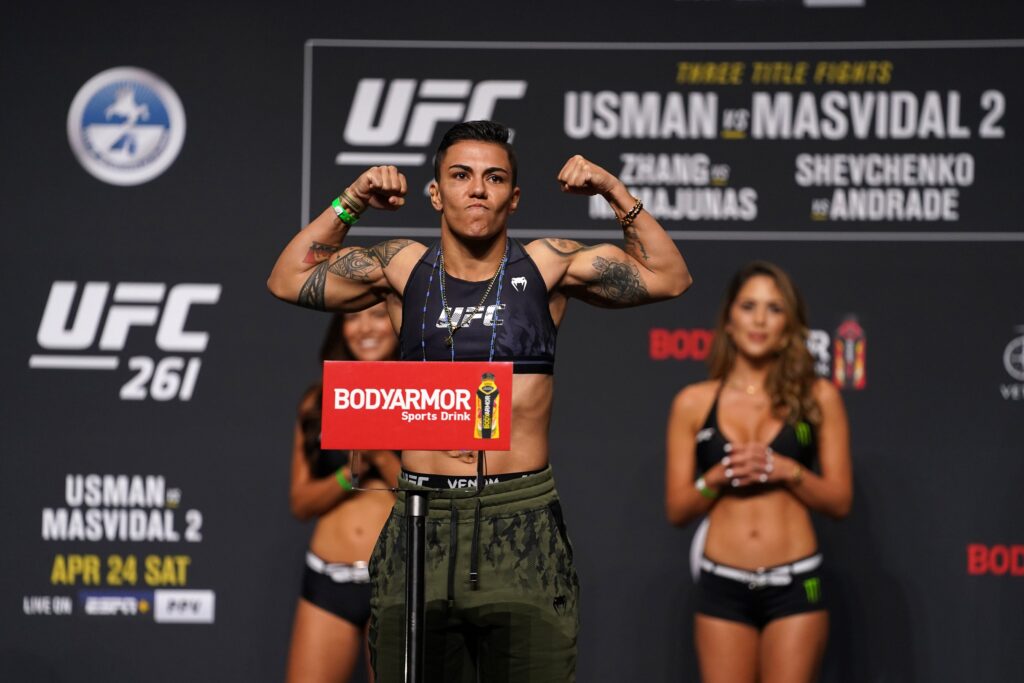 Jessica Andrade is a Brazilian mixed martial artist, best known for her all-out power style of fighting.
Andrade made her professional mixed martial arts debut back in 2011 while competing on Brazilian promotion Sagaz Combat.
After tasting victory in her first-ever pro bout, Andrade, who then switched between a host of promotions, including Wako Grand Prix, Heavy Fighting Championship, and Ring of Fire, quickly emerged as one of South America's hottest prospects.
It took Andrade 11 pro fights to be offered the chance to join Dana White's UFC.
First UFC Debut
Coming into her promotional debut in 2013 against Liz Carmouche, Andrade displayed a record of nine wins and two losses.
However, despite the hype, Andrade's debut saw her suffer a third career loss after Carmouche claimed an excellent second-round knockout.
Determined to come backfiring, Andrade, who was given another opportunity to impress, agreed to fight Rosi Sexton just three months later.
After beating Sexton by unanimous decision, Andrade then went on to claim another two victories, including a split decision against Raquel Pennington and a submission win against Larissa Pacheco.
Still relatively fresh-faced in MMA's big leagues, the Brazilian powerhouse's three-fight win streak came to an end when she lost to veteran Marion Reneau in 2015.
However, she did bounce back just a few months later when she beat Sarah Moras, also by decision.
After then being rematched against Pennington at the end of 2015, UFC 191 saw Andrade suffer her fifth career defeat.
Andrade's defeat to Pennington saw the Brazilian fall someway out of title contention.
Moving Down to Strawweight
Seemingly adamant to climb the rankings, Andrade made the decision to drop weight classes and move down to strawweight.
Making her strawweight debut during the summer of 2016, Andrade faced off against Jessica Penne in a bout that saw the South American win by knockout in the fight's second round.
Looking to be right at home at 115lb following her convincing win over Penne, Andrade then racked up another two victories, including a submission against Joanne Calderwood and a unanimous decision victory against the vastly experienced Angela Hill.
Climb to the Title Shot
Now firmly on the path to securing a title fight, Andrade was granted her wish when she was handed a championship opportunity against dominant champion Joanna Jedrzejczyk at UFC 211 in 2017.
Despite taking one of the best female strikers all the way to the judge's scorecards, UFC 211's co-main event wasn't to be the Brazilian's night as she eventually saw her opponent's hand raised by way of a unanimous decision.
Refusing to give up on her title ambitions, Andrade returned to action just four months after her UFC 211 defeat.
The next 18-months saw the Brazilian rack up a hugely impressive three wins, including two decision victories against Claudia Gadelha, Tecia Torres, and a first-round knockout against Karolina Kowalkiewicz.
Second Title Fight
Now firmly back among the strawweight division's top contenders, Andrade was given her second title shot against new champion 'Thug' Rose Namajunas.
Finally recognizing her time had come, UFC 237, during the summer of 2019, saw Andrade dismantle the highly-rated Namajunas.
After unleashing a rare and extremely effective slam, Andrade secured a stunning second-round victory and in turn, went on to lift the strawweight title.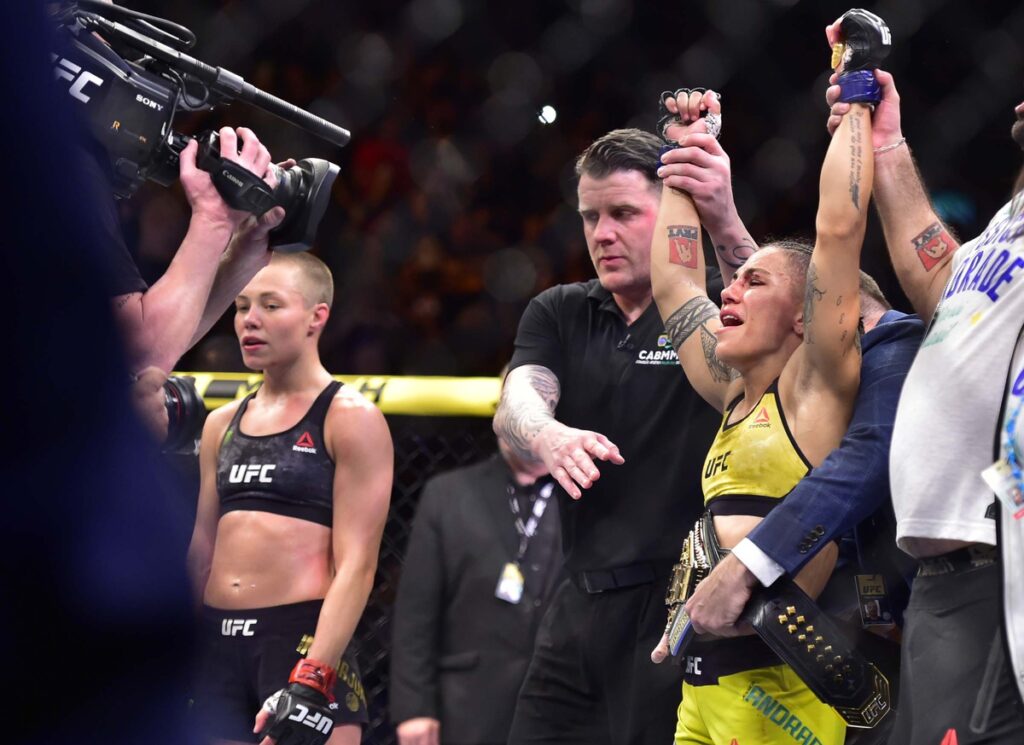 Following her impressive championship win at UFC 237, Andrade was forced to defend her title almost immediately.
Just 12 weeks after defeating Namajunas, Andrade was matched against surging contender Weili Zhang.
Going on to lose the title fight, Fight Night 157 saw Zhang knock her South American opponent out in the fight's first round.
From there, Andrade was then rematched against Namajunas at UFC 251 where she suffered her second consecutive loss by way of a narrow split decision.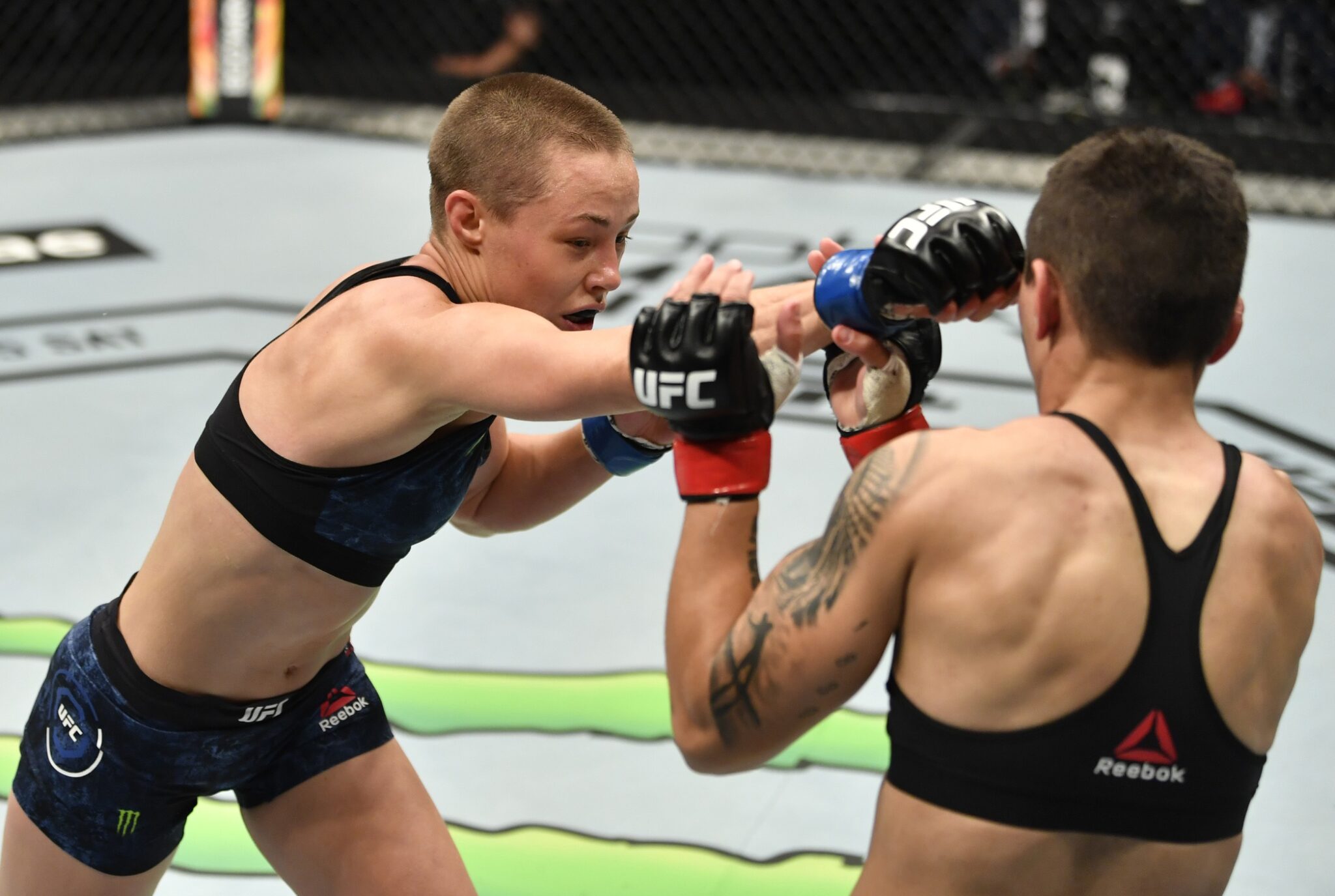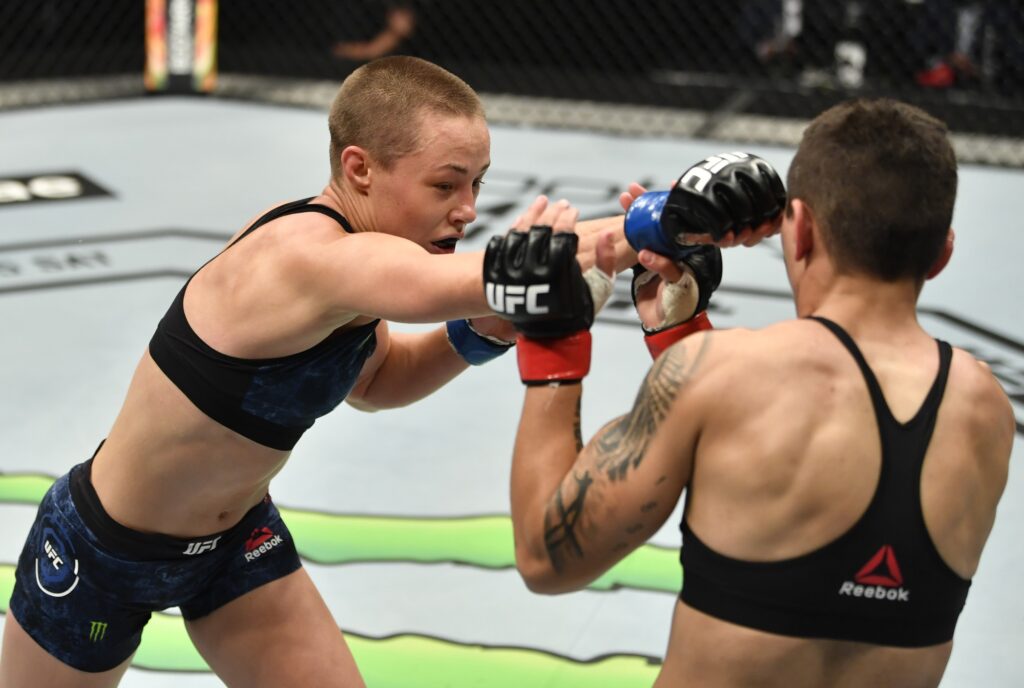 Determined to get back into the win column, Andrade then made the decision to compete in a third weight class and move up to flyweight.

Making her divisional debut at the end of 2020, Andrade, who was matched against Katlyn Chookagian, went on to enjoy a first-round knockout victory.
Despite her initial success at flyweight, the Brazilian's most recent bout saw her lose a flyweight title fight against Valentina Shevchenko.
Andrade is set to return to action at UFC 266 in September 2021 where she will face fellow flyweight, Cynthia Calvillo.
7. Holly "The Preacher's Daughter" Holm – Bantamweight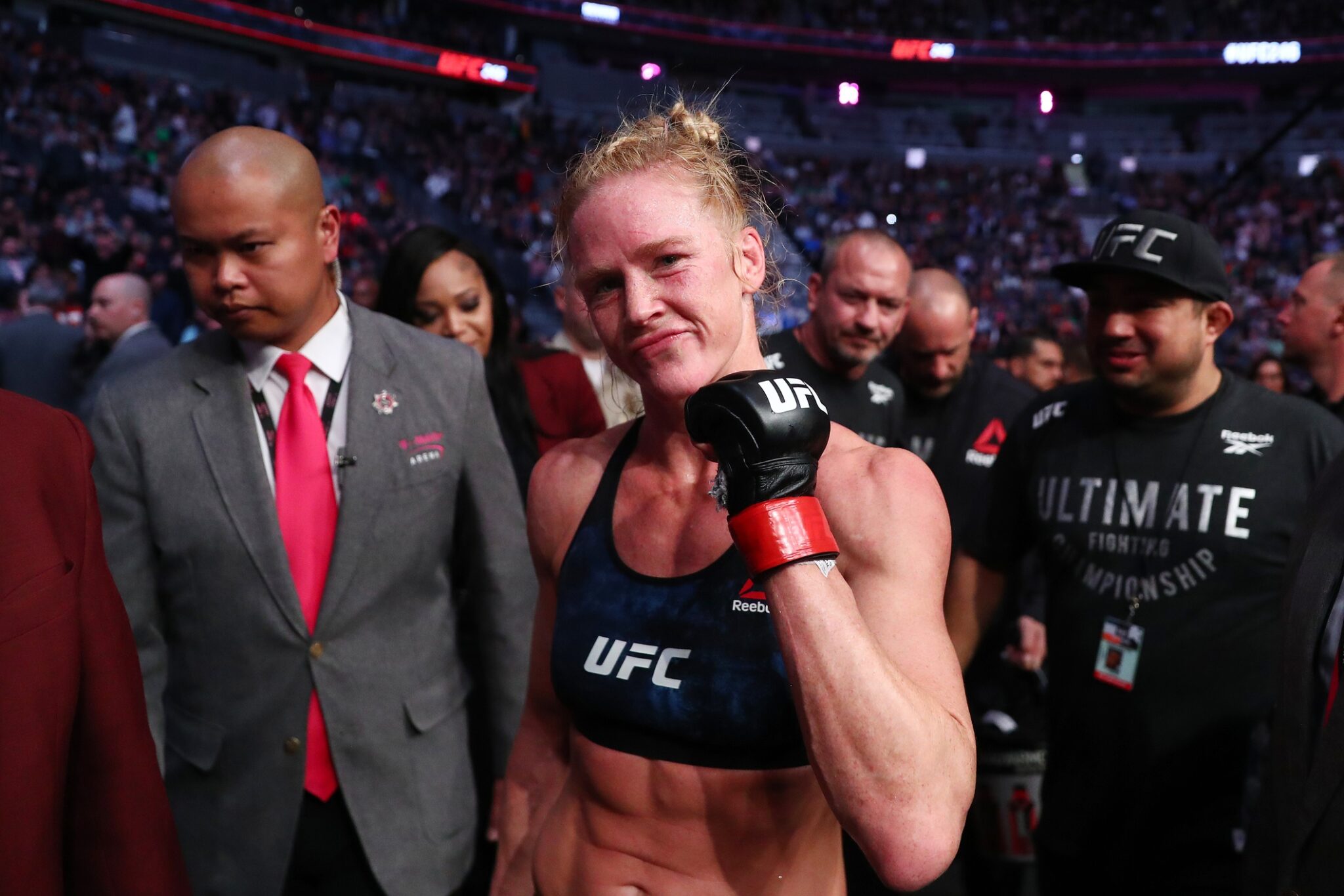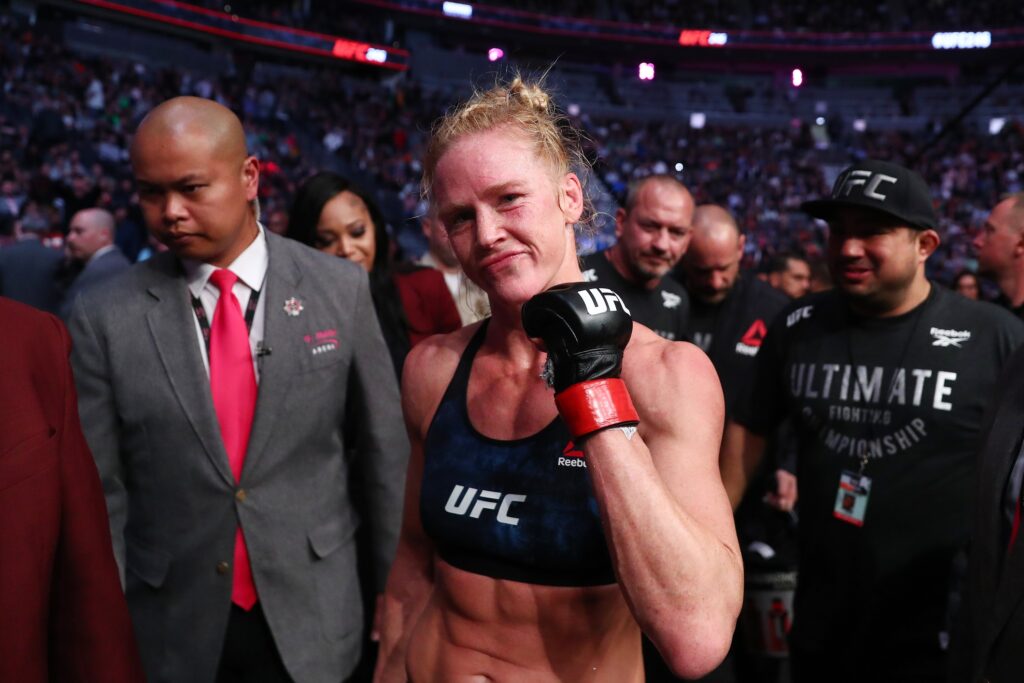 Holly Holm is an American fighter who is widely regarded as one of the pioneers of women's mixed martial arts.
Prior to her switch to mixed martial arts, Holm was best known for competing in boxing.
Beginning her fighting career in 2002, over the course of the next decade, Holm racked up a stunning 33 professional boxing wins and suffered just two losses.
Transitioning to MMA
The Albuquerque-born striker's final boxing bout came in 2013 when she fought and beat Mary McGee – from there Holm made the transition to mixed martial arts.
After beginning her professional mixed martial arts career in promotion Fresquez, Holm quickly went on to feature on both Bellator and LFC before earning a UFC contract.
Holm came into her UFC debut fight against Raquel Pennington in 2015 unbeaten with a professional record of seven wins and no losses.
Impressing on her debut at UFC 184, Holm, who beat Pennington via a split decision continued her unbeaten run over the course of another two fights.
After beating Marion Reneau, also by decision, in her second UFC fight, Holm earned herself an unlikely shot at the title.
The Underdog to Ronda Rousey
Still to this day, Holm's main-event title fight against Ronda Rousey at UFC 193 in 2015 is one of the most talked-about and replayed fights in the history of the sport.
Coming into the bout, Rousey was widely regarded as the best female fighter on planet earth and showcasing an unbeaten record of 12-0, everyone, including the bookmakers, had all but written Holm off.
However, in true underdog fashion, Holm—who drew on all her boxing and kickboxing experience—put on a striking masterclass and eventually knocked Rousey out with a devastating head kick in the fight's second round.
Claiming the bantamweight title after just her third fight in the UFC, Holm will always be remembered for pulling off one of the biggest upsets in modern fighting history.
After Becoming Champion
Despite reaching the dizzy heights of champion status, following her win against Rousey, Holm then suffered three consecutive defeats, including losing her title to Miesha Tate.
Determined to get back to winning ways, Holm then beat Bethe Correia by way of knockout in 2017.
Holm's next three fights saw her lose via decision to powerhouse Cris Cyborg, beat Australian Megan Anderson, and suffer a knockout against pound-for-pound great Amanda Nunes.
In light of her loss to Nunes in 2019, opting to fight twice the following year, Holm successfully strung back-to-back decision wins together, including a rematch against old rival Pennington.
Holm's last competitive bout saw her square off against Irene Aldana in October 2020 and at the time of writing, 'The Preacher's Daughter' is still waiting to learn who her next opponent will be.
6. Germaine "The Iron Lady" De Randamie – Bantamweight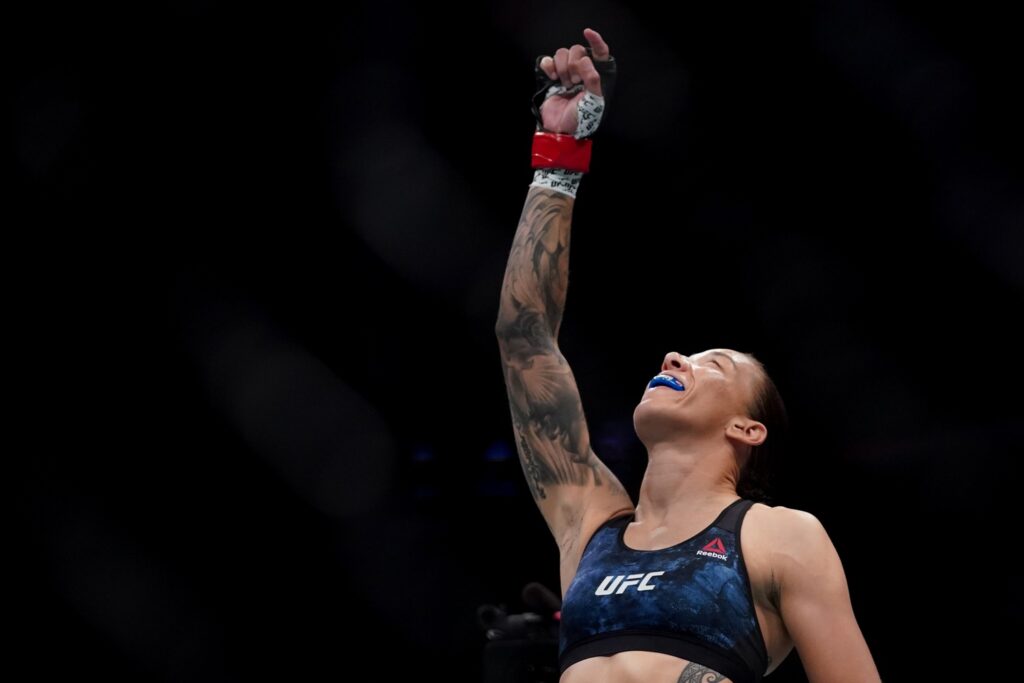 After making her professional debut all the way back in 2008, Dutch-born brawler Germaine De Randamie has gone on to become one of mixed martial arts' most experienced fighters.
Having started her career with Revolution Fight Club (RFC) and later joining Strikeforce, it took De Randamie just five professional fights before she was offered a spot on Dana White's UFC.
First Professional Debut
Making her promotional debut against Julie Kedzie in 2013, the Dutch fighter got off to a winning start after securing a narrow but well-deserved split decision victory.
Following her debut win, De Randamie experienced a quick turnaround and fought Brazilian powerhouse Amanda Nunes just three months later.
A stunning performance from Nunes saw the South American dish out De Randamie's third professional defeat of her career by way of a first-round knockout.
Her Longest Fight Streak
Refusing to let her most recent setback deter her, the bantamweight then went on a remarkable five-fight win streak – including a featherweight unanimous victory over Holly Holm for the division's inaugural title.
After later announcing that she would be returning back to the more familiar bantamweight division, De Randamie rejected the chance to fight Cris Cyborg and instead vacated her title.
From there and looking to overturn her earlier defeat against Nunes, De Randamie was granted a rematch against her Brazilian nemesis at the end of 2019.
Despite putting in a much better showing, De Randamie was once again undone by the greatness of Nunes.
After falling to a unanimous decision loss, the Dutch striker was forced back to the drawing board with her most recent bout against Julianna Pena ending in a decent technical submission victory.
Now with an overall record of 10 wins and four losses, although De Randamie is yet to learn who she will face next, given the fact she remains the bantamweight division's top contender, a trilogy bout against Nunes could very well be on the cards.
5. Zhang "Magnum" Weili – Strawweight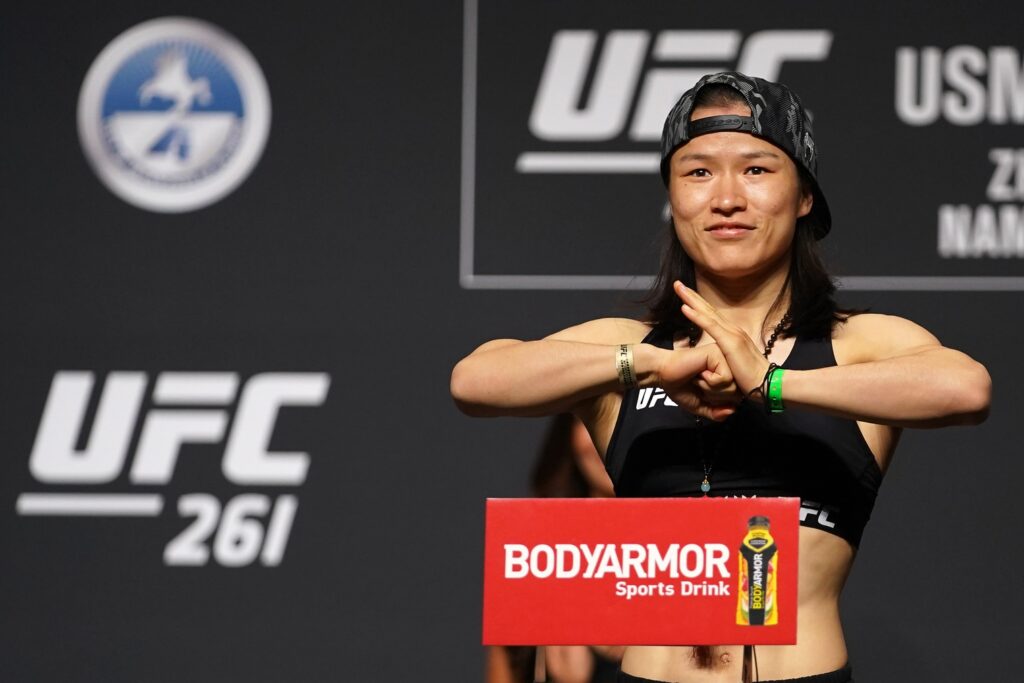 Having turned professional all the way back in 2013, Chinese striker Zhang Weili has enjoyed an impressive career to date.
First Professional Debut
After beginning her career on several lower promotions, such as the Chinese MMA League, CKFC and Kunlun, Zhang made her UFC debut during the summer of 2018.
Matched against fellow strawweight Danielle Taylor, Zhang claimed her first UFC victory by way of a convincing unanimous decision.
Following her debut win over Taylor, over the course of the next 12-months, Zhang went on to rack up back-to-back wins over Jessica Aguilar and Tecia Torres before being awarded a title shot against Brazilian powerhouse Jessica Andrade.
Early Title Fight
The fact Zhang's first strawweight title shot came just three fights into her UFC career signaled just how highly her skill-set was regarded among the promotion's hierarchy.
Taking on Andrade in 2019, it took Zhang less than the fight's first round to dish out a vicious knockout win.
In light of her dominant title victory, Zhang became China's first-ever UFC champion.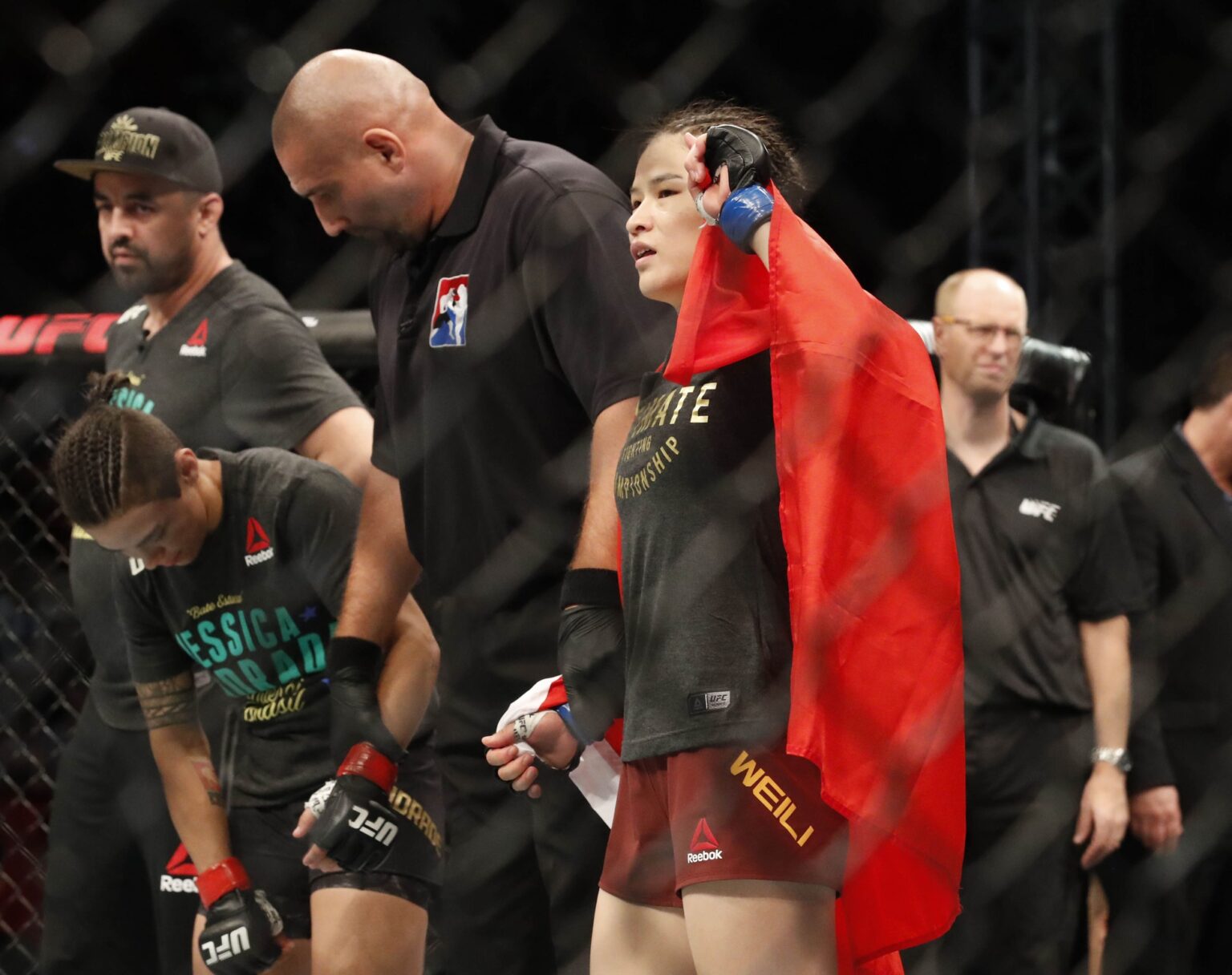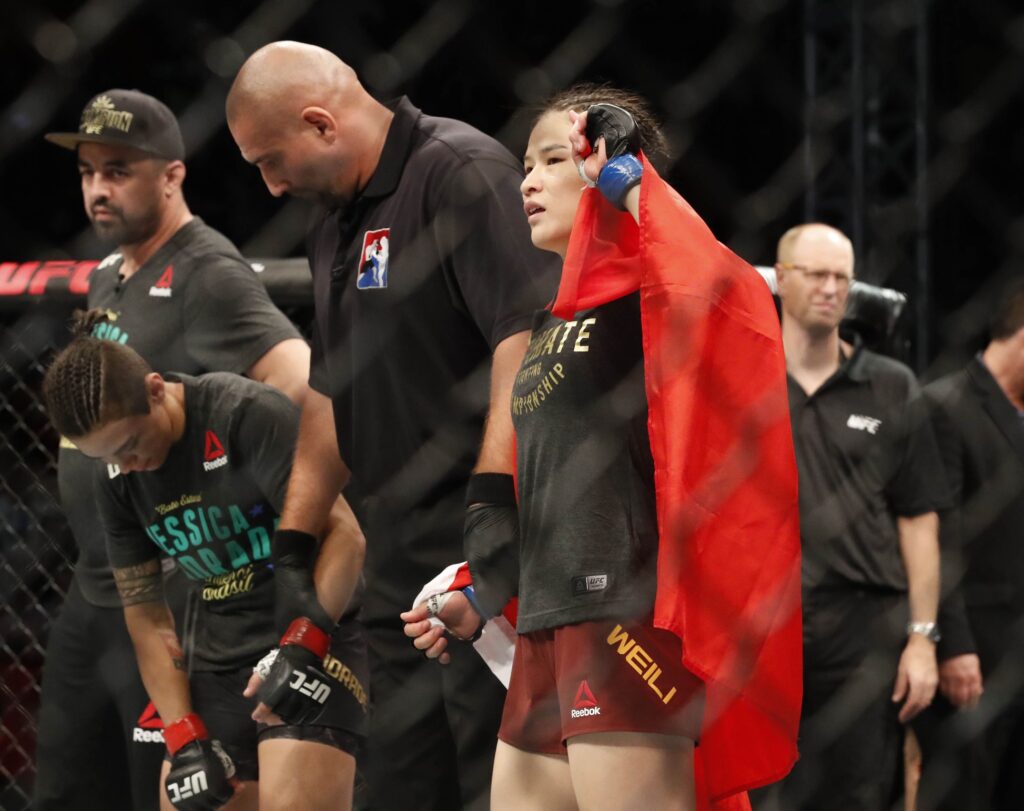 Having already cemented her place among the sport's history books, a title defense against former champion Joanna Jedrzejczyk was next up for the Chinese striker.
An Historic Fight vs Jedrzejczyk
Facing off at UFC 248 in 2020, Zhang and her Polish opponent put on a stunning display.
Widely regarded as the best female fighter in the history of the sport, UFC 248's co-main event saw both women battered and bruised in what was a striking spectacle.
Fortunately for Zhang, the fight's three judges viewed her as the most aggressive of the pair and awarded her with a fair but extremely narrow split decision win.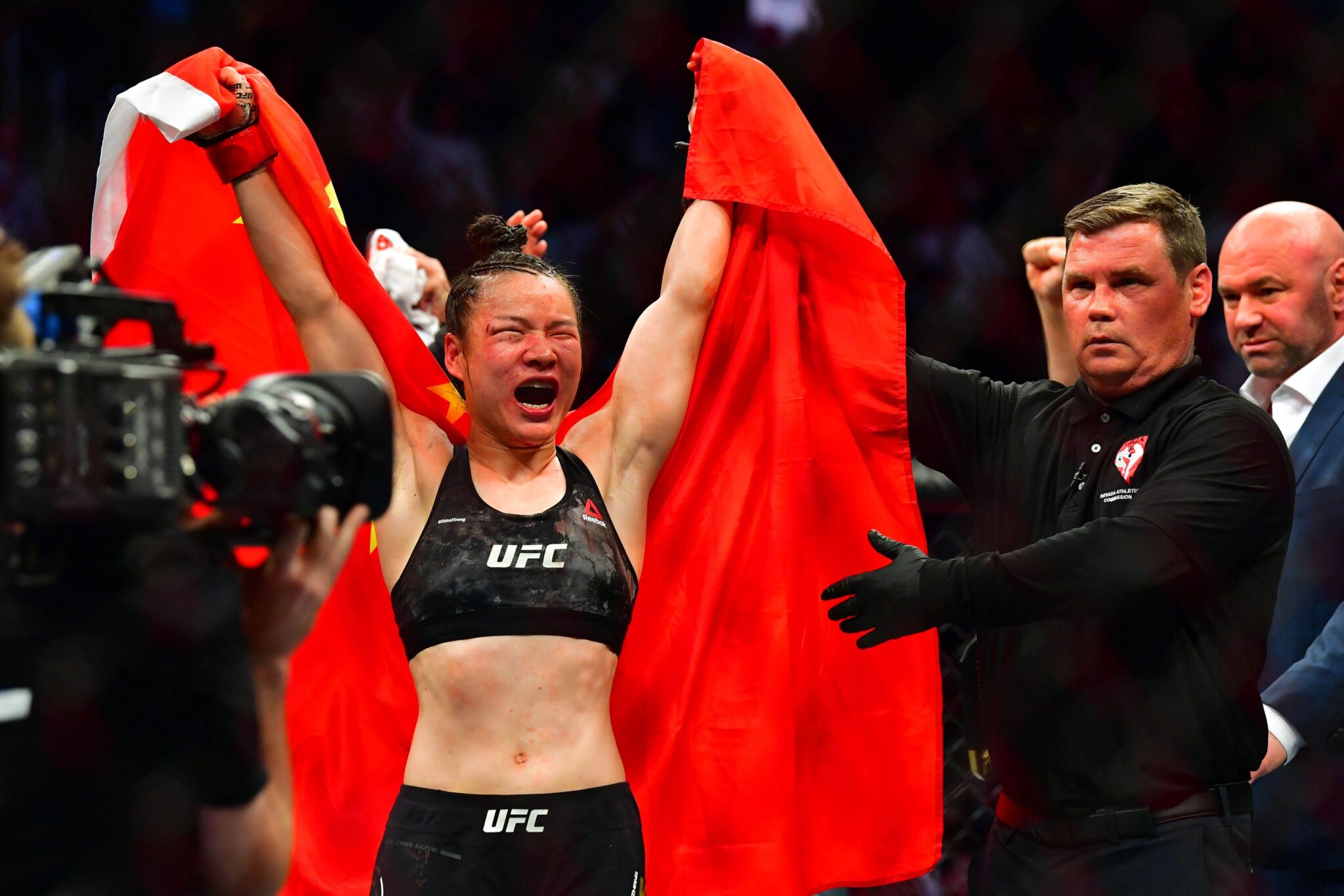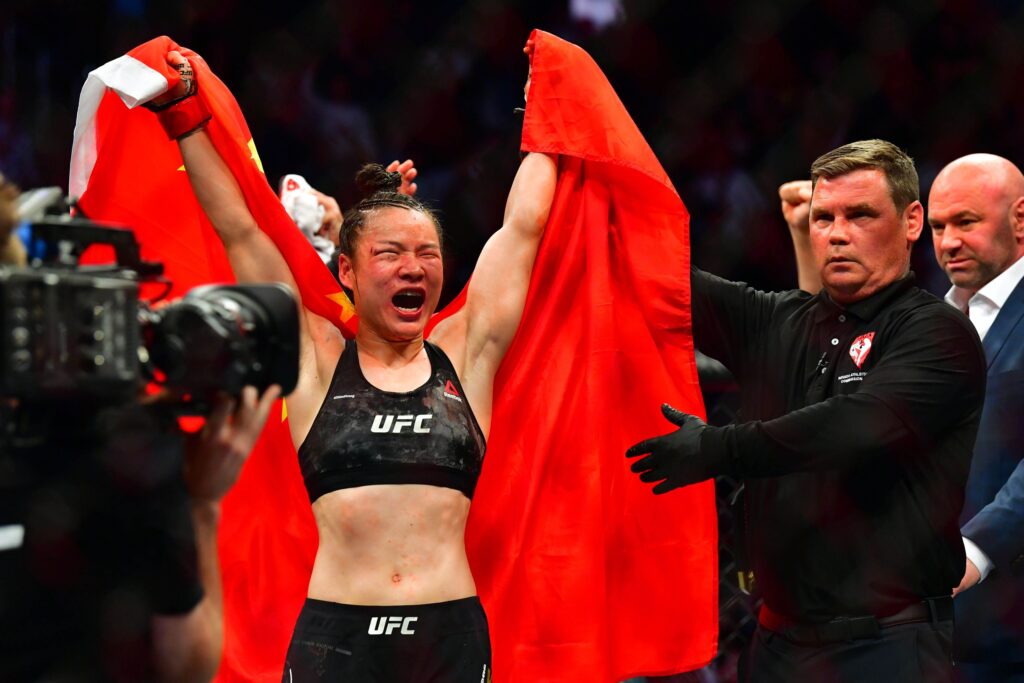 Looking to defend her title for a second time, the Chinese champion was tasked with defeating another former champion in the form of 'Thug' Rose Namajunas at UFC 261.
April 2021 saw a three-title fight event including Zhang taking on Namajunas.
First Title Loss
Coming into UFC 261's co-main event, Zhang was the heavy betting favorite with the Chinese fighter widely expected to outstrike her American adversary.
However, in a shocking turn of events, a stunning first-round head-kick saw Namajunas dethrone Zhang, two years after she first claimed the title.
It is not yet known who Zhang will fight next, however, currently ranked as the division's top contender, it won't be too long until the powerful striker gets another shot at strawweight gold.
4. Joanna Jedrzejczyk – Strawweight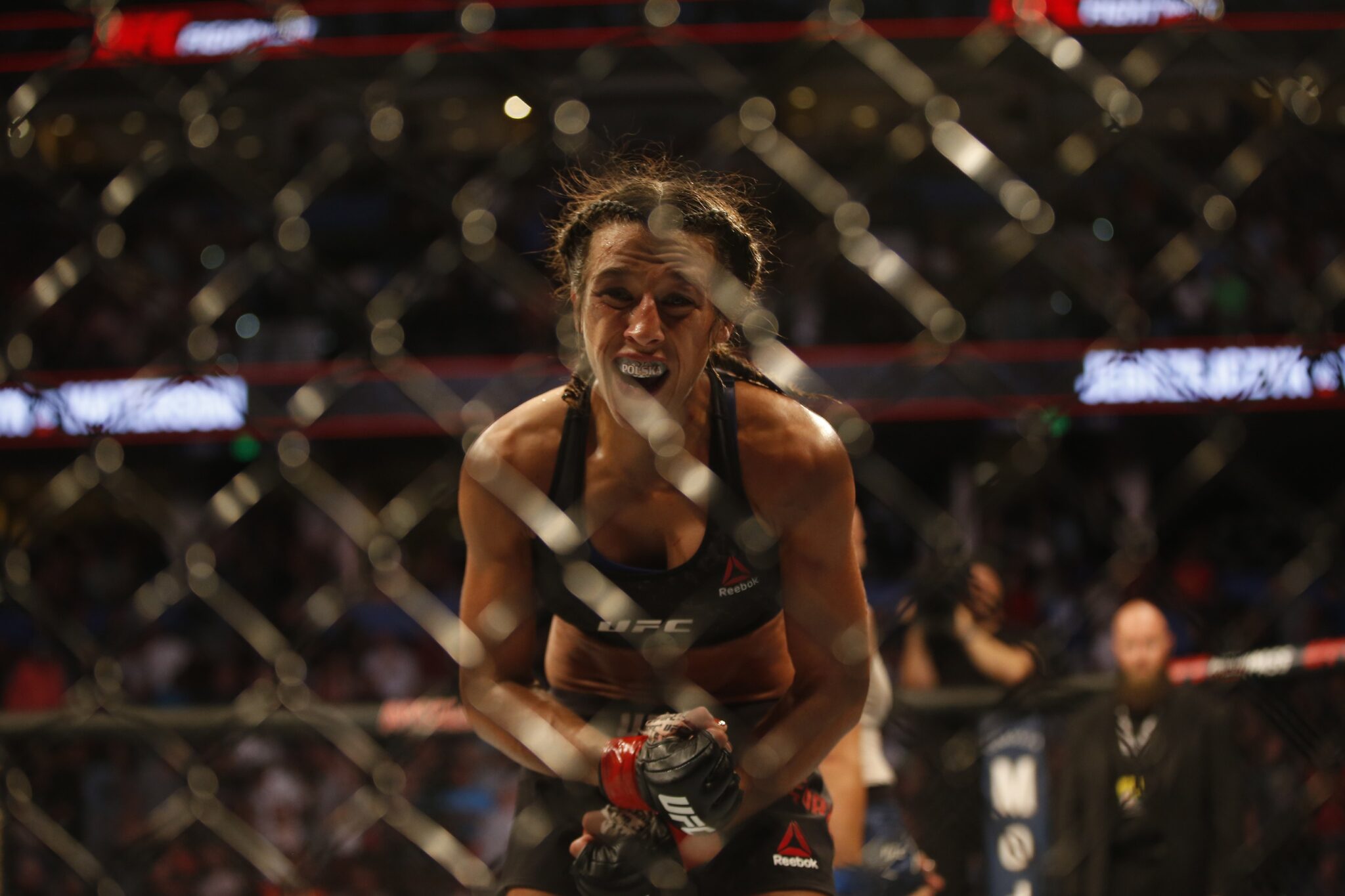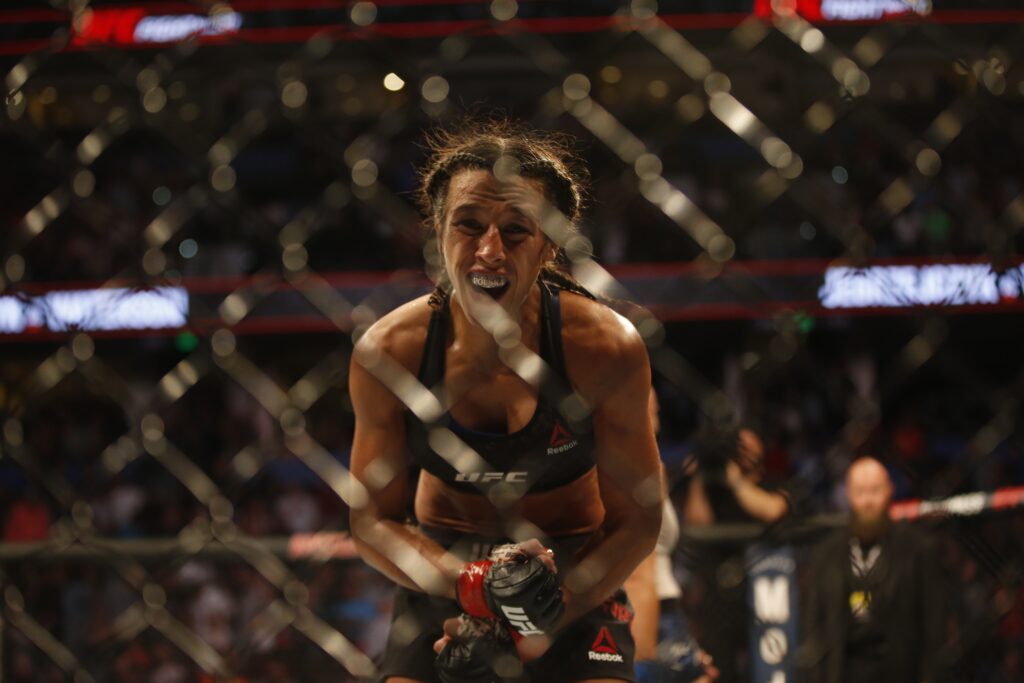 Polish kickboxer Joanna Jedrzejczyk has enjoyed an impressive career with many fans considering her a pioneer for women's mixed martial arts.
Making her professional debut back in 2012 for Brazilian promotion SFT, it took Jedrzejczyk just six fights before being offered a UFC contract.
First UFC Debut
Coming into her UFC debut in 2014, Jedrzejczyk was unbeaten and on an impressive six-fight win streak.
Matched against Juliana Lima for her eagerly anticipated debut, the Polish striker went on to claim a unanimous decision victory.
From there, the 33-year-old made light work of the strawweight division and quickly emerged as the biggest threat to champion Carla Esparza's reign.
Going on to defeat Claudia Gadelha via split decision just six months after her promotional debut, Jedrzejczyk was next in line to fight for the title.
The 'Un-Dethronable' Strawweight Queen
Facing off against Esparza at UFC 185 in 2015, a brutal second-round TKO sealed Jedrzejczyk's champion status and signaled the beginning of a 966-day reign at the top of the women's strawweight division.
Over the next two and a half years, Jedrzejczyk racked up five title defenses, including a second win over Gadelha in 2016.
With her overall professional record sitting pretty at 14-0, it was to be contender Rose Namajunas who proved to be the Polish kickboxer's biggest rival.
Coming into the pair's famous bout at UFC 217, Jedrzejczyk closed as the overwhelming betting favorite – with many having already written Namajunas off. However, what followed flipped the MMA world on its axis.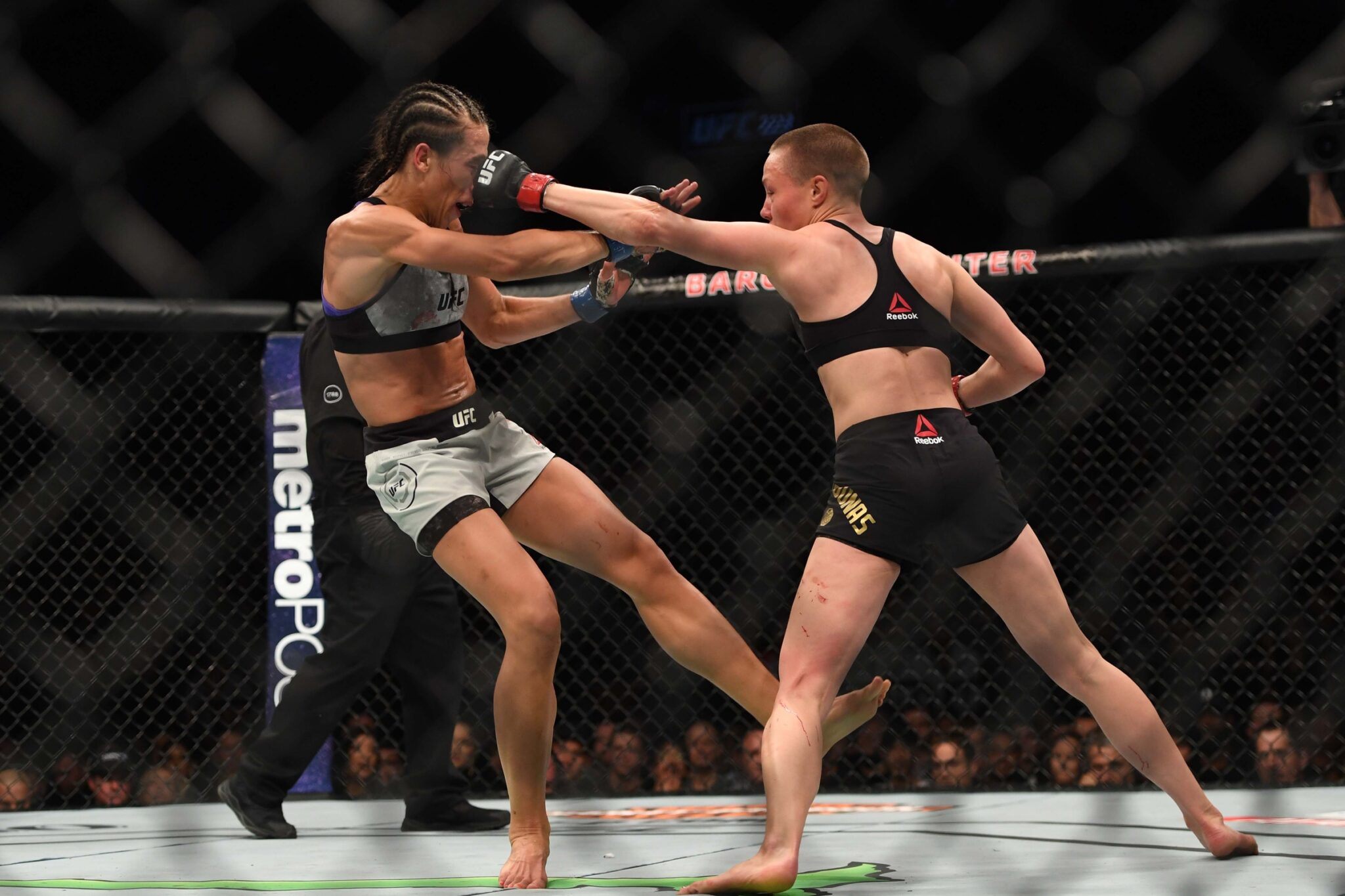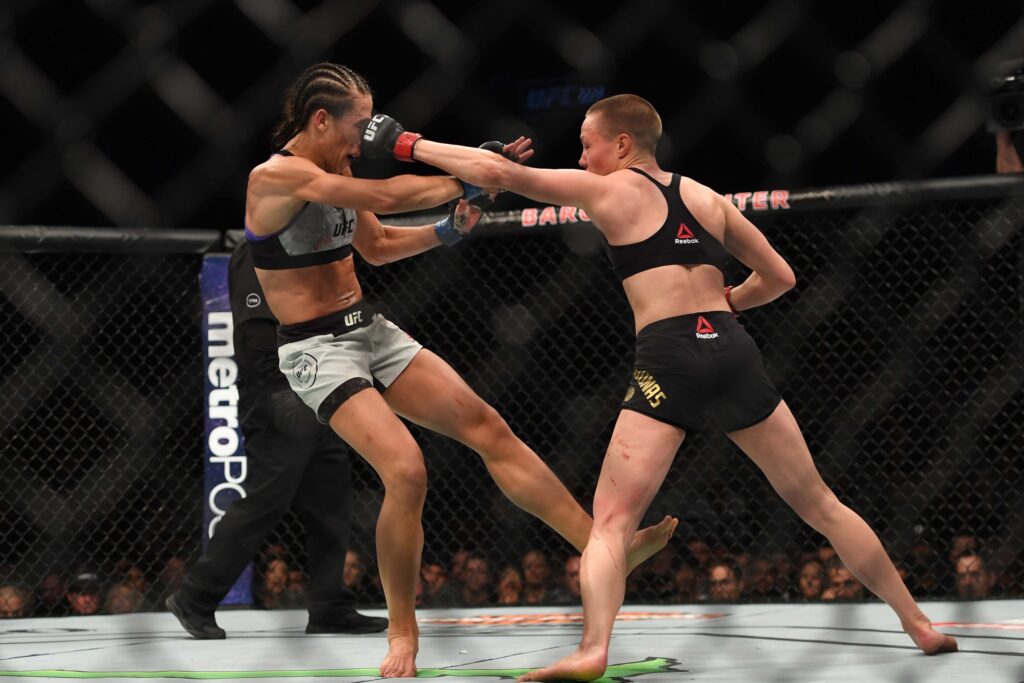 A stunning first-round striking masterclass saw Namajunas punish the Polish champion and in turn, signal the beginning of a new era for the strawweight division.
First Professional Loss
Seemingly underestimating her opponent, Jedrzejczyk not only lost her title but also suffered her first professional loss.
The pair rematched six months later and although their co-main bout in 2018 went the distance, it was to be Namajunas who came away victorious for a second time.
Desperate to get back to more familiar winning ways, Jedrzejczyk fought fellow contender Tecia Torres during the summer of 2018 and managed to bag a much-needed decision win.
Moving Down to Flyweight
With Namajunas dominating the strawweight division and Jedrzejczyk rightfully denied the chance to fight for the third time, the Polish fighter took the opportunity to move down a weight class and face off against Valentina Shevchenko for a chance to lift the vacant 125lb title.
The pair's flyweight title fight in December 2018—although between two of the baddest women on earth—ended in another crushing defeat for Jedrzejczyk; this time with Shevchenko doing enough to convince the judges.
Seemingly done with her flyweight experiment, Jedrzejczyk made a quick return to her more familiar strawweight division and was next matched against karate-style fighter Michelle Waterson.
UFC 248: That Fight With Weili Zhang
Beating Waterson in relatively convincing fashion, Jedrzejczyk found herself back in title contention and was most recently matched against then-champion Weili Zhang.
The pair's title fight at UFC 248 in 2020 will go down as one of the greatest fights in combat sport's history.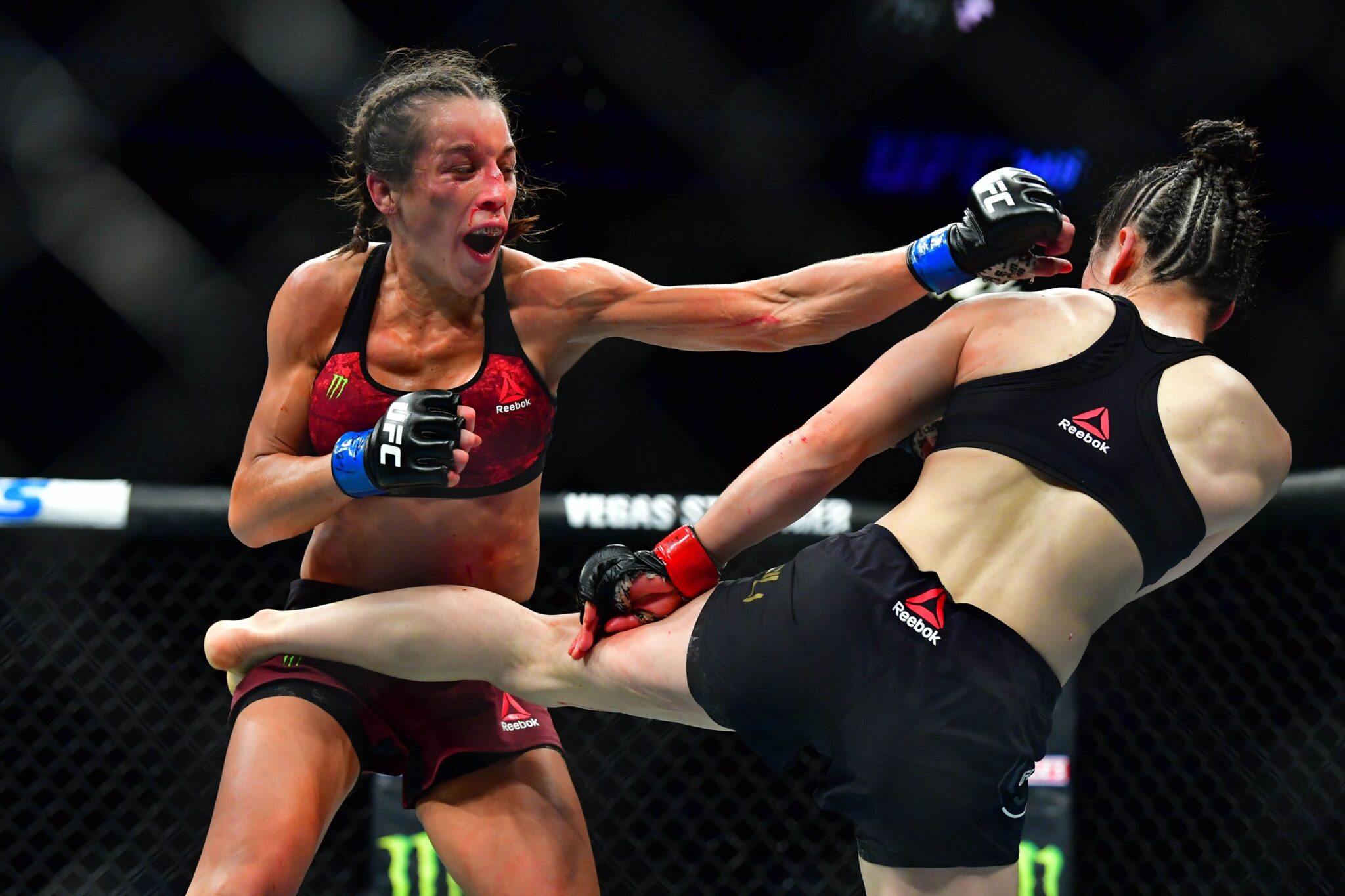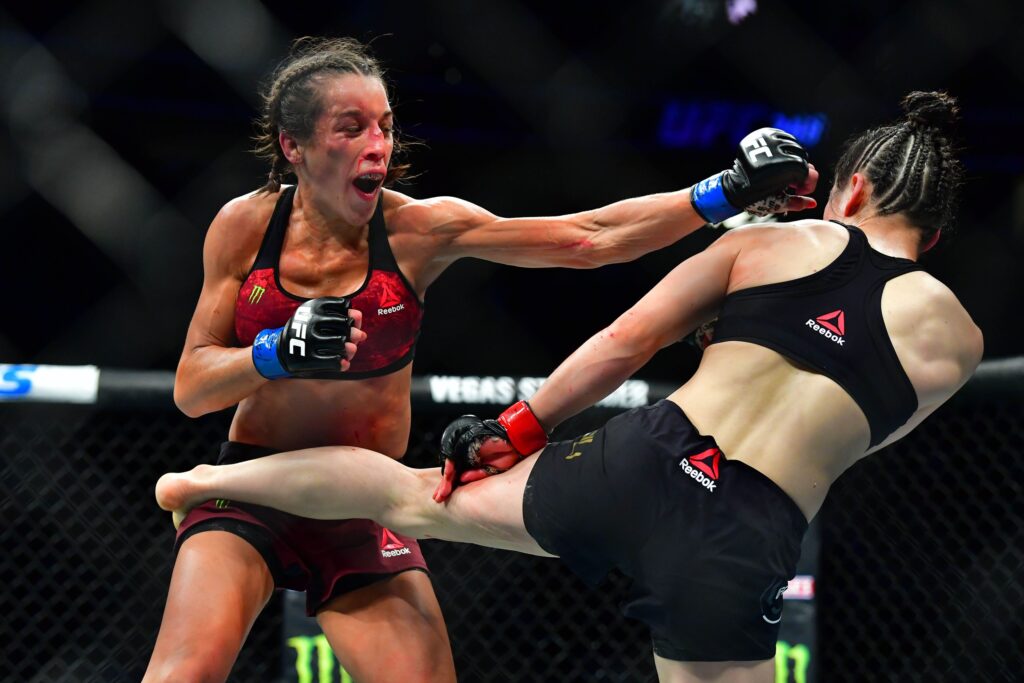 Relentless exchanges maintained by a truly grueling pace from both fighters spanned the duration of all five rounds.
Both females were left battered and bruised with Jedrzejczyk virtually unrecognizable after showcasing one of the worst hematomas ever seen.
Despite both fighter's incredible efforts, it was to be Zhang who defended the title, leaving Jedrzejczyk empty-handed once more.
Although Jedrzejczyk has not fought since her bout against Zhang in 2020, she shows no signs of retiring.
However, at the time of writing this, the Polish striker's next bout has not been confirmed.
3. "Thug" Rose Namajunas – Strawweight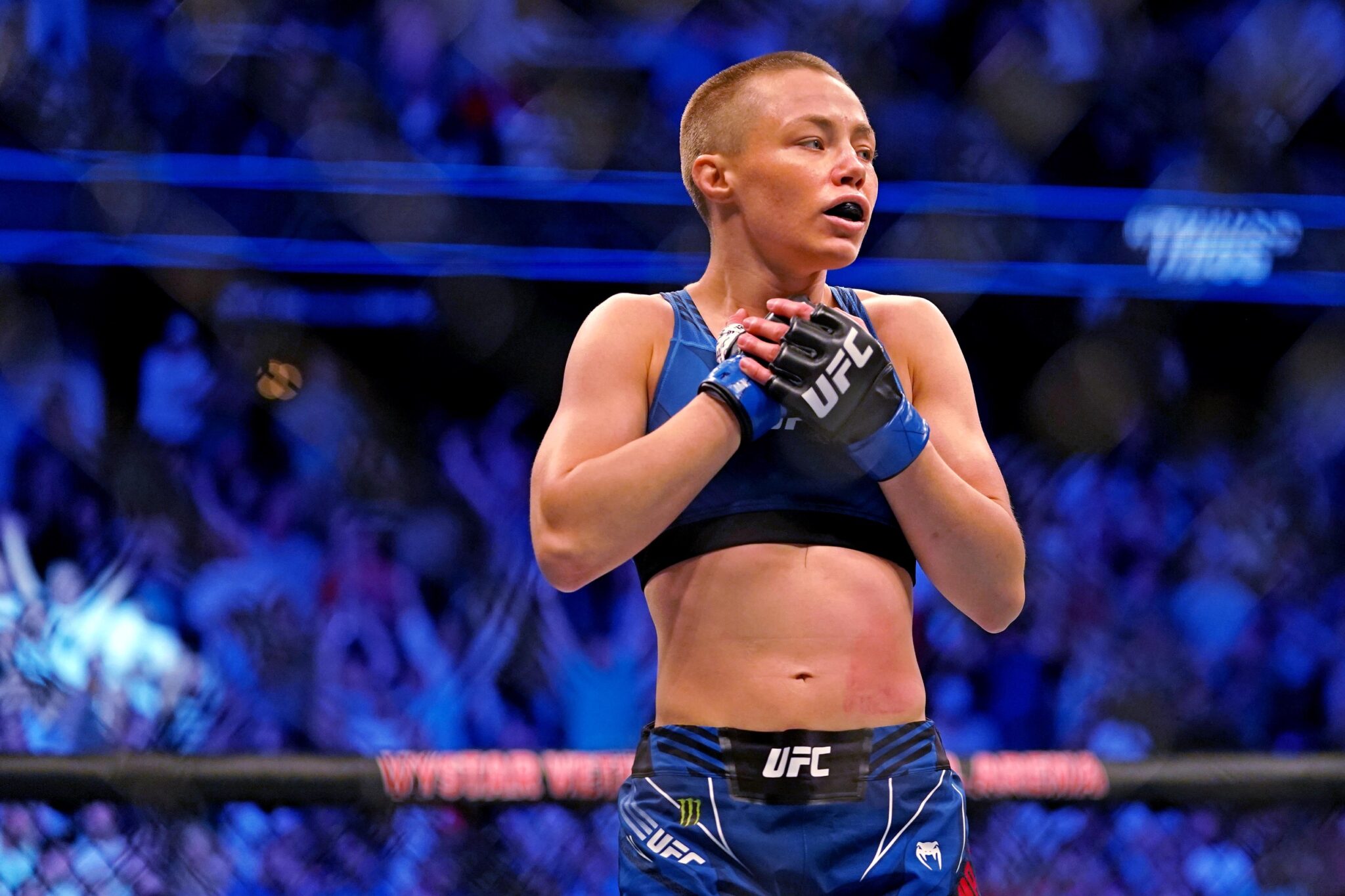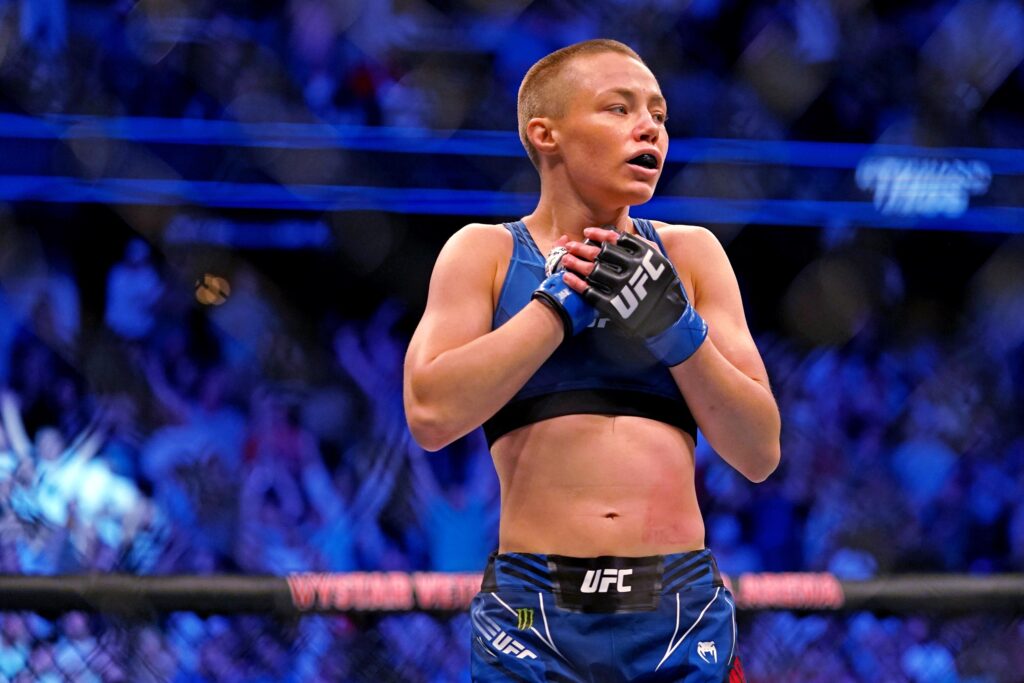 Since making her professional debut back in 2013, American fighter Rose Namajunas has grown to become one of mixed martial art's most loved fighters.
Best known for her peaceful nature, once she steps inside the octagon, Namajunas more than lives up to her 'Thug' nickname.
Having started her professional journey on all-female promotion Invicta, Namajunas quickly racked up back-to-back wins over Emily Kagan and Kathina Lowe.
First Title Fight/Loss
After being awarded the chance to fight on Dana White's Ultimate Fighter Season 20, Namajunas, who was Gilbert Melendez's fourth pick, went on to reach the competition's finale where she faced off against Carla Esparza for the inaugural flyweight title.
Despite narrowly missing out on the title after being submitted in the third round, Namajunas, undeterred by her championship defeat then went on an impressive three-fight winning streak.
Quickly racking up wins over veteran Angela Hill, MMA poster girl Paige VanZant and Tecia Torres, the well-rounded 'Thug' Rose emerged as a title contender for the second time in her career.
Adversity came during a 2016 bout against Polish striker Karolina Kowalkiewicz though – After a razor-thin split decision awarded her opponent with the win, Namajunas was pegged back once again.
However, in relentless fashion, Namajunas opted to return to action less than a year later when she fought and beat Michelle Waterson via a second-round rear-naked choke submission.
The Jedrzejczyk Upset
Namajunas' impressive domination over Waterson ensured she was next in line to fight the then-unbeaten Joanna Jedrzejczyk.
UFC 217 set the stage for what would be one of the biggest upsets in UFC history.
A fight round obliteration over women's MMA's most dominant champions propelled Namajunas into the sport's limelight.
Following five successful title defenses, Jedrzejczyk was granted an immediate rematch.
Still written off by many, Namajunas' rematch against Jedrzejczyk at UFC 223 saw the American showcase her talent once again.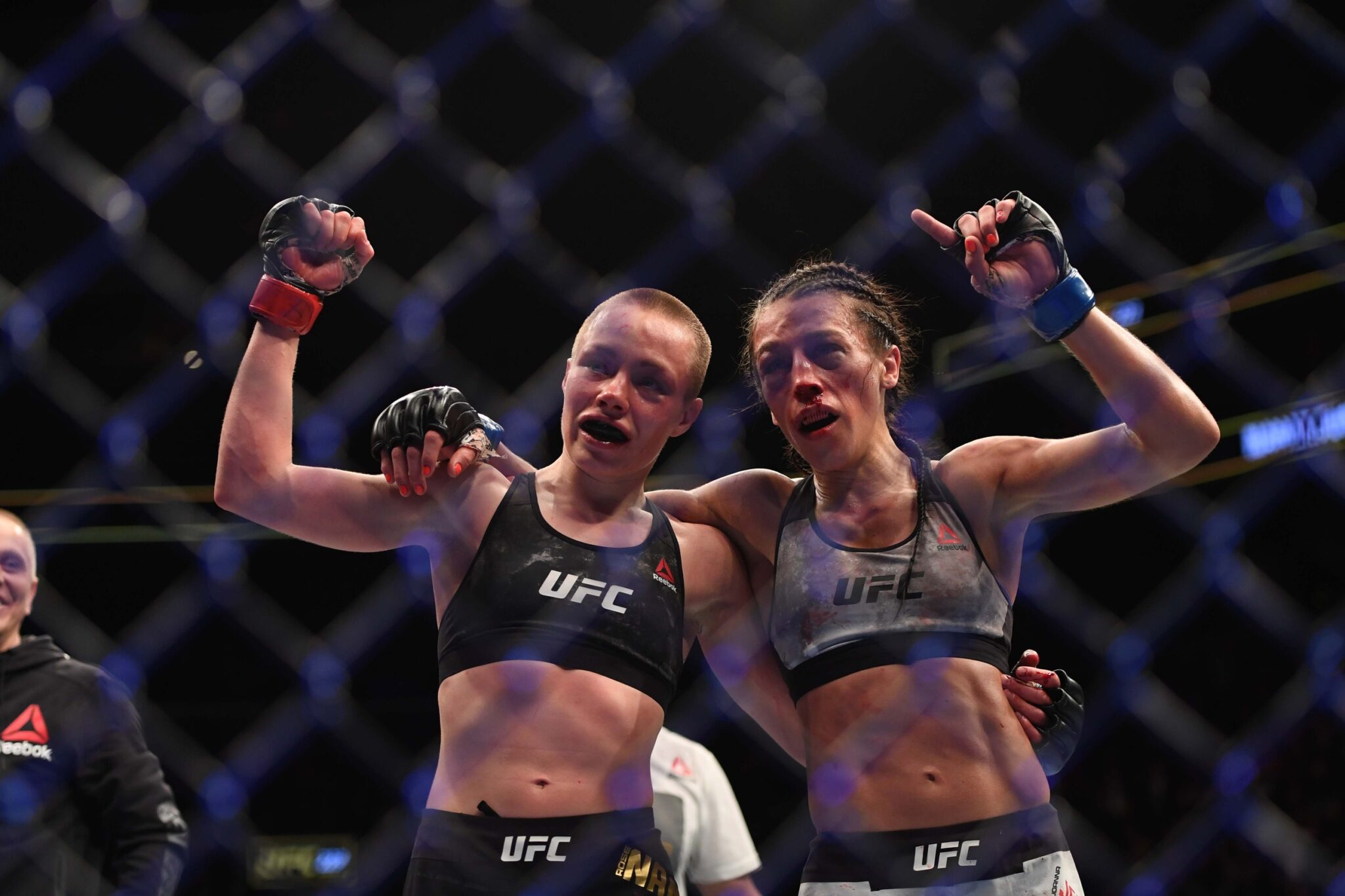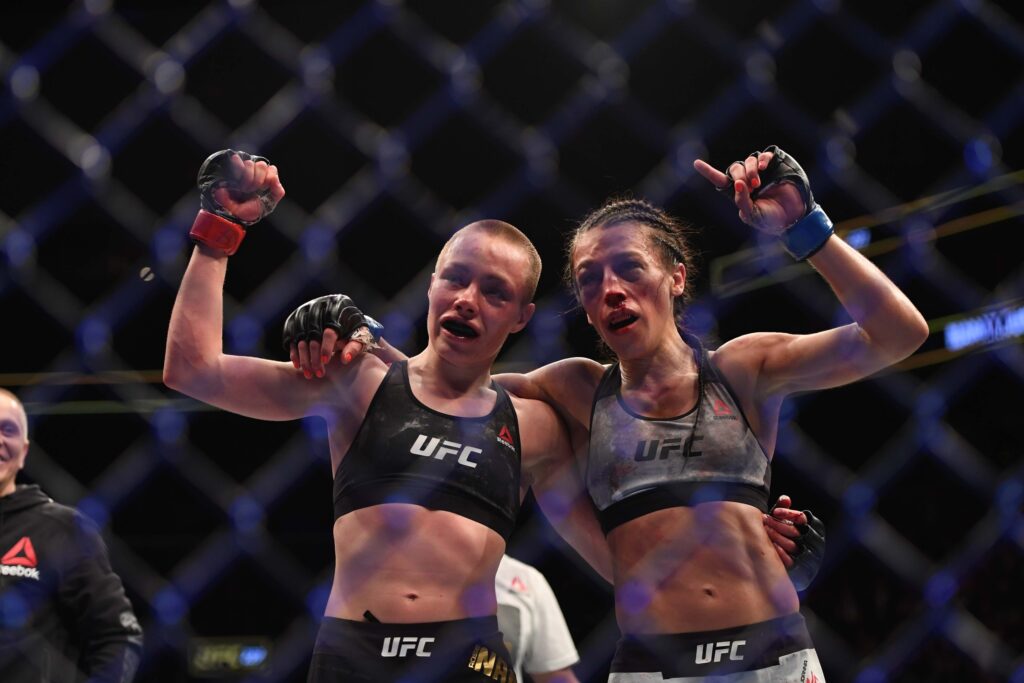 An impressive unanimous decision victory over her Polish rival saw Namajunas force her way into the women's GOAT conversation.
The American's second title defense came by way of an exciting stylistic matchup against Brazilian powerhouse Jessica Andrade in 2019 at UFC 237.
Although coming into the bout as the overall betting favorite, Namajunas tasted defeat after Andrade showcased her strength by knocking the champion out by way of a body slam during the fight's second round.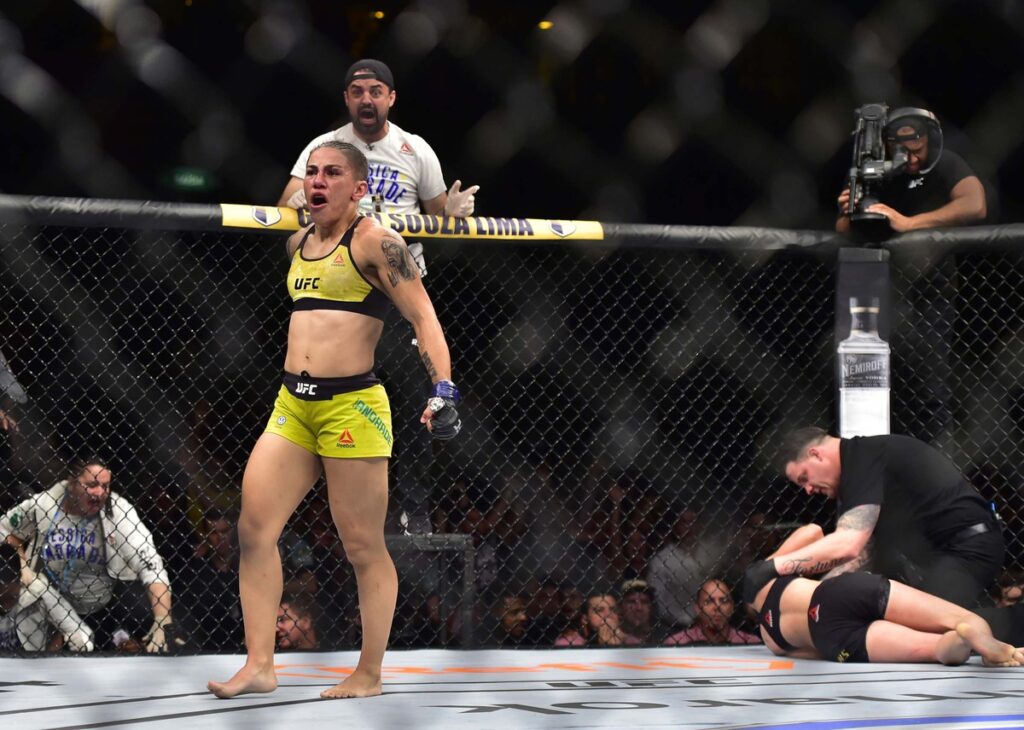 1 Year Hiatus
After making the decision to take a year out, Namajunas saw her old title change hands once again after Chinese striker Weili Zhang beat Andrade later that same year.
Returning to fight Andrade for a second time during the summer of 2020, Namajunas exacted her revenge and claimed a vital split decision win.
Back in title contention once again, it was to be UFC 261 during April 2021 that saw the former champion put in her most impressive display.
Unquestionable Comeback
Matched against the seemingly unbeatable Zhang, Namajunas, the fight's betting underdog, unleashed a devastating head kick during the fight's first round which knocked her Chinese opponent clean out.
Now a two-time women's flyweight champion, it's only right that 'Thug' Rose makes our top 3.
2. Valentina "Bullet" Shevchenko – Flyweight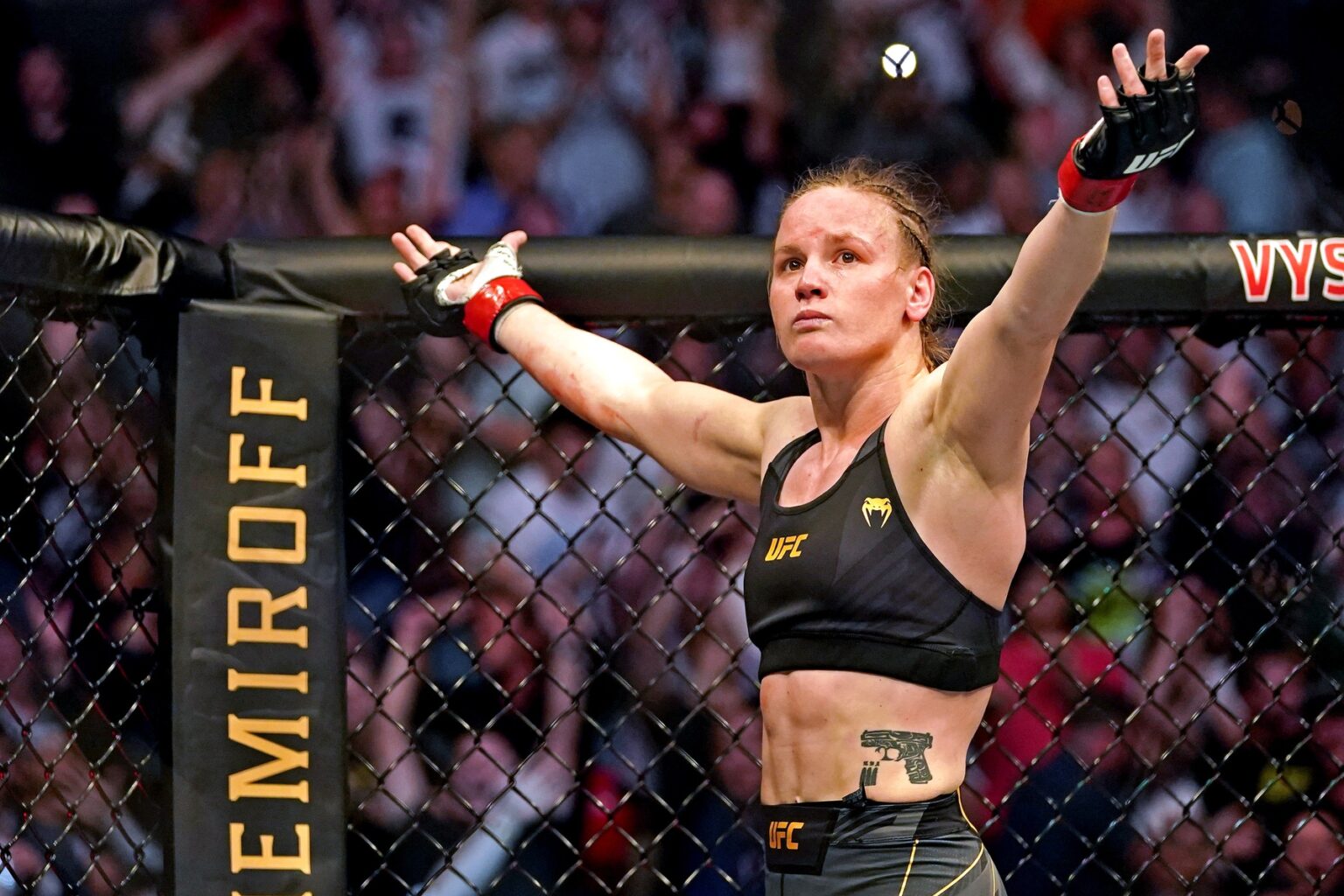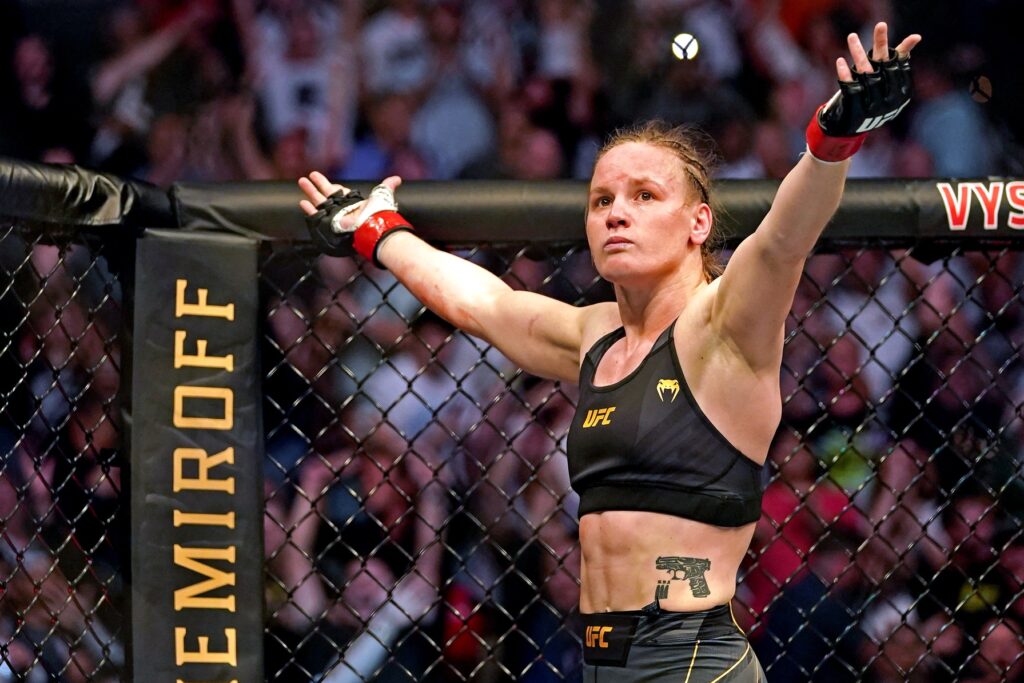 Kyrgyzstan-born fighter Valentina Shevchenko is unquestionably one of the best female mixed martial artists of all time.
Having made her professional debut back in 2003, Shevchenko boasts a seriously impressive career spanning nearly two decades.
Bursting onto the fighting scene through KFK and KFP, two native promotions, it took Shevchenko just 11 fights to be awarded a spot on LFA's number 39 fight card that took place in February 2015.
From there, Shevchenko's path was clear, after claiming an emphatic decision win over Jan Finney on LFA 39, Shevchenko was immediately thrust into the UFC's limelight.
Professional Debut
Making her promotional debut later that same year, Shevchenko saw her hand raised via a split decision against Sarah Kaufman.
Prior to her second fight in the UFC, Shevchenko had only tasted defeat on one occasion after her 2010 bout against Liz Carmouche ended in a shock TKO loss.
Shevchenko vs Nunes I
However, Shevchenko was to face adversity again when she met two-time champion, Amanda Nunes, in just her second UFC fight.
Coming into the pair's first fight in 2016, both females were widely regarded as the best bantamweights on planet earth. Nunes successfully defended her title after she ran the eventual winner by way of a respectable unanimous decision win.
Following her loss against Nunes, Shevchenko immediately bounced back with back-to-back victories against former champion Holly Holm, via decision and then against Julianna Pena, via an armbar submission.
Seemingly earning the right for a rematch against Nunes, Shevchenko and her Brazilian rival fought again at UFC 215 in 2017.
Despite the pair's second bout being an even closer fight, Nunes once again walked away with her belt wrapped around her waist.
Controversary of Shevchenko vs Nunes II
The pair's second bout is still strongly debated, with large sections of fight fans feeling Shevchenko did enough to rip the title away from Nunes.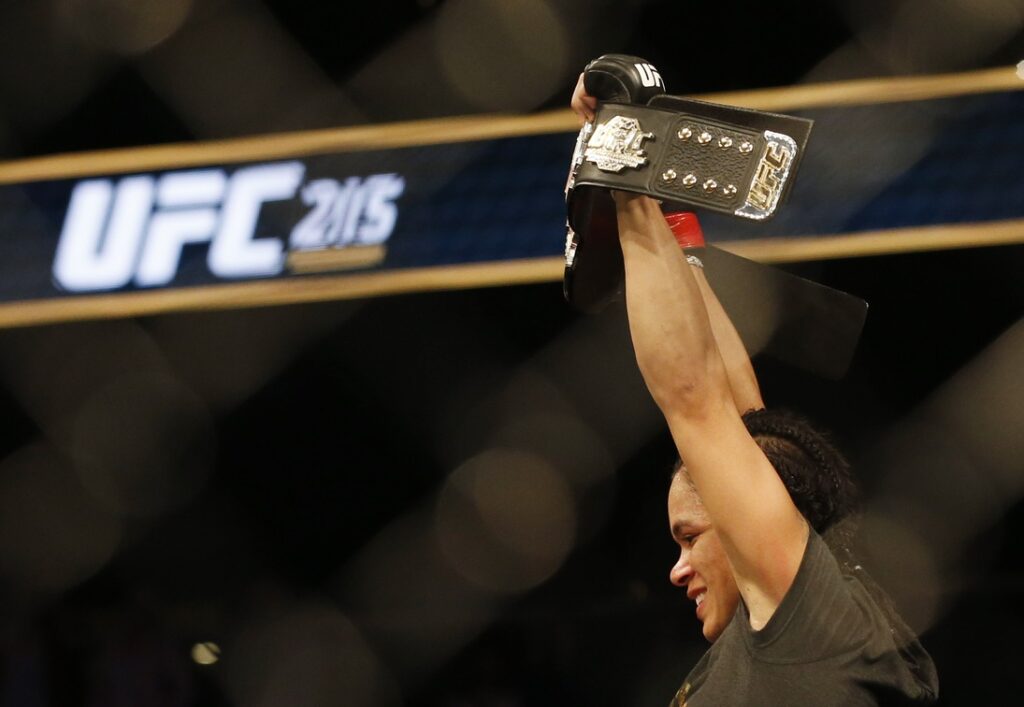 However, in light of Shevchenko's devastating second title defeat, the 33-year-old then made the decision to move back down to flyweight – a division she felt she could dominate.
A quick-fire submission win against Priscila Cachoeira in 2018 immediately propelled Shevchenko back into title contention and set up a mouth-watering fight against former strawweight champion Joanna Jedrzejczyk, for the then-vacant flyweight title.
First Title Win
The pair's title fight at the end of 2018 was an enthralling encounter, but it was to be Shevchenko's night.
After claiming an admirable unanimous decision win over Jedrzejczyk, Shevchenko lifted her first UFC title.
From there, the 33-year-old kickboxer has gone on to successfully defend her flyweight title on five separate occasions, including a truly devastating knockout win over Jessica Eye at UFC 238.
1. Amanda "Lioness" Nunes – Bantamweight/Featherweight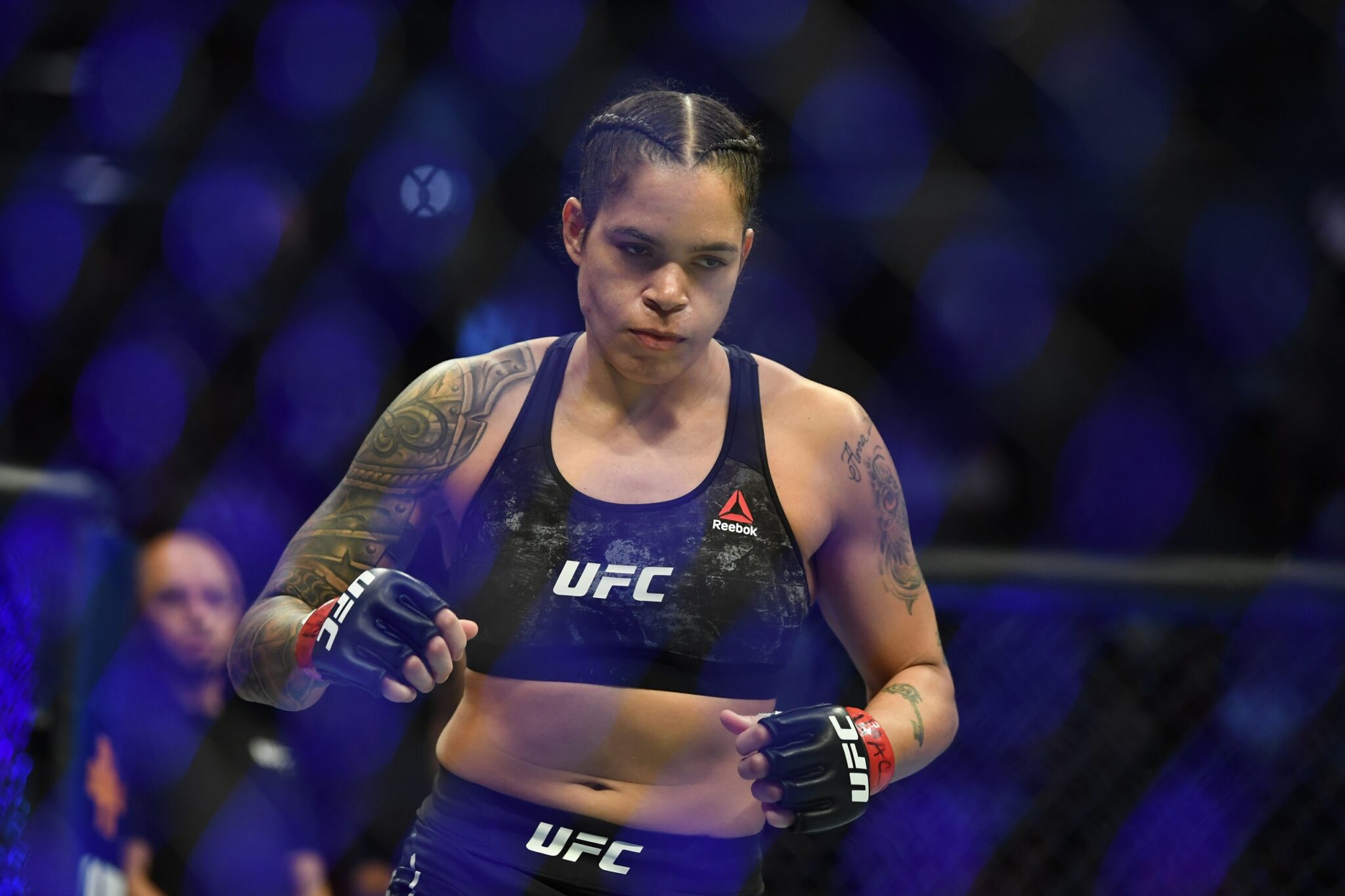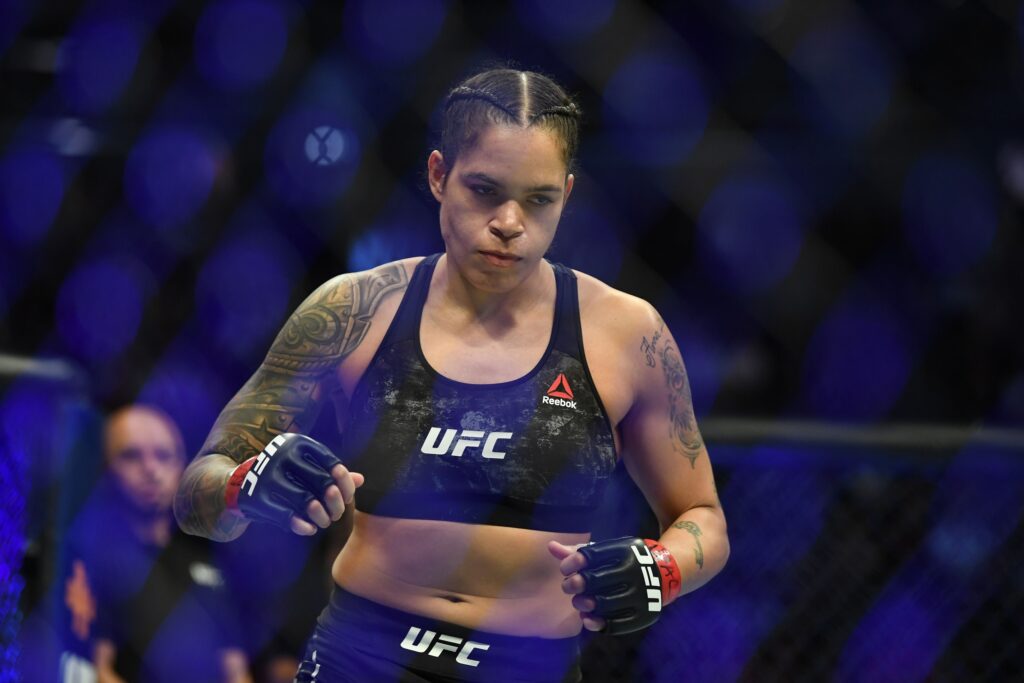 Unquestionably the best female mixed martial artist of all time, Amanda Nunes is unmatched when it comes to dominating the world of professional female fighting.
Professional Debut
Since making her pro debut against Ana Maria, all the way back in 2008, ironically with a loss too, Nunes has gone on to reign supreme across two weight divisions.
Having bounced around several promotions before joining Invicta FC in 2012, it took the South American 'Lioness' just two fights to secure a contract with the UFC.
Having currently fought 15 times in the UFC, Nunes' debut against Shelia Gaff saw her win via TKO.
Since then, Nunes has racked up another nine wins by either knockout or submission.
However, it was to be the Brazilian's trailblazing efforts in the UFC's bantamweight division that saw her eventually go on to secure a well-deserved title shot against Miesha Tate in 2016.
First Title Win
After beating Tate via a rear-naked choke in the fight's first round, Nunes deservedly claimed her first title.
Following three successful title defenses, including a decision win over Valentina Shevchenko, Nunes made the pioneering decision to rival female powerhouse Cris Cyborg at featherweight.
Coming into UFC 232's co-main event as an unfamiliar underdog, Nunes wasted no time in reminding the world why they should never bet against her.
In truly devastating fashion, Nunes tipped the MMA world on its axis as she claimed a vicious first-round knockout – a method many fans and pundits viewed as the fight's least likely outcome.

After being crowned a double champion following her featherweight title win over Cyborg, Nunes wrote her name in history alongside the likes of Conor McGregor and Daniel Cormier.
Looking to almost immediately re-defend her bantamweight strap, Nunes moved back down to face former champion Holly Holm just six months after her demolition job over Cyborg.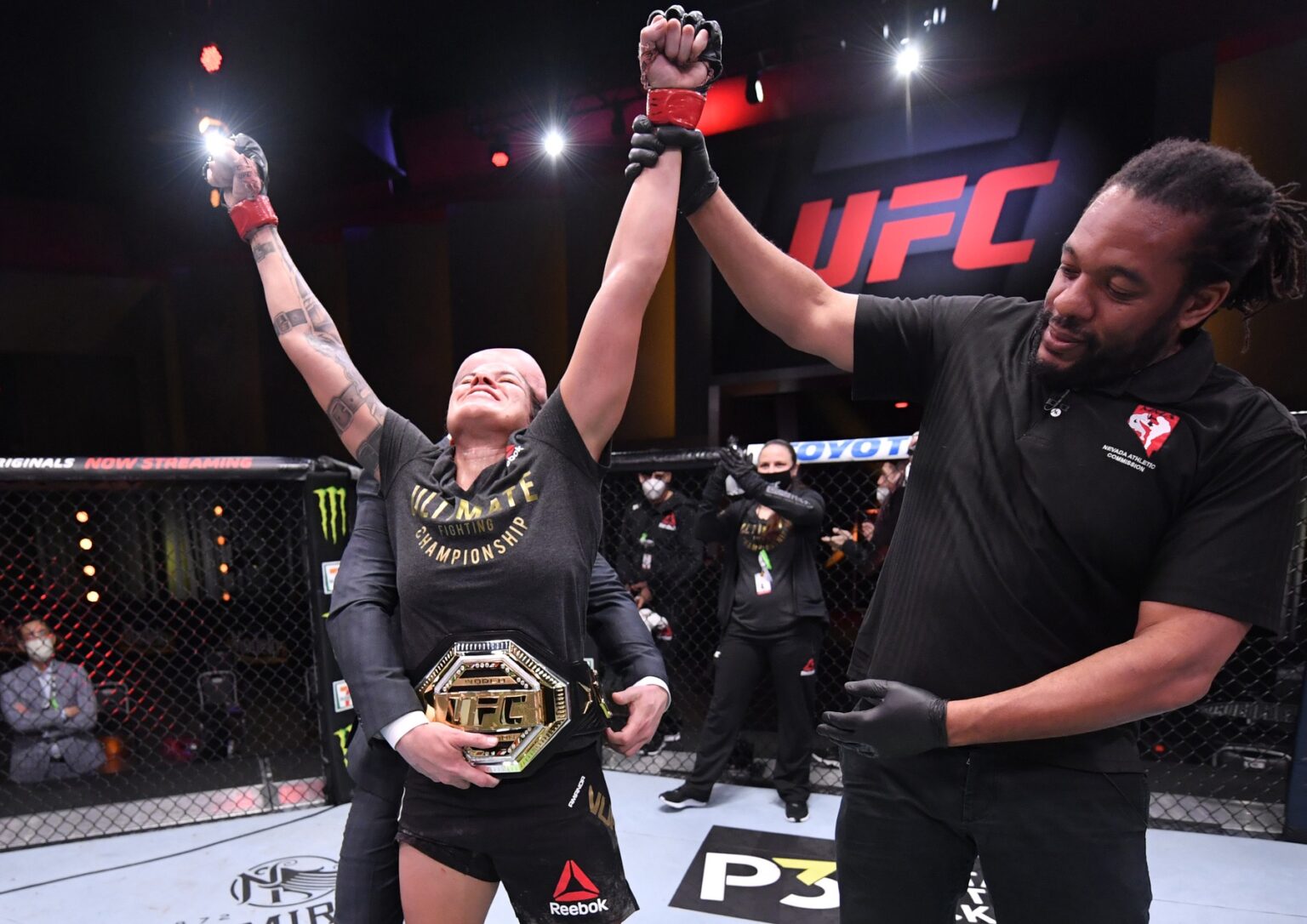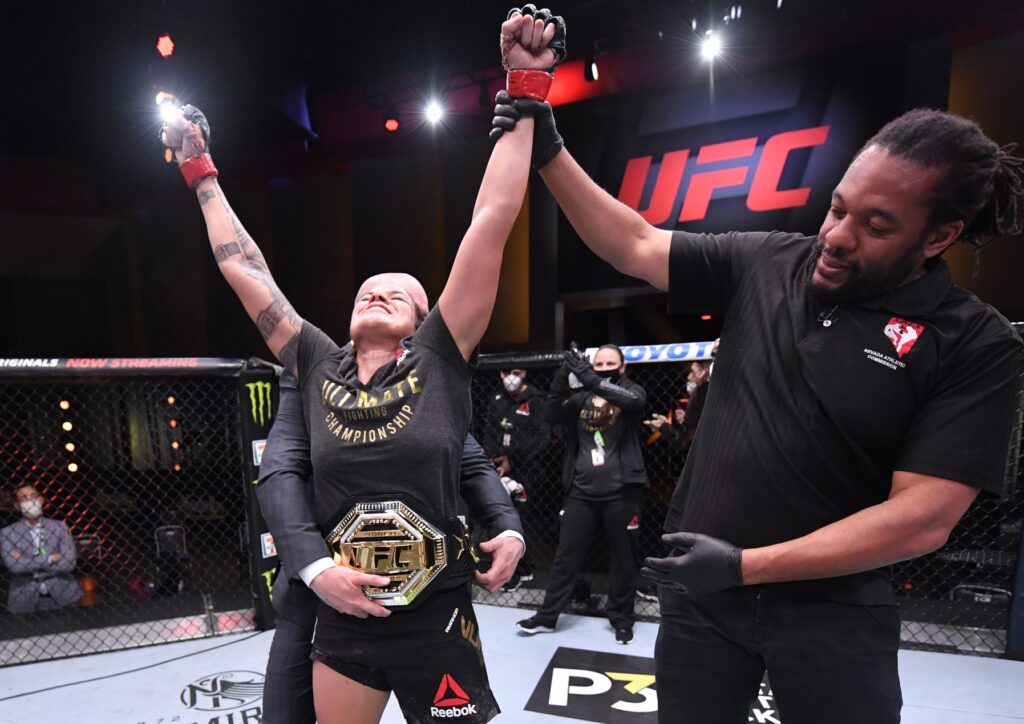 After claiming another first-round win, this time over Holm, Nunes went on to beat Germaine de Randamie, Felicia Spencer, and most recently Megan Anderson.
Cementing her place firmly as MMA's female GOAT, Nunes, over the course of 13 years has left no doubt as to why she is to be considered the greatest female fighter on planet earth.
Nunes' next bout is currently unconfirmed, although there are now strong calls for a possible trilogy bout against flyweight queen Shevchenko.