Top 10 Old Timer Jockeys Still Racing Today
Athletic achievement in horse racing doesn't depend on age, and there is no better example than the Triple Crown jockeys who continue to race well past their prime and still add titles to their names. From Mike Smith to Stewart Elliott, here is a list of jockeys who defy analysts, medicine, and common sense.
Competing past one's 40s is not all that much of a challenge, but when people begin to race after they are 50, with some jockeys pushing that number up to 70 or even 80 years of age, things are definitely worth a closer look. So, who are the jockeys who still compete today despite their age?
---
1. Mike Smith – 57
Mike Smith is 57 and very much still at the top level. The jockey has had multiple great seasons starting back in 1993 when he topped the Preakness Stakes field of contestants. In 2018, he became the Triple Crown champion riding to victory with Justify. The title fetched him the name of the oldest jockey to win the Triple Crown. He rode Improbable in the Preakness Stakes on May 18, 2019, and he has done quite well in his overall career.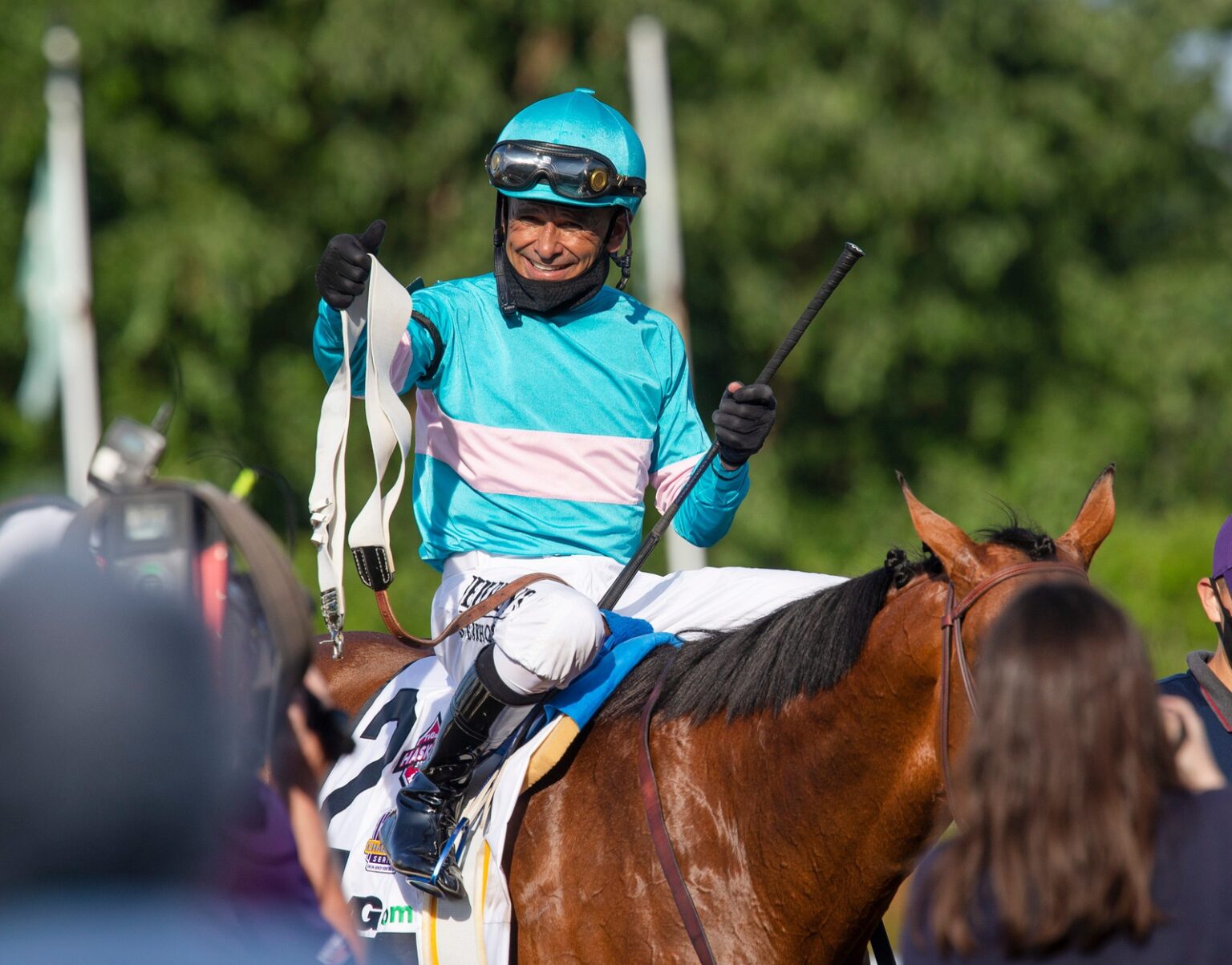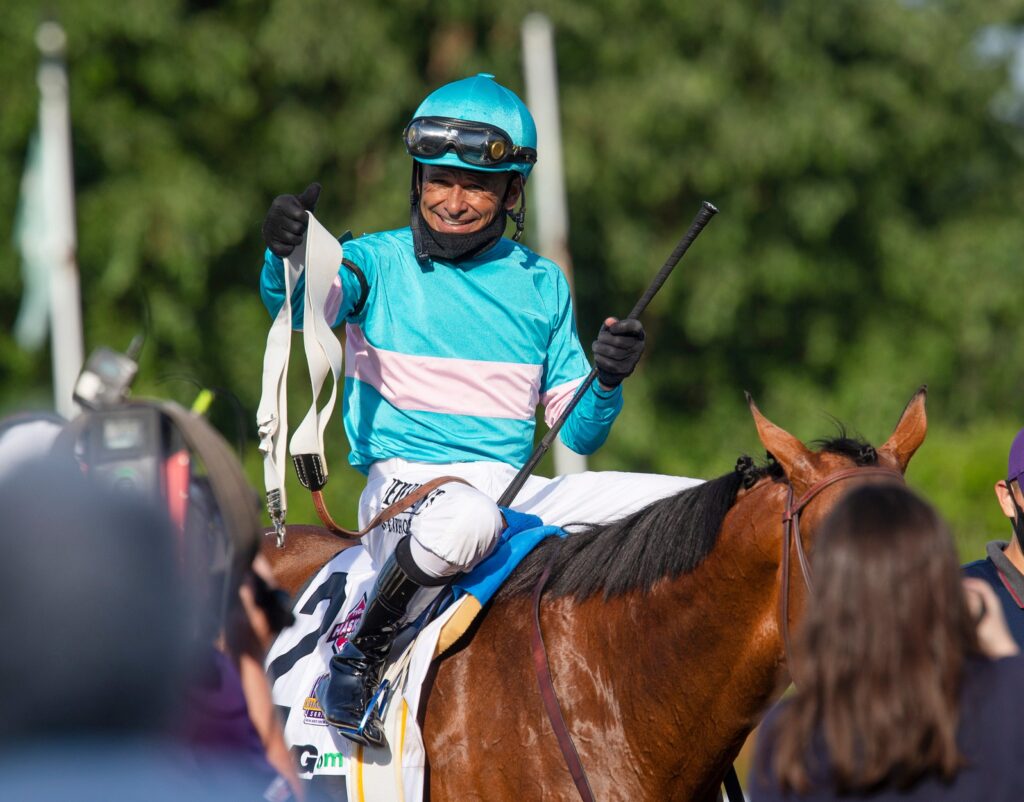 He has had several near-misses at the Triple Crown, as he successfully managed to make his way into the Kentucky Derby's top-three finishes several times. He won the Kentucky Derby in 2005, riding the 50-1 longshot Giacomo, securing an outstanding victory. This year has been another stellar year for Smith, as he rode Taiba to G1 Santa Anita Derby success.
---
2. John Velazquez – 50
John Velazquez is only 50. Having acquired the status of a prime jockey after coming to the mainland from Puerto Rico in 1990, Velazquez's career has led him two several water-shed victories, including Belmont Stakes and Kentucky Derby achievements.
His Belmont victory in 2007 featured the whimsically named steed Rags to Riches. He soared to an important first in his career when he topped the Kentucky Derby with Animal Kingdom in 2011. Even though he hasn't been a Triple Crown champion, his life-long earnings have surpassed $300 million.
That success has continued into 2022, as he has already won over $7 million in prize money. His stand-out victories have come on board Malathaat and Messier, who won the G3 Baird Doubledogdare and G3 Robert B. Lewis Stakes. Both could also be among his leading contenders for Breeders' Cup glory at the end of the season.
---
3. Jon Court – 62
At 62, Jon Court is the oldest jockey to win the Kentucky Derby and pose a challenge to Smith. In 2019, Court rode Long Range Toddy trained by Steve Asmussen. Court secured a $1 million victory at the Arkansas Derby in April, 2010. He then won the Derby again in 2011. He sustained an injury in May, 2014 and had to postpone further racing participation until September of the same year.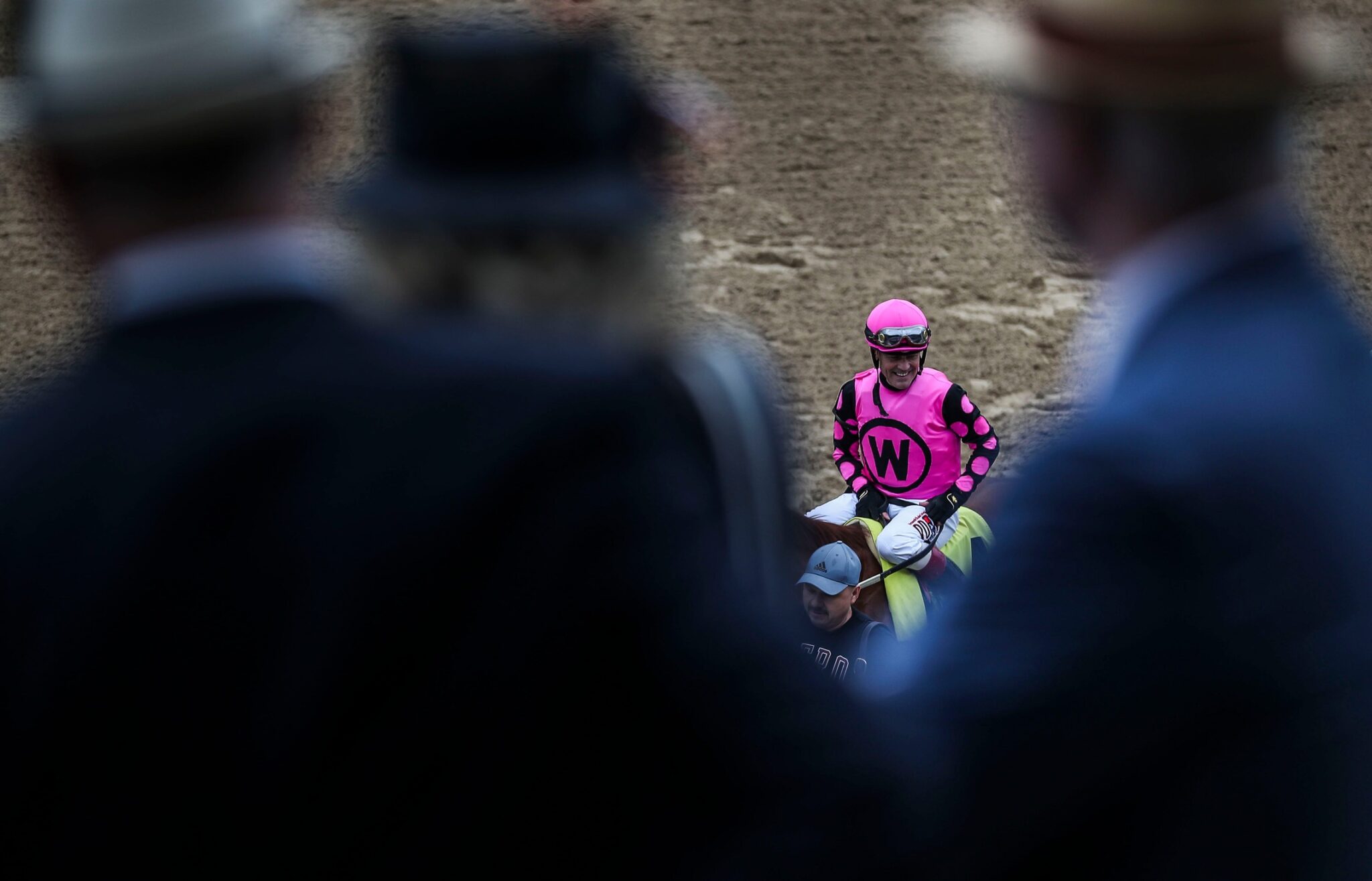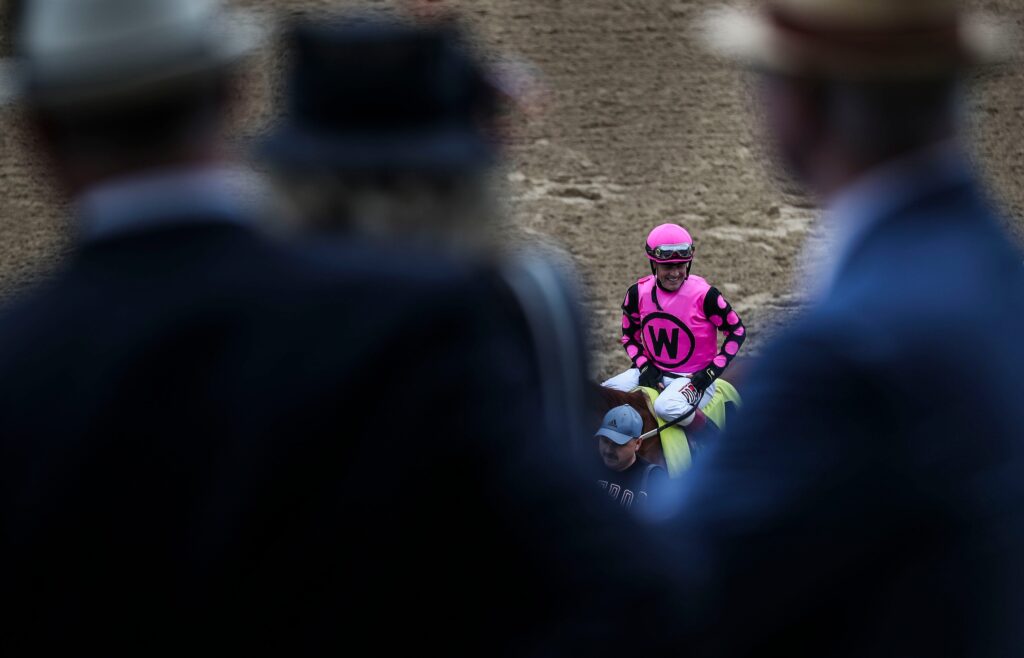 Court is a composed rider who puts equine well-being before securing a title at all costs. Commenting on the Kentucky Derby disqualified Maximum Security, he noted that younger jockeys were taking too many risks at the expense of fellow riders and their horses. Court has over 30 titles in his career, and his most recent victory has been at the Rebel Stakes.
---
4. Gary Bain – 66
Meet Gary Bain, a man who takes horse racing seriously. A grandfather of six and a father of two, Brain is one of the oldest jockeys to continue racing today. He's 66, but with age, he says, comes experience, and experience has served him well.
Bain has been a regular at the Gulfstream Park, riding his steeds to victory, year in and year out. He started in the 1970s when he moved to South Florida. It was only in the past decade that he was given his nickname, though – "The Grandfather of Racing".
He has been all over the place, competing in his adopted South Florida, Louisiana, Illinois, and beyond. Unflinching in the face of a proper challenge, Bain participated in the Kentucky Derby Day back in 1996. He still remains in active competition today, as he rode Auburn in a claiming race at Tampa Bay Downs earlier this year.
---
5. Javier Castellano – 44
Javier Castellano, aged 44, is not old by jockeys' standards at all, and he intends to stay on the job. Having been racing in some of the US' finest competitions, including the Triple Crown, Castellano is a known name. He won the Preakness twice in 2006 and 2017, and he is looking good in 2022.
His two victories at the Preakness Stakes also made him a unique participant in the event. Castellano has done quite a bit to set himself apart from most other jockeys. With over 5,000 victories to his name he certainly knows what it takes to be a top rider.
Castellano has already enjoyed some big graded winners this year, with his standout success coming on board Kathleen O. in the G2 Gulfstream Park Oaks.
He is already a member of the Hall of Fame, and has many good years ahead of him. True, you should always keep your ear to the ground when at the Triple Crown, because you can rest assured Castellano will be advancing on the back of his horse for a decade more.
---
6. Gary Stevens – 59
He is 59 now, and Gary Stevens is all about horse racing. He has managed to top all significant competitions in his career, including the Preakness, Belmont, the Breeders Cup, and more. Stevens did retire briefly from horse racing, choosing to be an analyst instead but it he was too driven to win the Kentucky Derby to call it quits just then.
You won't see Stevens compete in the 2019 Kentucky Derby or the Triple Crown, but he is nevertheless one of the oldest jockeys to still race on occasion, though certainly not as active as before.
---
7. Alex Solis – 58
Alex Solis is 58, and he is still at it. An American jockey, Solis' successes go back to 1997 when he placed second in the Kentucky Derby on the back of Captain Bogit. He managed to place well in the Derby in 1998 aboard Victory Gallop, the aptly named steed that would help him become the runner-up.
In 2004, he placed fourth nation-wide, an achievement giving him a distinct profile as a jockey, despite his age. He managed to top three independent Breeders' events, including the Cup Sprint, Cup Turf, and Cup Classic, which just goes to show that Solis has it in him. That was back in 2003, though, and his most recent victory was in 2012 at the Breeders' Stakes.
---
8. Stewart Elliott – 57
Stewart Elliott is a worthy pick. Aged 57, Elliott is a name that commands respect in the world of horse racing. His successes are many and prominent. Elliott appeared in the Kentucky Derby for the first time back in 2004 and rode his horse, Smarty Jones, to an earth-shattering victory.
He almost managed to secure another victory in the Belmonts Stakes in the same year, but was outpaced by Birdstone in the final dash for the finish line.
Elliott holds multiple awards, including the Best Jockey ESPY Award in 2004 and the most recent George Woolf Memorial Jockey Award. He is nowhere near done with racing as well. Elliott remains a main player on track, and looks good value to add to his graded winners before the end of 2022. So far, his only big-race win this year came in the G3 Steve Sexton Mile, as he won with Silver Prospector.
---
9. Frankie Dettori – 51
There are perhaps no more famous jockeys in the racing world than Frankie Dettori. The Italian-born rider has ridden winners in every race worth landing a success, and he is responsible for one of the most famous race days in history.
At British Champions' Day at Ascot in 1996, Dettori did the impossible, as he rode all seven winners across the card. As well as that, the 51-year-old has won the Epsom Derby on two occasions, the Epsom Oaks four times, and the St Leger on five occasions.
It isn't just in the United Kingdom where he has recorded big wins either, as he has won a magnitude of international graded races. One of his most famous victories came in the Prix de l'Arc de Triomphe in 2018, as he landed a second success with Enable. That was also his sixth overall in the historic race. In the U.S., he has won 14 times at the Breeders' Cup, including five victories in the Turf.
---
10. Davy Russell – 43
There are few more celebrated National Hunt jockeys in the world than Davy Russell. The 43-year-old made his name in point-to-point racing in Ireland, before later moving to England to ride for trainer Ferdy Murphy. He would finally land his first Cheltenham Festival winner in March 2006 in the Cross Country Chase with Native Jack.
It was in the same race that he would achieve greater success with a superstar – Tiger Roll. Russell and Tiger Roll were a formidable partnership on track, which saw the Gordon Elliott-trained horse become the first back-to-back winner of the Grand National since Red Rum in 2019. As well as winning the Cross Country, Russell has landed wins in a great number of Cheltenham Festival races, including the Gold Cup in 2014 with Lord Windermere.