Rhode Island Sports Betting

The State of Rhode Island is the 8th place in to introduce legal sports betting in the U.S. More importantly, RI became the first of all New England to open retail and mobile sportsbooks, creating a small but powerful hub in the North.
The repeal of PASPA in 2018 was a big cornerstone for the minnow of a state with its 1 million residents. Yet, things have been looking up for RI which introduced mobile sports betting in September 2019 and boosted the total sports handle for the month.
In fact, Rhode Islands sports betting was 75% higher in September 2019 comparing to December 2018, quite a satisfactory amount. Lawmakers have been hoping to rake in $22.7 million in total betting revenue for the state's coffers through the fiscal year that ends in June 2020, but this remains to be seen.
Meanwhile, the Ocean State remains a place where you can place your wagers at great lines and at two casinos, to name the Twin River Casino in Lincoln and Tiverton Casino Sportsbook. Operations launched in full on November 26, 2018, and things have been good for RI, despite see-sawing revenue.
Rhode Island Sports Betting: The Available Options
Rhode Island may look like a minnow on the sports betting landscape, but the state is doing quite well. While the total handle is nearly 50% under what lawmakers originally hoped for, the Twin River Casino and Tiverton Casino Sportsbook are doing well.
Today, you have several options when it comes to gambling RI, and you can place a wager on a variety of categories, including:
Casino gambling
Retail and online sports betting
Horse races
Daily fantasy sports
Lottery and charitable games
RI has quickly transformed itself from a hesitant sports betting destination into a full-blown hub for the activity, thanks to an endorsement by Governor Rina Raimondo.
With New Hampshire now pushing strongly and Massachusetts remaining largely hesitant, Rhode Island still has a lot of clout in New England and will retain good positions in the coming years.
Understandably, sports betting revenue is likely to take a dip as soon as neighboring states start offering betting options closer to home.
Yet, this wouldn't be a reflection of how poorly prepared RI is to handle its own sports betting industry, but rather a statement of fact.
In other words, the industry is going to reach a natural stopping point with results fluctuating around the time of major events, such as The Super Bowl, March Madness, and so forth.
Rhode Island is unique insofar as it offers one of the richest selections of gambling verticals among which sports betting. While some states are still tip-toeing around the idea of launching digital wagers, RI is making good time, aware that its short-term success depends on beating neighboring states and offering more and better overall betting options.
Where Can I Bet on Sports in Rhode Island?
With its comparatively tiny population, the Ocean State has focused all sports betting operations in two retail casinos, run by the same company – Twin River Worldwide Holdings, Inc. (TRWH).
All wagers can be placed physically at the Twin River Casino in Lincoln (November 26, 2018) and Tiverton Casino Sportsbook (December 3, 2018). To spruce things up, TRWH has been offering mobile betting since September 4, 2019, when the mobile solution finally went live.
| | | |
| --- | --- | --- |
| Casino | Address | Phone Number |
| Twin River Casino Hotel | 100 Twin River Rd, Lincoln, RI 02865 | (401) 723-3200 |
| Tiverton Casino and Hotel | 777 Tiverton Casino Blvd, Tiverton, RI 02878 | (401) 816-6000 |

Below is the key information about each of the two properties that presently offer sports betting options to RI residents.
Twin River Casino
Twin Rivers Casino's sportsbook is one of the two venues available in the Ocean State to offer betting options. The lounge is a delicate work with over 100 TVs, an odds board, and multiple seats that host a diverse crowd of sports fans.
The venue features a number of food & beverages options as well as multiple options to place bets on professional and collegiate teams. As of September 2019, you can also just drop by the sportsbook to verify your ID and activate a mobile account.
Opening hours:
Monday – Friday: 11:00 AM – 12:00 AM
Saturday – Sunday: 9:00 AM – 12:00 AM
Tiverton Casino Sportsbook
Tiverton is the second retail property in the state owned by TRWH and extending both in-person and digital wagers. You can benefit from the state-of-the-art betting lounge or just drop in to verify your identity and enjoy the remote options instead.
RI Mobile Sports Betting
By now you are wildly aware that it took Rhode Island a whole year to legalize mobile sports betting, but numbers haven't been bad at all. As of September 4, 2019, RI has state-wide mobile options, the only downside being that you need to drop by one of the two properties and show an ID to activate your account.
In the first month of mobile sports betting in Rhode Island, the state saw 12,000 people register, but only half of that, around 6,000, bothered verifying their identity at a land-based venue.
Sports fans have been signing up at a rate of 500 – 600 people a week, which according to Rep. Bill O'Brien has been decent numbers. Presently, no mobile betting apps are available, but the sportsbooks are fully accessible from any handheld device.
What Sports Can You Bet on in Rhode Island?
Rhode Island's sportsbooks cover an extensive number of events and contests, making the state a perfect getaway venue for sports fans. As a result, you can bet on all professional and collegiate sports in RI. The only exception is collegiate events and teams that are either originally from the state or take place in RI.
RI's online sportsbooks cover a variety of disciplines, including baseball, basketball, boxing, football, golf, hockey, MMA, soccer, and tennis. All markets are exclusively focused on the United States.
Types of Betting Markets in RI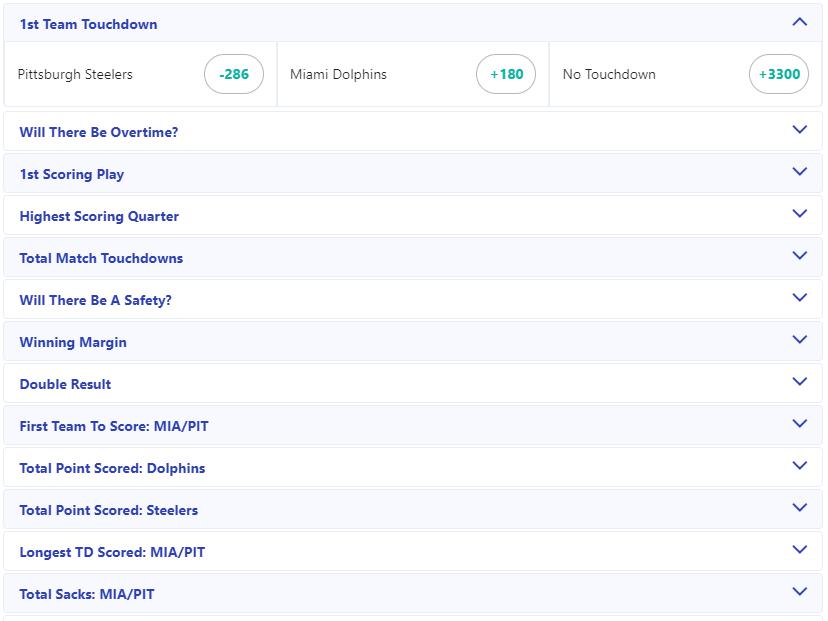 While Rhode Island's bookies are a little more careful with the bets they offer, there are still plenty of those to go around.
The main betting options are spread, money, and total bets, and depending on the sport and event, you will see a number of proposition wagers.
If you insist on focusing on a more international market, then your best bet is soccer. Presently, RI bookies cover the EPL, UEFA Champions League, UEFA Europa, the English Championship, the EFL Cup, French Ligue 1, Italy Serie A, and many others along with Major League Soccer (MLS).
History of Rhode Island Sports Betting
Early Years and the 20th Century
How did it all come together? Well, things date back to 1934 when Rhode Island first legalized a popular pastime – horse racing, and specifically the pari-mutuel system.
Once again, RI stuck to a rather limited number of venues, with Narragansett Park and Lincoln Downs being the only two facilities offering an opportunity to place a wager. They were later shut down in the 1970s as the state saw them as facilitators of money laundering.
Yet, Rhode Island didn't completely shy away from the idea of legalizing gambling and in 1973, the state introduced the State Lottery. Things would remain fairly unchanged until 1992 when PASPA arrived and a more definitive ban on sports betting was introduced state-wide.
PASPA was the last bad turn for the state's sports betting prospects and the 21st century would start on a much better note.
2012- 2015: Twin River Dominates
With certain forms of gambling returning in 2012, the result of a state-wide referendum, Twin River Casino and Newport Grand Casino began hosting table games. In 2015, Twin River bought out Newport, becoming the sole operator in the state.
However, in 2016, voters decided that the Newport Grand Casino should be relocated to Tiverton and challenge Foxwoods in Connecticut. However, the events that will kickstart the betting industry in the Ocean State began with the new legislative session in 2018.
2018 and Legalizing Sports Betting in RI
In January 2018, a state bill sponsored by a slew of Senators, including Ruggerio, Goodwin, McCaffrey, Algiere, and Ciccone, set in motion the final legalization effort in the state. S2045 garnered enough support to quickly place the State Lottery in the position of regulator.
With the market being a fairly narrow one in the part of the country, RI's lawmakers wanted to be first on it as to give the state the best chances of benefitting. Gov. Gina Raimondo quickly got behind the bill as well, adding – rather hastily in retrospect – expected $23.5 million in revenue to the state's budget.
Gov. Raimondo signed the bill on July 22, 2018, and sports betting kicked off in earnest on November 26, 2018.
Timeline of Sports Betting Legalization Efforts in RI
| | |
| --- | --- |
| 1934 | Rhode Island legalizes pari-mutuel wagering on horses. |
| 1970 | The state closes down the Narragansett Park and Lincoln Down race tracks and suspends horse betting. |
| 1973 | RI State Lottery is created. |
| 1992 | PASPA arrives, suspending all betting-related activities across the U.S. bar in four exempted states. |
| 2012 | Twin River Casino and Newport Grand Casino start offering legal table games following a referendum. |
| 2015 | Twin River buys out competitor Newport Grand Casino and becomes the sole proprietor of commercial gambling venues in the state. |
| 2016 | Voters decide to relocate the Newport Grand Casino property closer to the border with Connecticut where it can compete with Foxwoods. |
| 2018 | S 2045 is introduced in Senate by a number of sponsors in January. The bill is quickly approved and the estimated $23.5 million in revenue – featured in the governor's budget. Sports betting begins in November. |
| 2019 | In September, Rhode Island welcomed its first mobile wagering options. |
Who Oversees Sports Betting in Rhode Island?
The RI Lottery is directly responsible for overseeing sports betting in the state. Presently, the regulator splits all revenue between itself, the casino property, and the technological partner it has chosen to team up with, in this case – International Game Technology (IGT).
The three entities are splitting revenue as per the following arrangement: Rhode Island claims 51% of the revenue, IGT claims another 32% and the casinos scoop up the remainder 17%.
Opposing the State Lottery
While IGT has enjoyed an almost unchallenged position in the state's gambling market, Twin River has signed up with Scientific Games, the company's biggest rival to challenge that position. Similarly, Twin River has teamed with Intralot and Camelot to further challenge the casino sector, arguing that IGT holds too much of the slot machines in it.
Is It Safe to Bet in Rhode Island?
Yes. You can rest assured that betting in Rhode Island is one of the safest states to bet at. The Lottery regulates all activities and ensures that all operators meet all regulatory standards.
Other than casino properties being up to the necessary standard, you can further seek help if you, your loved ones, or friends exhibit any symptoms of obsessive gambling behavior. You can contact several institutions and specifically:
Both institutions are fully prepared to help you establish a methodology to help you defeat any erratic gambling patterns.
What About Offshore Markets?
Offshore markets in Rhode Island aren't banned. No state in the U.S. is in fact keen on policing offshore activities. However, companies that have operated in such markets, offering betting products to locals may not apply for a license from the Rhode Island Lottery. Meanwhile, all sports fans can look up odds and lines offshore and decide whether they want to bet there.
Conclusion
Rhode Island sports betting is definitely not going to measure up to New Jersey or Nevada's total handles, but that shouldn't discourage you. If you live in the state you definitely have to check the local sportsbooks first. All markets and odds are fairly priced and you will always have the opportunity to place the occasional wager offshore if you want slightly better value for your money.