Wooden Award Candidates for 2018 NCAA Basketball Season
The National Player of the Year award in College Basketball is named after the legendary late head coach of the UCLA Bruins John Wooden. Being named a Wooden award candidate is a huge honor for collegiate hoopers, and the winner is even more impressive. A season ago, Frank Mason took down the honors. Let's take a look at the Top 5 Candidates to win the 2018 Wooden Award:
Jalen Brunson, Villanova – 5/2 odds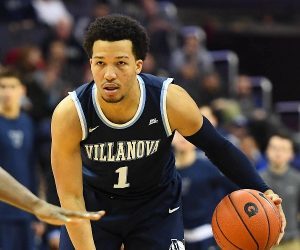 The Villanova Wildcats are once again back in the mix to win a national title. The Wildcats primary ball handler averages just 1.7 turnovers per game, and the dude handles the ball a bunch. He is scoring nearly 20 points per game, and dishing out just shy of 5 assists per game. Brunson is an 80% free throw shooter, and nails over 40% of his long ball attempts.
Marvin Bagley III, Duke – 6/1
If this award was based on potential, this big dude would probably win the award. This guy is a stud. He has also been injured for a decent chunk of the season, which will hurt him in the end. The Duke freshman who is going to be a one and done is scoring more than 20 points per game, and grabbing 11.2 rebounds per game. In the loss to Virginia, the freshman was not to blame as he scored 30 points and tore down 14 rebounds. Bagley's team may not be a top seed in the NCAA Tournament, and if there is any small nod one way or the other – Brunson's is.
Deandre Ayton, Arizona – 8/1
The freshman out of Arizona – yeah we have heard of him. If Sean Miller gets fired, it's going to be because of this guy. And not because he has not performed on the basketball court. This is the freshman that folks say was offered $100K to come and play at Arizona. The big man does not get seen as much as he plays out West. But, Ayton is scoring 19.9 points per game, and ripping down more than 11 rebounds per game. Ayton dropped a total of 48 points and 35 rebounds against their biggest rival Arizona State this season.
Devonte' Graham, Kansas – 10/1
This guy never came off the floor for the Kansas Jayhawks. In fact, Graham went a stretch of 12 out of 14 games, where he played all 40 minutes of the game. The Big 12 Player of the Year carried the Kansas Jayhawks on his back and took them to their 14th straight conference title. The Jayhawks guard scored nearly 18 points per game, and dished out 7.2 assists per game. In his recent blowout over Oklahoma, he scored 23 points and dished out 7 assists.
Trae Young, Oklahoma – 20/1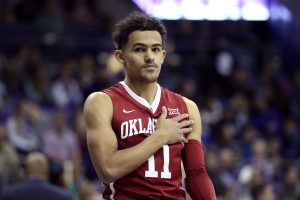 Trae Young is likely not going to win the National Player of the Year award, but he is worth a look. Young lost out to Graham for the Big 12 Player of the Year, and for good reasons. His Oklahoma Sooners tanked towards the end of the season, and finished 9th in a 10 team conference. Young finished the regular season with more than 27 points per game, and 9 assists. Young is a great talent, and will have a nice NBA career, but much of why he doesn't win the award is on his Oklahoma Sooners.
There is a look at the top choices to take down the 2018 Wooden Award. It should be a great end to the NCAA Basketball season, and we are more than looking forward to it, and seeing who takes down the Wooden Award. Our bet — Mr. Brunson at Villanova.