XFL: Renegades vs Roughnecks Odds, and Picks (Apr 29)
Football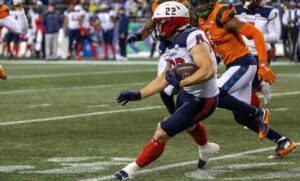 The Renegades lost badly to Houston, 25-9, at home.
Houston will aim to repeat that performance here.
These two teams just met last week, with the Roughnecks dominating.
The Renegades (4-6) and the Roughnecks (7-3) will have a rematch of last week's regular season finale. Arlington will have to try and find something new to defeat a tough Houston team in this semifinal bout.
Jump to:
---
How to Watch
Where: TDECU Stadium, Houston, TX
When: Saturday, April 29, 2023, at 7 p.m ET
How to Watch: ESPN2
---
Odds
---
Game Preview
Arlington was unable to defeat the Roughnecks in the regular season finale, losing by 16 points. They managed to make the playoffs anyway, thanks to a loss by San Antonio. Despite their 4-6 record and -48 point differential, the Renegades claimed a postseason spot in a weak South Division. The XFL may use new playoff clinching rules next year, with the 7-3 Battlehawks (+47) missing the playoffs in the North.
The Roughnecks' confident win over Arlington locked them in as the only team in the South division above .500 or with a positive point differential. Houston can't overlook an elimination game by any means, and must avoid letting their minds drift to a potential title game against the much more competitive Defenders or Sea Dragons. Looking too far ahead could lead them into a typical trap game loss if they're not careful.
---
Picks
It's hard to imagine the Renegades winning this game in Houston, after losing by 16 points to them at home less than a week ago. Arlington has struggled all season long, but was often able to rely on their strong defense. Unfortunately, their defense regressed over the last few weeks, and they lost their last two games. This should be a relatively easy win for a Roughnecks team that had no issues in the South.
Moneyline:
Spread: