NBA: Nuggets vs Suns Odds, and Picks (May 5)
NBA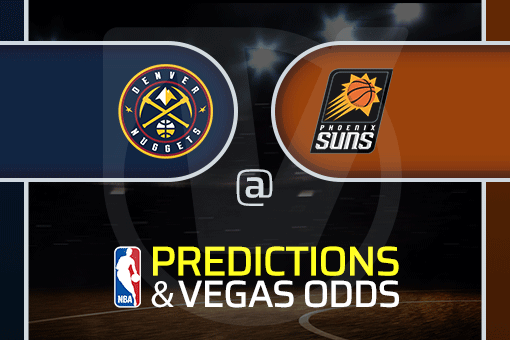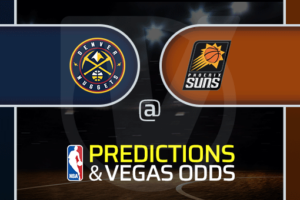 The Nuggets picked up another solid win in Game 2.
Phoenix desperately needs to avoid going down 3-0.
Denver is now 4-2 on the season as a whole against the Suns.
The Nuggets (59-30) and the Suns (49-40) meet for a crucial Game 3 in their Western Conference Series. Phoenix is 0-4 in Denver this year, but 2-0 against the Nuggets at home. They'll aim to continue that here.
Jump to:
---
How to Watch
Where: Footprint Center, Phoenix, AZ
When: Friday, May 5, 2023, at 10 p.m ET
How to Watch: ESPN
---
Odds
---
Picks
Denver got another solid win over the Suns in Game 2 of their 2nd-round series, continuing to look like the best team in the Western Conference. The Nuggets are 5-0 at home in the playoffs, and 39-7 at home on the season as a whole. Conversely, they're just 20-23 on the road, and will now head to Phoenix for games 3 and 4. Denver's defense has been exceptional in this series, but they'll need to maintain that on the road.
The Suns have a depth problem. After only scoring 87 points in Game 2, their lineup once again presents a series of problems. Phoenix's three star players, Devin Booker, Kevin Durant, and Deandre Ayton combined for 73 of the team's 87 points, on 31 for 66 (47%) shooting. After those three, the rest of the team scored just 14 points, shooting 7 for 29 (24%). The Suns need their bench to step up in Game 3 to avoid the loss.
---
Picks
Despite the issues for the Suns in this series so far, I like their chances of winning Game 3 at home. Denver is a significantly better team on their own home court, which should benefit the Suns quite a bit in Phoenix. After losing the first game against the Clippers in their first-round series, the Suns won 4 in a row, so they can't be counted out yet. Durant and Booker may need to combine for 80, but Phoenix should win.
Moneyline:
Spread: