NCAAF: Will Texas A&M Make the 2023-24 Playoffs?
NCAAF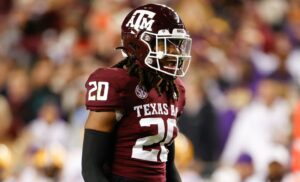 Texas A&M failed to make a bowl game last season.
They'll aim to bounce back from a disappointing year.
The Aggies are expecting a complete turnaround in 2023.
As the 2023-24 college football season approaches, let's take a look at Texas A&M's playoff odds and weigh their chances to make the College Football Playoff this year. They'll face another tough SEC slate.
---
CFP Odds
---
Team News
Texas A&M had a wildly disappointing season in 2022. After opening the year ranked #6, they quickly fell apart, stumbling to a 5-7 finish and 2-6 record in SEC play. It was a brutal year for the Aggies, who have now failed to participate in a bowl game in 2 straight seasons after dropping out of the 2021 Gator Bowl. They'll aim to get back on track in 2023, once again being ranked very high by analysts in the preseason.
Whether or not Texas A&M can put it all together this season will come down to the success of a very young lineup. Their defense made headlines in the 2022 offseason after recruiting what seemed like every single top defensive player. Unfortunately, their young lineup underperformed, but those assets are still there, now with a year of experience under their belts. The defense may take a huge step forward in 2023.
---
Prediction
It's really hard to imagine Texas A&M making the CFP after their performance last season, but it's certainly not impossible. The most important thing for the Aggies is to just improve in general. I see them finishing closer to 9-3 or 8-4 after the regular season, but that would still be a needed step in the right direction. In my mind, their best-case scenario involves an NY6 bowl, with a CFP appearance in 2024 much more likely.