Leagues Cup Preview: Club America vs. Nashville SC Prediction, Odds, and Picks (Aug 8)
Soccer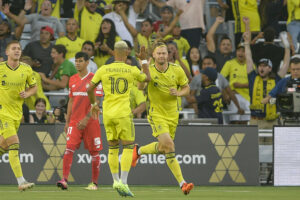 Club America vs. Nashville SC is a duel of the round of 16 of the 2023 Leagues Cup. It's played on Tuesday, August 8, at Geodis Park in Nashville. These two have met only once ever, and it was Nashville who won the game via a penalty shootout after 3-3 in regulation. Are we going to witness another thriller in the second Club America vs. Nashville game in history? Let's find out!
---
How to Watch
When: Tuesday, August 8, 2023, at 8:00 p.m ET
Where: Geodis Park, Nashville, Tennessee
How to Watch: Apple TV
---
Odds
---
Game Preview
In the first Club America vs. Nashville game ever, which was played in last year's Leagues Cup, the final score was 3-3 in regulation. It was Nashville who had the lead throughout the game, but a stoppage-time goal by Club America took the game to the penalties.
What's interesting is that Nashville played without its arguably best player Hany Mukhtar. He's with the team in the 2023 Leagues Cup, meaning that we should expect the boys from Tennessee to do even better.
They've been alright so far in this tournament, winning 2-1 against the Colorado Rapids in the first round, but then losing to Toluca 4-3 in the second. They advanced to the knockouts, where we saw them beat the mighty FC Cincinnati by penalties after 1-1 in regulation.
READ ALSO: Leagues Cup Preview: FC Dallas vs. Inter Miami Prediction, Odds, and Picks (Aug 6)
Club America has been equally good, with a 1-1 record in the group stage (a 4-0 win over St. Louis and a 4-1 loss to Columbus Crew), and a 1-0 win over Chicago Fire in the first round of the knockout phase.
---
Club America vs. Nashville SC Prediction
Club America is the most expensive team in the Mexican Liga MX, with a squad value of roughly $90M. That's almost two times the value of Nashville SC. This, however, doesn't mean Club America will have an easy job in Tennessee on Tuesday. On the contrary, we expect to see a real battle on the pitch, with plenty of goals on both ends.
It's very likely this game will end in a tie after 90 minutes, after which anything can happen in the penalty shootout. After all, that's why they call it a penalty lottery.
Free Pick: