Leagues Cup Preview: Inter Miami vs. Orlando City Prediction, Odds, and Picks (Aug 2)
Soccer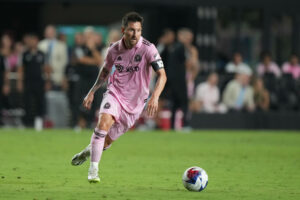 Inter Miami looking unbeatable since Lionel Messi's arrival.
Orlando City doing great offensively, not so great at the back.
Seven of the last 10 Inter Miami vs. Orlando City duels saw three or more goals.
Inter Miami vs. Orlando City is a duel between two Florida-based rivals, both of which have been very impressive since the start of the Leagues Cup, especially in the offense. For Inter Miami, it's no surprise as the Herons now have Lionel Messi on the roster. The soccer GOAT scored three of Miami's six goals in this competition.
When it comes to Orlando City, its players have been working great as a collective with five of them recording at least one goal or assist.
---
How to Watch
When: Wednesday, August 2, 2023, at 8:00 p.m ET
Where: DRV PNK Stadium, Fort Lauderdale (Miami), Florida
How to Watch: Apple TV
---
Odds
---
Game Preview
It's all about Lionel Messi at Inter Miami. He made his debut against Cruz Azul in the first round of the Leagues Cup, scoring the match-winner in the fourth minute of the stoppage time. Then, in the game against Atlanta United, the Messiah scored two goals and made one assist.
It wouldn't be crazy not to think he's gonna do great again. But does this imply Messi scoring again? Probably. And it's not just because he's arguably the best soccer player on the planet. It's also because the defense isn't Orlando City's forte.
These guys played 1-1 in regulation with the Houston Dynamo in the first round in Orlando. The reason why this came as a shock is that the Dynamo is the worst away side in the Western Conference of the 2023 MLS, with a 1-3-8 record and a 7-23 score differential.
Then, in round 2, Orlando City defeated Santos Laguna 3-2. Their offense did well, but their defense conceded two goals which is a lot, especially knowing that the visitors from Mexico had only five shots on goal in that game.
---
Inter Miami vs. Orlando City Prediction
Inter Miami will win this, probably with several goals in Orlando City's net. The games between these two usually bring a lot of excitement, with their last two seeing a total of nine goals combined. Plus, seven of their last 10 meetings saw over 2.5 goals happening.
In none of those was Messi playing for Miami, meaning that no one should be shocked if we saw even more goals on August 2.
Free Pick: