MLS Preview: FC Cincinnati vs. New York City FC Prediction, Odds, and Picks (Aug 26)
Soccer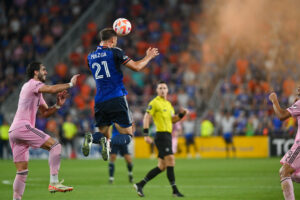 FC Cincinnati vs. New York City FC is played on Saturday, August 26, at Venue TQL Stadium.
Cincy is the team with the most points in the MLS, as well as the only one with no home losses.
New York City FC is desperate for points in order to challenge for a spot in the playoffs.
FC Cincinnati is sitting top of the Eastern Conference; New York City FC is not. In fact, NYCFC is way below, currently occupying the 13th place in the conference standings. If they want to challenge for a place in the 2023 MLS Playoffs, the New Yorkers will have to go for a win (or at least a draw) in Saturday's duel with Cincy at Venue TQL Stadium.
---
How to Watch
When: Saturday, August 26, 2023, at 7:30 p.m ET
Where: TQL Stadium, Cincinnati, Ohio
How to Watch: Apple TV
---
Odds
---
Game Preview
With a 15-6-3 record, FC Cincinnati isn't just the team with the most points in the Eastern Conference, but also in the entire 2023 MLS. It's also the only team in the league that's still without a loss at home – Cincy is 11-1-0 at TQL Stadium.
The only thing that needs to worry Cincinnati fans is that their boys got hammered by the Columbus Crew in the Ohio derby in the first game after the Leagues Cup. Played last Sunday, the game saw Columbus win 3-0.
Three days later, Cincinnati played against Inter Miami at home in the US Open Cup and lost by penalties after 2-2 in the regular 90 minutes, and 3-3 after the end of extra time. What's interesting is that Cincy players stopped Lionel Messi from scoring – they're the first ones to do so since he's become one of The Herons.
READ ALSO: MLS Preview: Atlanta vs. Nashville SC Prediction, Odds, and Picks (Aug 26)
The good news for the boys from Cincy is that their next opponent is NYCFC, a team that's been in poor form over the last couple of weeks. This team went 1-0-2 in the Leagues Cup, after which, the New Yorkers lost 2-0 at home to Minnesota United in their first MLS game this month.
Will the same thing happen in NYCFC's second game in August?
---
FC Cincinnati vs. New York City FC Prediction
FC Cincinnati is great on home turf, and NYCFC cannot change that. Instead, we think Cincy will record another win, possibly scoring a couple of goals against its out-of-shape opponent.
Free Pick: