MLS Preview: New York Red Bulls vs. Charlotte Prediction, Odds, and Picks (Oct 25)
Soccer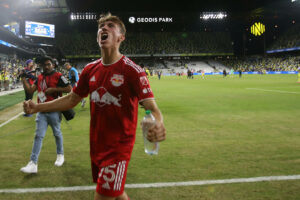 Both the New York Red Bulls and Charlotte won three of their last four MLS games.
Each of Charlotte's last three wins happened against teams that didn't make the playoffs.
Charlotte is without a single win against the Red Bulls at Red Bull Arena.
It's time for the 2023 MLS Playoffs! The first game on the program is the Eastern Wild Card duel between the New York Red Bulls and Charlotte. The game is on the program on Wednesday, October 25, at Red Bull Arena in Harrison, New Jersey.
---
How to Watch
When: Wednesday, October 25, 2023, at 7:30 p.m ET
Where: Red Bull Arena, Harrison, New Jersey
How to Watch: Apple TV
---
Odds
---
Game Preview
The New York Red Bulls finished the season in the No. 8 spot in the East even though their playoff fate wasn't certain until the very last round of the regular season. They defeated Nashville SC in the final round, which was their fourth win in the last five MLS games.
The NY Red Bulls are in good form, but so are the boys from North Carolina. Charlotte FC is 3-1-0 in the last four games, but there's a caveat – each of those games was against teams that failed to qualify for the playoffs.
Another thing that should worry Charlotte is that they don't have a very good record against the Red Bulls, especially in away matches. One thing, however, does go in their favor. Most of their key men are 100% fit and ready for the Eastern Conference Wild Card game.
READ ALSO: MLS Preview: Sporting Kansas City vs. San Jose Earthquakes Prediction, Odds, and Picks (Oct 25)
The same isn't the case with the Red Bulls, who might end up missing as many as seven players on Wednesday evening. Among those are three defenders – Andres Reyes, Kyle Duncan, and Sean Nealis – who are suspended.
---
New York Red Bulls vs. Charlotte Prediction
The New York Red Bulls has been playing much better soccer lately than Charlotte, but given that this is the 2023 Eastern Conference Wild Card game, you can bet everyone will go all-in. That said, we expect to see a real battle on the field of the Red Bull Arena, probably with some goals on each side. But who's going to advance to the next stage of the 2023 Playoffs? Our pick is the home team.
Free Picks: