MLS Preview: Philadelphia Union vs. Inter Miami Prediction, Odds, and Picks (Jun 24)
Soccer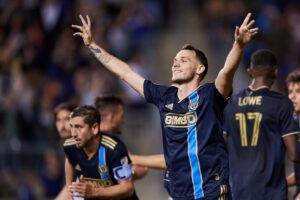 Philadelphia's best player Daniel Gazdag is back on the roster.
It's been nearly 40 days since Inter Miami won points in the MLS last time.
Philly's undefeated at Subaru Park since the 25th of March.
We're still weeks (or even months?) away from seeing Lionel Messi make his Inter Miami debut. In the meantime, his new teammates will have to do without him. But "The Herons" have been horrible lately. They're without a single point in the 2023 MLS in over a month.
The bad news is that judging by the MLS odds, their horrible run is going to extend for (at least) one more week. The reason? They're traveling to Pennsylvania this weekend to play against last year's Eastern Conference winners, Philadelphia Union.
---
How to Watch
When: Saturday, June 24, 2023, at 7:30 p.m ET
Where: Subaru Park, Chester, Pennsylvania
Channel: Apple TV
---
Odds
---
Game Preview
The most important news coming from the Philadelphia Union is that Daniel Gazdag is back. Philly's arguably best player – who's scored 7 goals so far and made 8 assists – missed the previous MLS round as he was on international duty with Hungary.
But he's gonna play for the Union on Saturday, and when he's in the team, it usually means a lot of goals. With him as their playmaker, "The Union Zolos" are always very dangerous. This goes especially for the games played on their turf. At home, Philly is 6-2-1 this season, with a score differential of 17-5. Further, the Union is undefeated at Subaru Park since March.
READ ALSO: UFC on ABC 5: Emmett vs. Topuria Predictions, Fight Card, and Odds (Jun 24)
Knowing all this, it's no surprise that Philadelphia is favored to win. But it's not just about Philadelphia; Miami too will have its saying on Saturday.
Still, knowing how poor "The Herons" have been lately, Philly's fans shouldn't be worried too much. This team is 5-0-12 in 2023, with a 1-0-7 record on the road.
---
Philadelphia Union vs. Inter Miami Prediction
Even with Messi on the team, Inter Miami would struggle against the Philadelphia Union. The team from Pennsylvania is one of the strongest teams in the conference, especially when it comes to home games. That said, we can see no other scenario but a convincing win for the hosts.