MLS Props, Breakdown, Odds, and Picks (Jun 10)
Soccer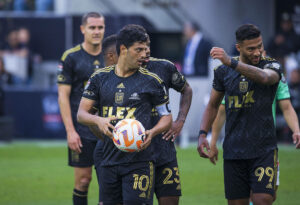 A brand-new round of the 2023 MLS kicks off on Saturday, June 10.
Twelve games are scheduled for Saturday, with half of those starting at 7:30 p.m ET.
LAFC's Carlos Vela and Inter Miami's Josef Martinez praying for the end of their goal drought.
We've got some MLS props for you!
In this post, we're going to present you with five of our favorite MLS prop bets for Saturday, June 10. We're going to analyze the matchups, dissect the odds, and explain why we're almost 100% certain those MLS props are going to win.
---
New England Revolution vs. Inter Miami Prop
The big news of the week is that Lionel Messi's decided to sign for Inter Miami. It will take some time before we see him in action, but his arrival has certainly given a massive confidence boost to his new teammates. They sure don't want to welcome "The Messiah" from the bottom position of the Eastern Conference.
To get out of the pit, they need to do better offensively. They're decent at the back, but with just 15 goals scored in 16 games, their offense is one of the worse in the MLS. This is kind of surprising because "The Herons" do have some really good strikers on the roster, most notably, Josef Martinez.
READ ALSO: MLS Preview: New England Revolution vs. Inter Miami Prediction, Odds, and Picks (Jun 10)
A few seasons ago, the Venezuelan striker was one of the most valuable players in the MLS. His value has dipped since (his current estimated value is roughly $4.5M), but he is Inter Miami's most expensive player (until Messi arrives). His price tag is evidence that he's a good player, but he simply needs to start scoring more. Three goals in 14 MLS games just isn't enough.
---
Atlanta United vs. DC United Prop
Atlanta United is the team that's scored more goals than anyone else in the Conference, but also the team with the most goals conceded in the East. DC United has scored seven points fewer, as well as conceded three goals less than Atlanta Utd.
Further, Atlanta vs. DC United duels are always interesting to watch, usually with plenty of goals. In fact, five of their last six meetings saw both teams scoring. We can see the same happening on June 10.
---
Toronto FC vs. Nashville SC Prop
Nashville SC is without a loss in the last eight MLS rounds, winning the last four league games. Hany Mukhtar scored four goals in those four games and is now sitting in the shared No. 1 spot on the list of top scorers in the 2023 MLS.
Can he score again? We think he might. It's because his team is taking on Toronto FC on Saturday, which is a team that's struggling this season. Further, Toronto FC vs. Nashville SC duels often see a lot of goals – their last five duels saw a total of 17 goals.
---
Houston Dynamo vs. Los Angeles FC Prop
LAFC had 22 goal attempts in Wednesday's game against Atlanta United (who had just 4 attempts on goal), but the game finished 0-0. The reigning MLS Cup champions did come very close to scoring, but their superstar Carlos Vela blew it.
He had a chance to make it 1-0 from the penalty spot. He took a shot, but Atlanta's goalie Brad Guzan stopped it. Guzan did, however, rush out of the goal line too soon, so the ref ordered the penalty to be taken again. Unfortunately for LAFC fans, Vela missed it again. This time, the shot went over the bar.
As a result, the Mexican is now without a single goal to his name since May 20. We think that's too long of a wait for a former MLS Golden Boot winner.
---
San Jose Earthquakes vs. Philadelphia Union
Philadelphia Union is 4-0-0 in the last four MLS rounds. In each of those games, Philly scored at least one goal in the second half. When it comes to the San Jose Earthquakes, in their last 10 games, a total of 15 goals were scored in the second 45 minutes.
We think the second half of the San Jose vs. Philadelphia game will see some goals as well. However, we also think there's going to be more than one goal in the first 45 minutes.