Saudi Pro League Preview: Al Ittihad vs. Al Hilal Prediction, Odds, and Picks (Sep 1)
Soccer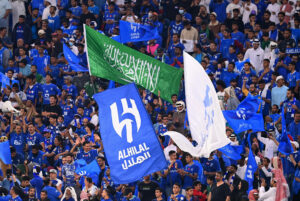 Al Ittihad vs. Al Hilal is a duel between the two most successful clubs in the Saudi Pro League.
Neymar still isn't ready to make his Saudi debut, but other Al Hilal stars will play on September 1.
With Benzema and Kante on the roster, Al Ittihad is the No. 1 favorite to win the 2023-24 Saudi Pro League.
Al Ittihad vs. Al Hilal is undoubtedly the biggest game of Round 5 of the 2023-24 Saudi Pro League. The game is hosted by the reigning SPL champions Al Ittihad, who's taking on one of the biggest spenders in the league, Al Hilal. The bad news for the visitors, however, is that their most expensive signing in history – Brazilian superstar Neymar – won't be making his Saudi debut this weekend. So, how will they do without him?
---
How to Watch
When: Friday, September 1, 2023, at 2:00 p.m ET
Where: Prince Abdullah al-Faisal Stadium, Jeddah, Saudi Arabia
How to Watch: Fubo
---
Odds
---
Game Preview
Al Hilal is the most decorated club in the Saudi Pro League with 18 titles. However, the most recent champion is Al Ittihad, who's favored to win it again in the 2023-24 season. In the previous campaign, this team suffered no losses at home. In fact, Al Ittihad has been undefeated on its turf since May 2022.
These guys did, however, suffer a couple of losses at home in the Arab Club Champions Cup, most recently losing to Al Hilal 3-1 in the quarterfinal. Since then, they are 4-0-0, with all of those wins happening in the Saudi Pro League. The result is that the reigning champs are sitting at the top of the table.
It's no surprise that Al Ittihad is doing well in the league as this team has a fantastic squad this season. Coach Nuno Espirito Santos has such legends at his disposal as Karim Benzema and N'Golo Kante.
READ ALSO: Saudi Pro League Preview: Al Hazem vs. Al Nassr Prediction, Odds, and Picks (Sep 2)
Speaking of soccer stars, Al Hilal's sky is way shinier. And it's not just about Neymar who's out with an injury and won't make his debut for at least a few more weeks. It's also about Sergej Milinkovic-Savic, Kalidou Koulibaly, Aleksandar Mitrovic, Ruben Neves, Malcom, and Bono.
---
Al Ittihad vs. Al Hilal Prediction
With or without Neymar on the field, we think Al Hilal is a better team than Al Ittihad in 2023. The last time they met, Al Hilal won 3-1, and we think something similar might happen this time as well.
Free Pick: