US Open Cup Final Preview: Inter Miami vs. Houston Dynamo Prediction, Odds, and Picks (Sep 27)
Soccer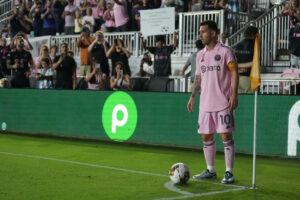 Inter Miami vs. Houston Dynamo is the 2023 US Open Cup Final.
The game is played on Inter Miami's DRV PNK Stadium on September 27.
Lionel Messi will be ready to take part in Wednesday's game.
Just three days after the Florida Derby in the MLS, the Herons are coming back on the field. This time, they're playing in the final of the 2023 US Open Cup against Houston Dynamo.
The big news is that Lionel Messi is ready to make his comeback after missing the game with Orlando, which is certainly going to improve Inter Miami's chances of winning the second trophy in the space of six weeks. As a reminder, Messi & Co won the Leagues Cup in late August.
---
How to Watch
When: Wednesday, September 27, 2023, at 8:30 p.m ET
Where: DRV PNK Stadium, Fort Lauderdale, Florida
How to Watch: Paramount+
---
Odds
---
Game Preview
The 2023 US Open Cup Final odds favor Inter Miami, which is no surprise for several reasons. First of all, the best soccer player in the history of the game – Lionel Messi – is coming back after missing the Florida Derby last weekend, which his teammates played 1-1 with Orlando City on the road.
He was out of the protocol that evening due to a muscle injury that had been bothering him for a while. Although that's not too big of a problem for Messi, coach Gerardo "Tata" Martino decided to give him a day off in order to make sure the soccer GOAT is 100% fit for the US Open Final on September 27.
Another reason why Inter Miami vs. Houston Dynamo odds are favoring Messi's team is that the final of the US Open Cup is played in Florida. DRV PNK Stadium is the place where the Herons have always been great, even before Messi arrived. The evidence of this is that they're undefeated on home turf in almost four months.
READ ALSO: Saudi King Cup Preview: Al Jabalain vs. Al Hilal Prediction, Odds, and Picks (Sep 25)
If you're still surprised as to why Inter Miami's odds are -149, there's one more thing you should know. The other US Open Cup finalist isn't a very good team. Houston Dynamo is flying high in the Western Conference of the MLS, but it's mostly thanks to their brilliant run over the summer. Still, the fact is that this team's roster is nowhere near as good as Inter Miami's.
---
Inter Miami vs. Houston Dynamo Prediction
Our 2023 US Open Cup Final prediction is that Inter Miami's captain Lionel Messi will lift the trophy on Wednesday. "Inter Miami to lift the Cup" comes with the odds in the ballpark of -280. The Herons to win the game within the 90 minutes of regular time is -149, but given that they won the Leagues Cup by penalties, this might not be the best option.
Free Pick: