JustBet Sportsbook Review
6.4
Cash Welcome Offer
25% up to $500
Official website:

justbet.co

Min. Deposit to Qualify Bonus:

$20

Payments Accepted:

Bitcoin, Visa, Mastercard, American Express, Neteller, Bank Draft, Bank Wire
JustBet is an online sportsbook that has progressively grown into a highly recommended online gambling hub, where players can bet on sports, play the ponies at horse tracks around the world and try their luck in a world-class casino. They are one of the best online sportsbooks for players that like to wager on props and various sports, not found on some other websites.
At JustBet, you can wager on all the major sports such as NFL Football, NBA Basketball, MLB Baseball, and NHL Hockey, but you can also play Combat Sports such as MMA and Boxing, Auto Racing, Golf, Rugby, Tennis, Soccer, and much more! They provide their clients with an overall wide array of selections for sports to bet on and there really isn't a reason to look elsewhere for your gambling needs.
Services
History & Background
JustBet was founded back in 1996. They are based out of and licensed in Costa Rica. The company was originally located at JustBet.com but was forced to change the name of the domain due to the US Government's overall crackdown on online gambling within the US.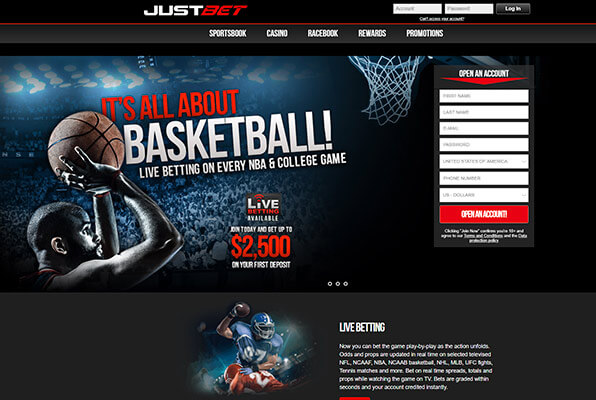 They have since changed their domain to JustBet.cx and have served US bettors since that point in time. JustBet isn't just for bettors from the US, they accept gamblers from pretty much anywhere in the world with the exception of France.
Bonus Details
JustBet does offer bonuses but they can be somewhat inflated with rollovers. They will offer you a 50% welcome bonus and a 50% casino bonus, but they are limited to $300 for each. Each of their bonuses has those rollovers that we just mentioned. For the sportsbook, there is a 10X rollover for the amount you deposit. For the casino, there is a 40X rollover for the amount you deposited.
Both of these offers are one-time offers and can not be combined with any other offer. For those who are making deposits outside of the US, you are unable to obtain these bonuses if you utilize Neteller for your deposit. This is a complaint that some people bring up but not one that anyone in the US should be concerned with.
Banking Options
JustBet gives their clients several different options to make a deposit or withdraw. JustBet offers bettors the ability to utilize Bitcoin for both deposits and withdraws and one of the nicest features is there is no charge or fee for using Bitcoin at JustBet.
JustBet also accepts other forms of banking for deposits that make it very easy to fund your accounts. You can use a Visa, Mastercard, and American Express to make a deposit, as well as use debit cards to get that money in your account fast! There are some limitations when using credit cards, therefore we do not recommend this option for making deposits.
Players also have the option to use Neteller, Bank Drafts, and Bank Wires at JustBet to fund their accounts. Most of the options, with the exception of Bitcoin, have limitations and some have fees. This is why Bitcoin is your best option for deposits and withdrawals.
Making a withdrawal at JustBet is very easy and secure. JustBet is known for having a great turnaround time for making a withdrawal. They give you the ability to pull your money out and make a payout using a Person to Person Money Transfer. This is probably one of the fastest ways to make a withdrawal.
Sportsbook
For the most part, most of the comments you will read on various forms and social media are all positive for JustBet. The main complaints that we find online are pertaining to the confusion around the bonus structure. Our suggestion to anyone making a deposit on JustBet is to ask the customer service specialist exactly what your requirements are before making the deposit.
Customer Support
The customer service at JustBet is very good! We have had numerous times when we have had to contact them for various issues and we have always been pleased with the way things were handled and in the time frame that it took to resolve the issue.
You can contact their customer support 24 hours a day/7 days a week. They are available by phone, and email and they also have a live chat feature that many people have now chosen to use.
If you are contacting them for general information, you can call them at 1-855-274-8313 or email them at either [email protected], [email protected] or [email protected].
Cons: Areas of improvement
Rollovers are high
Match bonus is comparatively low against other sportsbooks
Verdict
JustBet is an overall decent online sportsbook for US bettors. They offer some of the fastest payouts in the industry and it is very rare to hear of this company having a complaint about payment. The website isn't littered with various ads and we find it easy to use overall. We rank JustBet fairly high on our list of online sportsbooks due to the level of security you have with the company, and most of all, the speedy payouts.