WagerWeb Sportsbook Review

7.3
Sportsbook Cashback
1% Cashback Every Monday
Official website:

WagerWeb.eu

Min. Deposit to Qualify Bonus:

$100

Payments Accepted:

Visa, Mastercard, Bitcoin, Money Transfers, Cashiers Check
WagerWeb is an offshore online sportsbook that provides its clientele with the ability to bet on sports, including Baseball, Football, Soccer, Basketball, Hockey, Tennis, Golf, Combat Sports, and much more! They also have a casino that allows you to play such games as Slots, Poker, Blackjack, Roulette, and many of your other favorite table games. For horse racing fans, WagerWeb provides you with a sportsbook that takes most horse racing track wagers.
Services
History & Background
WagerWeb has been around the industry since 1994. They are based out of Costa Rica and serve clients all around the world. All though they will serve most clients around the world, their base clientele is from the United States.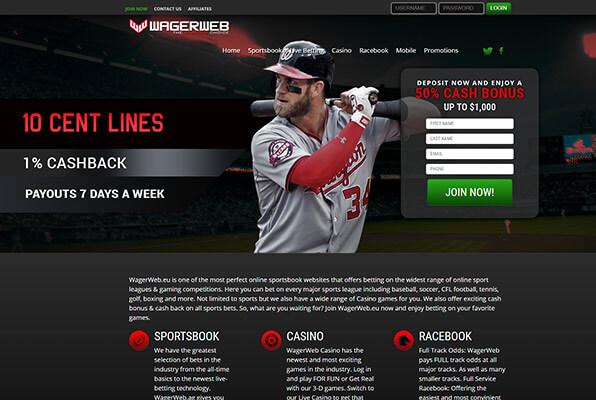 Bonus Details
Like any other offshore online sportsbook, WagerWeb offers various bonuses for deposits, new accounts, and promotional incentives. WagerWeb offers the following bonus structure for all of its players:
Elite Bonus – With the Elite Bonus, you will receive a 10% cash bonus or a 15% free play bonus. This bonus has a 8x rollover that must be reached before any withdrawal can be requested. There are no betting restrictions with this bonus and you can use a cash bonus on any available wager options. You will get 1% cashback on your sportsbook volume every Monday, 5% on racebook volume on all major horse racing tracks, and 5% on all of your casino losses.
High Roller Bonus – With the High Roller Bonus, you will receive a 20% cash bonus or 30% free play. This bonus has a 10x rollover that must be reached before any withdrawal can be requested. You will get 5% on racebook volume on all major horse racing tracks and 5% on all of your casino losses.
High Bonus Special – With the High Bonus Special, you will receive a 50% cash bonus or 75% free play. This bonus has a 15x rollover that must be reached before any withdrawal can be requested. Be advised that this bonus has a 20% cap on your deposit amount for the largest wager you can place until you meet the criteria for the rollover. You will get 5% on racebook volume on all major horse racing tracks and 5% on all of your casino losses.
Banking Options
Banking with WagerWeb is no different than any other offshore online sportsbook. They have many options available to you for making deposits and payouts. One of the nicest aspects of WagerWeb is most of their banking options, both deposits, and payouts, are within 24 hours.
The most popular option to make a deposit or withdraw is by using Bitcoin. Bitcoin is a cryptocurrency that has gained popularity due to its security features and little or no fees. Bitcoin has a low minimum and high maximum amounts that you can make withdrawals with and best of all, as we said before there is no fee!
WagerWeb accepts your Visa and Mastercard for making a deposit. They will also accept debit cards and certain gift cards. The nice part about using a credit card or debit card to make your deposit is the fact that the funds will immediately be made available.
Money Transfers are available for both deposits and withdrawals. If you request a payout using a Money Transfer, you will be responsible for the fees, that range in price according to the amount you are requesting. Money transfers are only available to players in the United States, Canada, and the United Kingdom.
Cashier's checks are also available for both deposits and withdrawals however we do not recommend you use this option as there are high fees associated with the withdrawals. You can request 2 check payouts per week for a maximum of $6,000 per week. If you decide that you want a check mailed to you, it will cost you a $50 fee plus it will take 2-3 weeks for you to actually receive your winnings.
Sportsbook
WagerWeb has had its issues and has somewhat of a shaky public view. A simple Google search will result in many complaints of the company taking winnings from their players for various reasons and they still have the syndicate betting rule that affords them the ability to take winnings from those that they believe are "Professional Gamblers".
WagerWeb's social media reach is moderate. They have just over 1,000 Twitter followers and their engagement on Twitter is fair. They run a lot of sports polls but the actual amount of tweets that they post is limited. They would greatly improve their engagement by posting more frequently.
On Facebook, they have just over 800 followers and they post a decent amount of posts pertaining to sports but their engagement is very low. There are times when they go several days without any engagement and it's somewhat lacking.
Customer Support
WagerWeb offers customer support to their clients from the hours of 10 am ET until the last halftime of the final game of the evening. They are one of the only offshore online sportsbooks that I know of that do not offer 24-hour/7 days a week/365 days per year customer support.
Customer Support Agents at WagerWeb are bilingual, speaking English and Spanish. There have been times when we have contacted WagerWeb and there has been sort of a language barrier but for the most part, you are able to understand what they are saying.
You can contact customer support via Live Chat, email, and telephone. To contact WagerWeb Customer Support for deposits or payouts by phone, you can call 1-800-397-4319 or 1-888-464-2387. If you wish to open a new account, you can contact them at 1-800-326-6088. If you are wanting to call in regards to bookmaking, please use one of the following numbers: 1-877-512-7095, 1-800-701-2381, or 1-855-924-3793. If you would like to fax them something, please use 1-877-848-6582. To contact WagerWeb by email, use [email protected]
Cons: Areas of improvement
Large rollover on bonuses
Late line releases
Verdict
WagerWeb will most likely never be one of the top offshore online sportsbooks basically because of the abundance of complaints regarding their past issues but they are moving forward and progressing in ways that make us optimistic. They are not for professional bettors but for a casual or part-time gambler, they are a fine option. They offer a standard bonus structure that is generous, however, they do have those large rollover requirements attached to the bonus. We do recommend them for the casual bettor as they offer decent bonuses that allow you to bet more often and have fun betting on your favorite sport.