XFL: Sea Dragons vs Defenders Odds, and Picks (Apr 30)
Football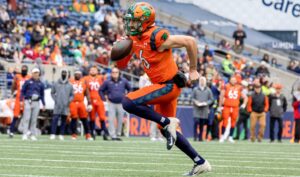 Seattle surged past the Vipers last week, winning 28-9
The Defenders took down the Brahmas, 29-28, on the road.
These two teams last met on April 9, in a game that the Defenders won 34-33.
The Sea Dragons (7-3) and the Defenders (9-1) face off in a key XFL playoff game. The Defenders hold a league-best record of 9-1, while Seattle has gone 7-1 in their last 8 games. The winner here may win it all.
Jump to:
---
How to Watch
Where: Audi Field, Washington, DC
When: Sunday, April 30, 2023, at 3 p.m ET
How to Watch: ESPN
---
Odds
---
Game Preview
Seattle completed a massively important victory over the Vipers last week, claiming the North division's 2nd playoff spot. They've now gone 7-1 since starting the season out 0-2, with the lone loss coming by 1 point to the 9-1 Defenders, who they'll face in this game. The Sea Dragons will once again rely on QB Ben DiNucci and their talented WR group, as well as a defense that has continued to improve over the season.
The Defenders finished the regular season 9-1, closing it out with one more road win over the Brahmas. Shockingly, DC's only loss of the season came against the 1-9 Guardians, while they won against the XFL's other three top teams. Each of their last 4 games have been extremely close, with 3 being determined by 1-point margins, and the 4th being decided in overtime. They'll try to avoid another close call in this one.
---
Picks
The winner of this game will likely become the favorite to win it all in the finals. It's hard to bet against the Defenders, after they posted a tremendous 9-1 record during the regular season. That being said, both of these teams are 7-1 since Week 3, and their 1-point game when facing each other head-to-head indicates that either team could come out on top. Seattle has a long trip to DC, but I see them pulling off a stunner.
Moneyline:
Spread: