UFC Vegas 78 Preview: Vicente Luque vs. Rafael dos Anjos Prediction, Odds, and Picks (Aug 12)
MMA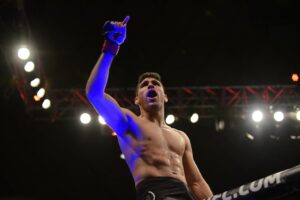 Vicente Luque vs. Rafael dos Anjos headlines UFC Vegas 78 on Saturday, August 12.
Both fighters excel at grappling, each with zero losses by submission in the UFC.
Vicente Luque is hoping to bounce back to the winning track after two straight losses.
Vicente Luque is a wrestling/grappling genius, but on Saturday, August 12, "The Silent Assassin" is fighting a guy who's never lost by submission in his 21 years long career. The man in question is Rafael dos Anjos, the man who was literally moments away from beating legendary Khabib Nurmagomedov back in 2014. But seven years later, aged 38, dos Anjos might be past his prime.
---
How to Watch
Odds
---
Fight Preview
Two years ago, Vicente Luque was widely discussed as the next big thing in the UFC. From 2019 to 2021, the Brazilian won two Performance of the Night bonuses, as well as four Fight of the Night bonuses. Before 2022, his record was 21-7-1, and the UFC matchmakers were seriously considering giving him a shot at the welterweight title.
But then he lost to Belal Muhammad by unanimous decision in his first-ever five-round bout. "Remember the Name" got his revenge for a KO loss a few years back. He didn't land as many strikes as Luque, but he did take him down on five occasions.
Next came the fight against Geoff Neal, in which Luque suffered the first knockout loss of his career. He got beaten up real nasty in that fight, but he kept on throwing back the punches until Neal finally turned the lights off for him in round 3.
READ ALSO: Men's US Open Prediction, Preview, and Odds (2023)
Now he's looking to bounce back to the winning track, but it won't be easy as he's taking on one of the best grapplers in the UFC, a fighter who's never been finished by submission. Luque knows this, which is why he'll probably want to turn this fight into a boxing duel.
The trouble for him is that dos Anjos is great when it comes to takedowns, making roughly two TDs per fight on average. And down on the ground, he's extremely dangerous, although he does prefer to control his opponents rather than going for a submission finish.
---
Vicente Luque vs. Rafael dos Anjos Prediction
This fight can last up to 25 minutes, but we're not sure if Rafael dos Anjos can last for so long, especially if Vicente Luque throws a huge volume of strikes at him. It's likely that dos Anjos will try to take the fight to the ground, but that might not work against this opponent. The thing is that Luque is great on the floor and is without a submission loss for over 10 years.
We think Luque can sneak out of dos Anjos's embrace and turn this fight into a striking duel. If this scenario does play out, it's almost certain "The Silent Assassin" will win, either by a KO/TKO or decision.
Free Pick: