Jacksonville Jaguars 2023-24 NFL Playoff Odds and Prediction
NFL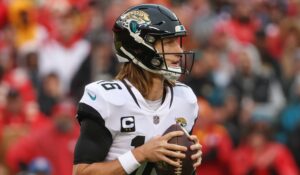 The Jaguars lost to the Chiefs in the Divisional Round last postseason.
They are widely considered to be heavy favorites to win the AFC South.
QB Trevor Lawrence could take another massive step forward in 2023-24.
As the 2023-24 NFL season approaches, let's take a look at the Jacksonville Jaguars' playoff odds and weigh their chances of making the postseason this year. They are expected to make the playoffs again.
---
Playoff Odds
---
Team News
The Jaguars had a breakthrough season in 2022, finishing 9-8 and winning the AFC South division. After five straight 4th-place finishes since their last division title in 2017, Jacksonville finally returned to the playoffs last year, picking up a playoff win in the process. They eventually lost to the would-be Super Bowl champion Chiefs in the 2nd round. Trevor Lawrence took a major step forward in his second NFL season.
With the Urban Meyer disaster in the past, Lawrence will also benefit from being under the same Doug Pederson-led system for the 2nd consecutive year. Another large step forward would launch him into an elite category of QBs. With Lawrence providing Jacksonville with the most consistency at QB in franchise history, the focus will be on the rest of the roster to play at a level befitting of repeat division champions.
---
Prediction
Not only do the Jaguars have Trevor Lawrence rapidly improving towards his true potential, but they also have the most complete roster in the AFC South division. All three of the division's other teams will likely have rookie QBs starting: Houston's C.J. Stroud, Anthony Richardson of the Colts, and Tennessee's Will Levis. After combining for just 14 wins last year, I don't see any of those teams threatening Jacksonville.