Los Angeles Chargers 2023-24 NFL Playoff Odds and Prediction
NFL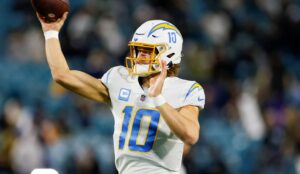 The Chargers lost in the Wild Card Round to the Jaguars last season.
They'll be seeking their first back-to-back playoff trips since 2008-09.
QB Justin Herbert just signed a 5-year, $263 million contract extension.
As the 2023-24 NFL season approaches, let's take a look at the Los Angeles Chargers' playoff odds and weigh their chances of making the postseason this year. They have a good shot at another solid finish.
---
Playoff Odds
---
Team News
The Chargers snapped their 3-year playoff drought, before losing in the first round to Jacksonville. Los Angeles is still seeking their first AFC West title since 2009, hoping to finally break through this season. With QB Justin Herbert locked down with a massive contract extension, the Chargers continue to add weapons around him. Rookie WR Quentin Johnston joins Keenan Allen and Mike Williams on offense.
Los Angeles also has RB Austin Ekeler and OL Rashawn Slater highlighting some of their offensive talent, with S Derwin James and LB Joey Bosa leading the way on defense. Bosa struggled with injuries last season, but could make a major impact if he stays healthy for a team that lost their playoff game 31-30 because of a subpar defense. If the Chargers do take a step forward on defense, they could surprise.
---
Prediction
The Chargers have the brutal disadvantage of not only being in the same division as the Chiefs and Patrick Mahomes, but also a stacked AFC conference. The Chargers will likely be competing with the Bills, Bengals, Dolphins, Jets, Ravens, Steelers, and Browns for one of the three Wild Card spots. Ultimately, I see Los Angeles winning 10-11 games and locking up one of those spots, but not the AFC West division.