Leagues Cup Preview: Mazatlan FC vs. FC Dallas Prediction, Odds, and Picks (Aug 2)
Soccer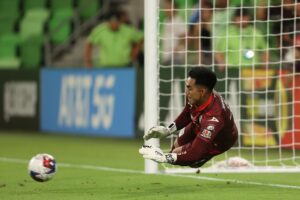 Mazatlan FC vs. FC Dallas is played at Toyota Stadium in the Dallas–Fort Worth metroplex.
Mazatlan FC's players just love playing in Texas, with 4 points collected in games played in Austin.
FC Dallas is coming off a 3-0 win against 10-men Nexaca last week.
Mazatlan FC vs. FC Dallas is a round of 32 duel of the 2023 Leagues Cup, played on Wednesday, August 2, at Toyota Stadium in Frisco, Texas. The stadium is FC Dallas' home venue, located in the Dallas–Fort Worth metropolitan area. That's one of the reasons why bookies see Toros as favorites. To learn why the oddsmakers might be wrong, just keep on reading!
---
How to Watch
When: Wednesday, August 2, 2023, at 9:00 p.m ET
Where: Toyota Stadium, Frisco, Texas
How to Watch: Apple TV
---
Odds
---
Game Preview
FC Dallas is 6-2-3 at home in the 2023 MLS, which is a pretty impressive record. Since the start of the Leagues Cup, they've played at Toyota Stadium twice, collecting 4 points along the way. In the opening round, they drew 1-1 with Charlotte FC in regulation, then lost on penalties. In the second round, they destroyed Nexaca 3-0. It sounds impressive, but you should know that one of Nexaca's players got a red card in the 11th minute of the game.
READ ALSO: Leagues Cup Preview: Inter Miami vs. Orlando City Prediction, Odds, and Picks (Aug 2)
That said, Dallas FC players haven't been as impressive as their record might suggest. This also means that they probably won't have an easy job against Mazatlan FC on Wednesday. The thing is that the Mexican team has been doing great in Texas.
In the first round of the Leagues Cup, the Mexicans destroyed Austin FC 3-1 at Q2 Stadium. In the next round, they beat Juarez on penalties after 1-1 in regulation – and that game too was played in Texas.
---
Mazatlan FC vs. FC Dallas Prediction
Mazatlan FC might not be the best team in Liga MX, but we do think they can do well against Dallas FC. The Mexicans have already demolished one Texas-based team in the League Cup, and we think they can do it again.
Free Pick: