Leagues Cup Preview: Monterrey vs. Nashville SC Prediction, Odds, and Picks (Aug 15)
Soccer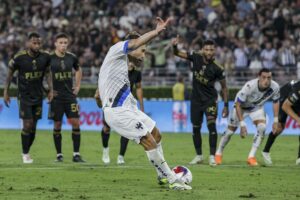 Monterrey vs. Nashville SC is a 2023 Leagues Cup semifinal duel.
Monterrey is labeled as the home team, but the game is played on Nashville SC's turf.
Both teams have been sensational so far, with Monterrey knocking out the MLS and Liga MX champions.
Monterrey is coming to Geodis Park on Tuesday, August 15, to take on Nashville SC in the 2023 Leagues Cup semifinal. The winner of this match will get to play against the winner of the Philadelphia vs. Inter Miami game in the Final. So, who will it be?
---
How to Watch
When: Tuesday, August 15, 2023, at 9:30 p.m ET
Where: Geodis Park, Nashville, Tennessee
How to Watch: Apple TV
---
Odds
Monterrey is the only team that has won every single Leagues Cup game in regulation. They had a relatively easy job in the group phase, after which they played two real heavyweights in the knockouts.
First, they defeated UANL Tigres, which is the reigning champion of the Mexican Liga MX. It wasn't an easy game though – Monterrey won 1-0 with the winner scored from the penalty spot in the 7th minute of stoppage time.
Then, in the quarterfinal, they defeated the reigning MLS champion in another nerve-wracking game. They beat Los Angeles FC 3-2 after being 2-0 down at halftime. After knocking out two champions, Rayados are now taking on a real giant slayer.
READ ALSO: Leagues Cup Preview: Philadelphia Union vs. Inter Miami Prediction, Odds, and Picks (Aug 15)
The team in question is Nashville SC, which is coming off a 5-0 win over Minnesota United. Still, that wasn't this team's greatest success in the 2023 Leagues Cup. Instead, it's the two games before that they should be even more proud of – they defeated FC Cincinnati and Club America.
Each time they won by penalties, but keep in mind that Nashville SC was the underdog in both of those matches.
---
Monterrey vs. Nashville SC Prediction
Both teams have been in a goal-scoring mood since the start of the 2023 Leagues Cup, which is why we're almost 100% certain this game will see three or more goals. But which team will score more? We have to go with Monterrey.
Free Pick: