Leagues Cup Preview: Philadelphia Union vs. Inter Miami Prediction, Odds, and Picks (Aug 15)
Soccer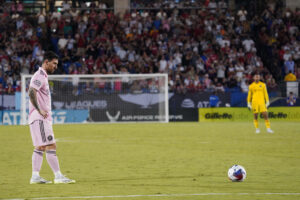 Philadelphia Union vs. Inter Miami is a semifinal duel of the 2023 Leagues Cup.
Lionel Messi has been a real game-changer for Inter Miami.
The last time these two met at Subaru Park, Philly won 4-1.
Lionel Messi and Inter Miami are through to the semifinal of the 2023 Leagues Cup, but that's where their arguably toughest challenge so far awaits them. On Tuesday, August 15, they're coming to Subaru Park in Chester, PA, to take on Philadelphia Union.
How to Watch
When: Tuesday, August 15, 2023, at 7:00 p.m ET
Where: Subaru Park, Chester, Pennsylvania
How to Watch: Apple TV
Odds
---
Game Preview
Inter Miami has been sensational since Lionel Messi's arrival. The Herons are undefeated in the 2023 Leagues Cup with three straight wins in the group stage, one win after penalties in the knockouts, and in their most recent game, they destroyed Charlotte CF 4-0.
The game against Charlotte in the quarterfinal is a good example of the fact that Inter Miami isn't a one-man army. Sure, Messi was once again the best player on the field, but his teammates did great as well. Robert Taylor and Josef Martinez were fantastic in the attacking department, while DeAndre Yedlin did amazing at the back.
Messi's former colleagues from Barcelona – Sergio Busquets and Jordi Alba – weren't bad, but we know these guys can do much, much better. And they will have to do much better on Tuesday if they want their team to advance to the 2023 Leagues Cup Final. It's because, in the semifinal, they're locking horns with an amazing team.
The Philadelphia Union is arguably better than any of Inter Miami's previous opponents in this tournament. These guys too are without a single loss in the Leagues Cup, with three wins in regulation and two after penalties.
READ ALSO: UFC 292 Preview: Aljamain Sterling vs. Sean O'Malley Prediction, Odds, and Picks (Aug 19)
In their most recent game, boys from Philly defeated Queretaro 2-1. It was expected, but they did struggle to score the winner. In fact, their second goal happened in the 11th minute of stoppage time, a few minutes after one of Queretaro's defenders got red-carded.
---
Inter Miami vs. Philadelphia Union Prediction
The last time these two met at Chester Park, the hosts won 4-1. However, a lot has changed since the last Inter Miami vs. Philadelphia Union game. Not only is Messi now on the team (as well as Busquets and Alba), but the Herons also have a new coach – Gerardo Martino.
That said, we do think Inter Miami is the better team, but we feel as if might struggle this time. Philly is bound to fight back, which is why we're almost guaranteed to see goals galore on Tuesday night.
Free Pick: