Xbet Sportsbook Review

8.4
Sign Up Offer
100% up to $300
Official website:

www.xbet.ag

Promo code:

VEGASODDS

Min. Deposit to Qualify Bonus:

$45

Payments Accepted:

Mastercard, ECheck, Person 2 Person, Visa
You can count XBet as one of the newer online sports gambling websites available now. However, that has not stopped them from advertising themselves as "the last sportsbook you'll ever join." That is a pretty big claim these days considering just how popular online sports gambling is and just how many sports gambling sites there are. All advertising slogan-ing aside, the question remains, is XBet the last sportsbook you'll ever join? With so much competition these days, online gambling sites have to bring a lot to the table just to get your action in the first place. Here we will take an in-depth look at just how well XBet stacks up to all that competition. Low fees, fair lines, and quick payouts is what the people want but is that what XBet offers?
Services
Live Betting

Mobile App

Sign Up Bonus

Good Offers
History & Background
As mentioned, XBet is one of the newer sportsbooks you will find on the internet. At only four years old, they have gotten off to a good start as far as their reputation is concerned which is always nice. They are a full-fledged gambling site as XBets offers a racebook and a casino with slots and table games as well as the sportsbook although sports gambling remains their focus.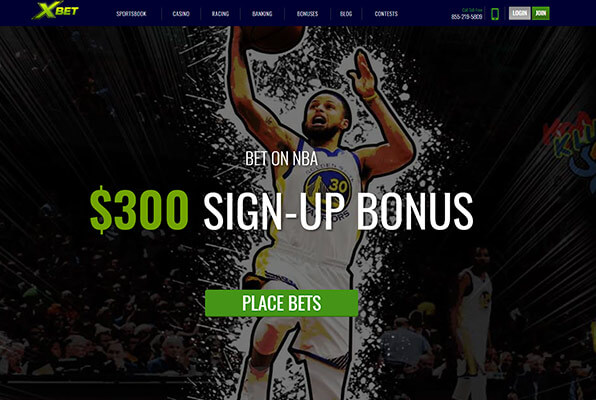 XBet not only has the industry standard U.S.-based sports available like football, baseball, basketball, and hockey. They also offer a wide range of specialty sports such as cricket, MMA, and esports. Their prop betting doesn't begin and end with sports either. Religion, Politics, and Entertainment also find odds on their big board. XBet is new and is definitely trying new things in the online gambling community.
Bonus Details
Welcome Bonus – XBet's sign-up bonus is a very strong one as they offer a 100% matching bonus up to $500 on your initial deposit with our exclusive promo code: VEGASODDS.
Casino Bonus – Their Casino bonus is even better, with a 200% matching bonus up to $500 on your initial deposit in your casino account.
Reload Bonus – Reloading happens to the best of us and XBet has a nice 25% matching bonus up to $250 on every deposit after your first.
Banking Options
XBet has plenty of deposit options for you to choose from. Visa, Mastercard, ACH, BankWire, Person2Person, bitcoin, and even a phone transfer system. Each carries its own minimums and fees but they are fair and small by industry standards.
Players can wager the minimum amount of $2 online (or $25 over the phone). The maximum wager amount is $2000 for regular sports and $250 for futures and prop bets. Larger amounts than the maximum limit are allowed after a manual request to the line manager via phone on 855-219-5809.
Sportsbook
Being only a few years old, XBet hasn't been around long enough to make any enemies and that's a good thing. This is a site for serious gamblers as XBet will not freeze you out for winning and they have quick payouts when compared to most. They have not rocked the boat or rubbed anyone the wrong way and that is refreshing and plenty of reason to give them a try. They have a no-frills approach which most experienced gamblers appreciate.
Customer Support
Customer service is streamlined very well at XBet which is, unfortunately, unique in the online gambling world. You can reach them via phone, email, and social media (FaceBook, Twitter, Instagram). They are offer separate lines for Wagering Questions and for Customer Service which is a nice touch.
Cons: Areas of improvement
Less Variety than Others
Slow Line Updates
Verdict
If you are the type of gambler who wants to throw 100 bucks in, collect a simple bonus, and, hopefully, cashout at $500, this place is for you. They bring very good odds and point spreads every game, every day, even when Live-Betting. They keep it simple and provide a sportsbook worth your time. It would be wise for them to get those lines up faster in the near future because this is really the only frustration I've heard about this site. "The last sportsbook you'll ever join," may be a bit much of a tagline. How about something a little more understated, "A sportsbook that is worth a look-see."