What Does 'Bet Slip' Mean in Betting?
A bet slip is a document that is used to record the details of a bet placed by a customer at a sportsbook. It is usually printed out from the sportsbook's computer system or issued by a cashier. The bet slip will include information such as the event being bet on, the type of bet, the stake, and the potential payout.
Bet Slip Example (Betonline)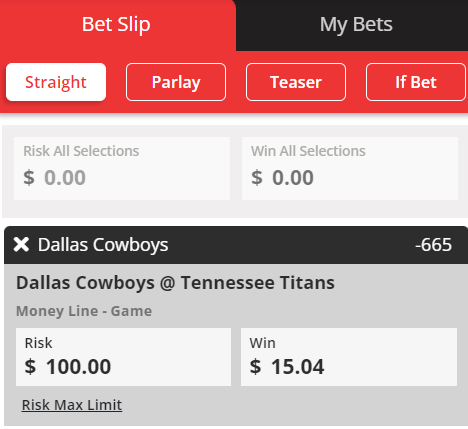 In this example, you can see the following things displayed on the bet slip:
Event – Dallas Cowboys vs Tennessee Titans
Type of Bet – Moneyline game bet
Selection – Dallas Cowboys to win the game
Odds – (-665)
Stake – $100
Potential Winnings – $15.04
Also Consider
Make sure you check the bet slip details carefully before submitting it.
Be aware of any promotional offers that may be applied to your bet slip.
Ensure that the stake you enter is the amount of money you want to risk.
Double-check that the odds you are betting on are the same as the ones on the bet slip
Be aware of any fees that may be charged for placing the bet.