UFC Vegas 81 Preview: Jennifer Maia vs. Viviane Araujo Prediction, Odds, and Picks (Oct 14)
MMA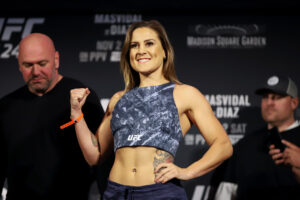 Jennifer Maia vs. Viviane Araujo odds suggest we'll witness a close battle on October 14.
Maia is hoping to prolong her winning run and get her third straight victory this Saturday.
Araujo is determined to put an end to her losing skid by beating Maia in Vegas.
Jennifer Maia vs. Viviane Araujo is the co-main event of UFC Vegas 81 (UFC Fight Night 230), which will take place at UFC Apex on Saturday, October 14. This is a women's flyweight duel between two hard-hitting fighters who don't mind getting hit.
Knowing this, it's only logical to expect we're going to witness a real battle inside the Octagon, and Maia vs. Araujo odds confirm this. The two Brazilian WMMA fighters have very close odds, suggesting that whoever wins, it won't be a surprise.
---
How to Watch
When: Saturday, October 14, 2023, at 10:00 p.m ET
Where: UFC Apex, Vegas, Nevada
How to Watch: ESPN+
---
Odds
---
Fight Preview
Jennifer Maia (21-9) is a true mixed martial artist in the sense that she has all sorts of weapons in her arsenal. She started out as a boxer, then trained Muay Thai and kickboxing in order to polish her striking skills. Plus, as you'd expect from a Brazilian fighter, she also has experience with grappling. In fact, she's got a black belt in Brazilian jiu-jitsu.
But so does Viviane Araujo (11-5), who also has a black belt in Luta Livre, which you can think of as a sort of Brazilian take on submission wrestling. What's kind of surprising is that she's not using her grappling/wrestling skills too often inside the Octagon. Actually, neither of them does.
READ ALSO: UFC Vegas 81 Preview: Sodiq Yusuff vs. Edson Barboza Prediction, Odds, and Picks (Oct 14)
Instead, these fighters prefer to fight with their hands and legs. They both land an insane number of strikes, while also getting beaten up a lot in almost every fight. Jennifer Maia records 4.50 significant strikes per minute while absorbing 4.78. Viviane Araujo lands 4.63 while getting hit 5.45 times a minute on average.
---
Jennifer Maia vs. Viviane Araujo Prediction
These two have a similar set of fighting skills, which explains why the Maia vs. Araujo odds are so close. The reason why Maia is the favorite (albeit a slight one) is that she's on a better streak. She's won her last two fights, while Araujo lost her last two. That's why Maia probably has confidence on her side, which could be the decisive factor in the October 14 fight.
Free Pick: