Atlanta Falcons 2023-24 NFL Playoff Odds and Prediction
NFL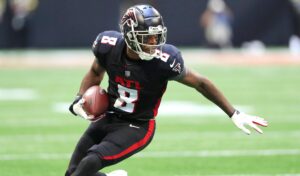 The Falcons finished in a 3-way tie for last in the NFC South at 7-10.
Rookie RB Bijan Robinson is expected to make an immediate impact.
Atlanta has a top young offense, featuring Kyle Pitts and Drake London.
As the 2023-24 NFL season approaches, let's take a look at the Atlanta Falcons' playoff odds and weigh their chances of making the postseason this year. They have a lot of young, exciting talent on offense.
---
Playoff Odds
---
Team News
The Falcons came close to winning the NFC South last season, but ultimately came up short. Their 7-10 finish marked the 4th time in the last 5 seasons they finished with exactly 7 wins, with the outlier being a 4-12 season. Atlanta's 5-year drought without an above .500 finish has put them in a difficult spot. That being said, they've been gradually improving despite their record, and should improve again this season.
Atlanta's biggest advantage to their poor stretch of play has been their allotment of top draft picks. They invested heavily in the offense with those picks, acquiring some superb talent, such as RB Bijan Robinson, WR Drake London, and TE Kyle Pitts. The biggest question for the Falcons entering this season revolves around 2nd-year QB Desmond Ridder, whose success will make or break Atlanta's postseason chances.
---
Prediction
Desmond Ridder played pretty well in his very limited action last season. If he continues to play better than many expect, and posts a passer rating of 90 or higher, the Falcons will be in the running to win the division. On the other hand, if he struggles, they could wind up near the division cellar. Atlanta's defense will also play a key role, after some inconsistency last season. I see the Falcons winning 8 games in 2023.