Carolina Panthers 2023-24 NFL Playoff Odds and Prediction
NFL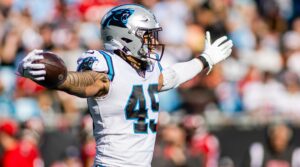 The Panthers finished in a 3-way tie for last in the NFC South at 7-10.
Their defense improved quite a bit, almost earning them a division title.
Carolina will aim to take another step forward with QB Bryce Young at the helm.
As the 2023-24 NFL season approaches, let's take a look at the Carolina Panthers' playoff odds and weigh their chances of making the postseason this year. They will look to take another step forward this season.
---
Playoff Odds
---
Team News
The Panthers started last season playing well, but quickly declined as the season progressed. Their defense was once again the only thing giving Carolina life, especially after they traded RB Christian McCaffrey to the 49ers during the season. That being said, the trade of McCaffrey, as well as previous trades of WRs Robbie Anderson and DJ Moore, allowed the Panthers to pick up quite a few draft picks.
With those picks, the Panthers traded up into the #1 overall spot in the 2023 NFL Draft. They selected QB Bryce Young from Alabama, the consensus top player in the draft. With a new franchise quarterback at the helm and an already solid defense, Carolina could be on the track back to success already. Acquisitions of RB Miles Sanders and WRs Adam Thielen and D.J. Chark will make the Panthers offense even more deadly.
---
Prediction
The Panthers are a very interesting case to project this year. They essentially went into rebuild mode when they traded McCaffrey, but quickly shifted back to attempting to compete, by bringing in several top free agents on offense. Carolina's roster may be the best overall in the NFC South division, but having a rookie QB will make a playoff run more difficult. I see them winning 9 games, but narrowly missing the playoffs.