Kansas City Chiefs 2023-24 NFL Playoff Odds and Prediction
NFL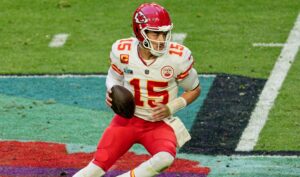 The Chiefs won the Super Bowl last season, their 2nd with Mahomes at QB.
They return the majority of their roster, expected to make another deep run.
Kansas City has made the conference final or better in five straight seasons.
As the 2023-24 NFL season approaches, let's look at the Kansas City Chiefs' playoff odds and weigh their chances of making the postseason this year. They will be aiming to repeat as the Super Bowl champions.
---
Playoff Odds
---
Team News
The Chiefs are the NFL's defending champions, after winning last season's Super Bowl over the Eagles. Led by superstar QB Patrick Mahomes, Kansas City has been the best team in the NFL over the past five seasons. In this year's NFL Top 100, the Chiefs had three players rank in the top-10. Patrick Mahomes took the top spot, with TE Travis Kelce at #5 and DL Chris Jones coming in at #10. The Chiefs remain stacked.
Kansas City may have rolled to their 2nd Super Bowl win in the last 4 years, but they can't relax for a second in a stacked AFC conference. In order to make the AFC Championship Game for the 6th straight season, the Chiefs will need to once again play at an elite level. The departures of Tyreek Hill and Mecole Hardman over the past two offseasons could start to make a difference. Even so, Mahomes should be fine.
---
Prediction
If this bet was choosing whether or not we expect the Chiefs to make the Super Bowl again, this may be a bit more of a tough decision. On the other hand, it's easy to expect them to make the playoffs once again. Barring any major injuries, Kansas City should be able to return to the postseason for their 9th straight season. I'm surprised the odds are at -350 and not closer to -800. The Chiefs should win 12+ games again.