Las Vegas Raiders 2023-24 NFL Playoff Odds and Prediction
NFL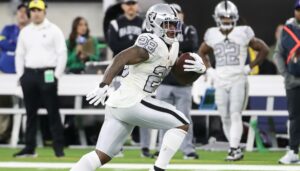 The Raiders regressed last season, dropping from ten wins in 2022 to just six in 2023.
They are seeking their first playoff win in 21 years, when they last made the Super Bowl.
QB Derek Carr left for New Orleans, with QB Jimmy Garoppolo taking over under center.
As the 2023-24 NFL season approaches, let's look at the Las Vegas Raiders' playoff odds and weigh their chances of making the postseason this year. They'll be hoping to bounce back with a new QB at the helm.
---
Playoff Odds
---
Team News
The Raiders finished 6-11 last season, another disappointing finish. Under their 3rd different head coach in the 3 seasons since moving to Las Vegas, the Raiders continue to struggle, despite their talented roster. In the NFL's Top 100 list, they had three players finish in the top-20. DE Maxx Crosby was ranked #17 and WR Davante Adams came in at #13. RB Josh Jacobs surged to #12 after an explosive, breakout 2022 season.
Despite all of that talent, the Raiders have only made the playoffs twice since 2002, both times losing in the first round. This season, they'll need to overcome the departures of QB Derek Carr and TE Darren Waller, who were fundamental pieces of their offense. A struggling Jimmy Garoppolo was brought in to take over at QB, but Las Vegas is going to need him to play at an elite level to have any shot in 2023-24.
---
Prediction
It wouldn't be surprising to see the Raiders tank this season. Their eyes may be on Caleb Williams and Drake Maye as possible future franchise QB candidates. That being said, they could also outperform expectations this season, and wind up closer to the playoff bubble than expected. I see the former being more likely, with the Raiders even opting to trade 30-year-old WR Davante Adams to further their rebuild.