Minnesota Vikings 2023-24 NFL Playoff Odds and Prediction
NFL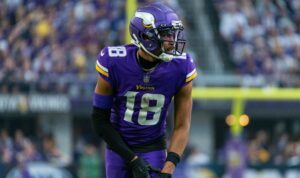 The Vikings went 13-4 last year, but were one and done in the playoffs.
They made some changes to improve a struggling defense for 2023-24.
Minnesota will be aiming to repeat as the NFC North division champion.
As the 2023-24 NFL season approaches, let's take a look at the Minnesota Vikings' playoff odds and weigh their chances of making the postseason this year. They are expected to regress quite a bit this season.
---
Playoff Odds
---
Team News
The Vikings had a disappointing showing in the postseason last year, losing to the Giants in the Wild Card round, after going 13-4 in the regular season. Their defense was fully exposed by Daniel Jones, creating the need for some major changes for 2023. Unfortunately, Minnesota had traded away 7 draft selections from this year, leaving them with only one selection in the top 100 picks. The defense may struggle again.
On offense, the Vikings aren't in as good shape as last season either. Superstar WR Justin Jefferson will continue to be impossible to stop, and TE T.J. Hockenson makes his presence on the field known each snap. That being said, RB Dalvin Cook and WR Adam Thielen were released, leaving the offense with a couple of large holes to fill. 1st-round rookie WR Jordan Addison should slot in for Thielen right away.
---
Prediction
I think analysts are a bit too cold on the Vikings, following a 13-win season. They may have lost a few key assets, but they also still have some superstar talent. I don't expect the offense to regress much at all, so if the defense can improve, Minnesota should compete again. Even with all of that said, I still think their chances of making the playoffs are up in the air. If the defense doesn't improve, they may finish 8-9 or 9-8.