Tampa Bay Buccaneers 2023-24 NFL Playoff Odds and Prediction
NFL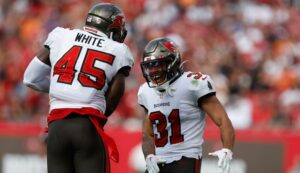 The Buccaneers won the NFC South last season, despite their 8-9 record.
They're expected to regress this year, and may finish last in the division.
QB Baker Mayfield was brought in to help Tampa Bay avoid a down year.
As the 2023-24 NFL season approaches, let's take a look at the Tampa Bay Buccaneers' playoff odds and weigh their chances of making the postseason this year. They're entering a rebuilding phase in 2023-24.
---
Playoff Odds
---
Team News
The Buccaneers won their 2nd straight division title last season, despite finishing with an 8-9 record. They were able to ride the play of a declining Tom Brady just enough to win a subpar NFC South, but never stood much of a chance in the playoffs. With Brady now retired, the Buccaneers signed QB Baker Mayfield to act as a temporary solution. Mayfield may be getting his final chance as a starter if he cannot produce.
Most of the veteran talent brought in to help support Tom Brady en route to the Buccaneers 2020 Super Bowl victory has also moved on, shifting Tampa Bay into a rebuilding era. It's possible that they could exceed expectations if Baker Mayfield plays closer to how a #1 overall pick should play, but it's not very likely. Ultimately, it'd benefit the Bucs long-term to tank this year and look into QB Caleb Williams in 2024.
---
Prediction
The Buccaneers are by far the longest shot to win the division in the NFC South this year, despite winning it in 2021 and 2022. They finished with a -45 point differential last season, and their roster only got worse over the offseason. It'd probably be best for Tampa Bay to go full tank, with QBs Caleb Williams and Drake Maye, as well as WR Marvin Harrison Jr., headlining a stacked 2024 class. I see them going 5-12 this year.