Belmont Stakes 2020 Betting Guide

Horse racing and gambling go hand in hand—and even that is an understatement. Sure, these horses love to run, but there is only one reason we bring them together all summer long and have done so for over a hundred years. Horse racing's Triple Crown represents the best of these races, and the Belmont Stakes is the final leg of the three major contests.
All three races are unique in their own right, but the Belmont Stakes has an entirely different feel when compared to the others. Not only does it contain the tightest field with the strongest odds year in and year out, but being the final means the inevitable question: can a horse actually win all three races and take that Triple Crown? This is the accomplishment all the greats strive for, but only a few can claim.
Best Sportsbooks for Betting on the Belmont Stakes
These are the best sportsbooks that we recommend as of 2022 based on bonuses, odds and overall betting experience:
#1
First Deposit Bonus
50% UP TO $1000
US Players Accepted
Promo Code: BOL1000 (Minimum Deposit: $55)
#2
First Deposit Bonus
50% UP TO $1000
US Players Accepted
Promo Code: SB1000 (Minimum Deposit: $55)
#3

First Deposit Bonus
125% UP TO $3125
US Players Accepted
Promo Code: JOIN125 (Minimum Deposit: $100)
#4
First Deposit Bonus
50% UP TO $250
US Players Accepted
Promo Code: VEGASODDS
#5
First Deposit Bonus
100% UP TO $1000
US Players Accepted
Promo Code: VEGASODDS
Belmont Adds Great Value
Playing the ponies is one-part art and one-part science. Gamblers either agonize over racing forms or simply bet their favorite numbers. One thing's for sure, the Triple Crown races bring in a ton of money, and it all comes to a head the weekend of the Belmont Stakes. There is great value here, and every gambler knows it whether they visit the track weekly or only tune in for the big races. Either way, the Belmont Stakes promises the best action of the year in horse racing.
Jody Demling and the Belmont Stakes
The Belmont Stakes is the crowning event in the Triple Crown horse racing series. Last year in 2019, the big racing festivals brought us a lot of excitement and unexpected outcomes, and the event that took place at Belmont on Saturday, June 8th that year delivered on all promises. Looking beyond the 2019 event, though, there are quite a few things that are the same every year, including in 2020.
2020 Belmont Stakes Time and Date
| | |
| --- | --- |
| Event | 2020 Belmont Stakes |
| Date | Saturday, June 6th, 2020 |
| Event Start | 16:00 ET |
| Post Time | 18:45 ET |
| Location | Belmont Park, New York |
| Prize | $1.5 million |
| Distance | 1.5 miles |
Belmont Stakes Previous Winners
| Year | Winner | Odds | Jockey | Trainer |
| --- | --- | --- | --- | --- |
| 2019 | Sir Winston | 10 – 1 | Joel Rosario | Mark Casse |
| 2018 | Justify | 4 – 5 | Mike Smith | Bob Baffert |
| 2017 | Tapwrit | 6 – 1 | Jose Ortiz | Todd Pletcher |
| 2016 | Creator | 15 – 1 | Irad Ortiz | Jr.Steve Asmussen |
| 2015 | American Pharoah | 3 – 5 | Victor Espinoza | Bob Baffert |
| 2014 | Tonalisst | 12 – 1 | Joel Rosario | Chris Clement |
| 2013 | Palace Malice | 13 – 1 | Mike Smith | Todd Pletcher |
| 2012 | Union Rags | 3 – 1 | John Velazquez | Michael Matz |
| 2011 | Ruler on Ice | 24 – 1 | Jose Valdivia, Jr. | Kelly Breen |
| 2010 | Drosselmeyer | 13 – 1 | Mike Smith | Bill Mott |
| 2009 | Summer Bird | 12 – 1 | Kent Desormeaux | Tim Ice |
Who Will Win the 2020 Belmont Stakes?
"Who will win?" remains the perennial question that is asked over and over again. Unlike the previous legs of the esteemed festival, the Belmont Stakes field of entrants is usually slashed down to ten entries, making for a very focused event.
If you are here to plonk down your wager, you are certainly wondering which horse to back. Well, there are certainly reasons enough to back horses such as Tacitus and War of Will. Although the field is changing quickly and these horses may not necessarily be 2020's contenders. However, what's certain is that Jody Demling will remain one of the best tipsters to follow.
Demling, one of the most successful sports bettors in the history of horse racing, has quite the impressive track record. Demling has an average of 70-80% success rate in calling major sports betting competitions. He's been successful with Preakness (9/15) and he has called doubles Preakness and Kentucky Derby competition winners 9 out of 11 times. This goes to say something about an analyst of his stature.
Belmont Stakes – The Event's History
The Belmont Stakes goes some way back. It all started in 1866 when the Jerome Park Racetrack arrived in Bronx by a stock market analyst, Leonard Jerome. A year after, the clopping of hooves could be heard and the events continued until 1890 when the Belmont Stakes moved to Morris Park, followed by a few other venues, until the race finally found its new home in Belmont Park.
There have been challenges in the long history of the event with laws in 1911 and 1912 putting a temporary damper on the hopes of horse racing fans to place wagers legally. Yet, the tradition has lived on and even to date, the attendees like to dress in the distinct opulent style of the original event.
Guide to Belmont Park
Belmont Park is one of the iconic venues for horse racing. It is steeped in history and tradition while it is also one of the best places to watch horses lap fast. The track opened in 1905 and it is 1.5 miles long. The Belmont Stakes has been held at this location throughout its history bar a short spell that necessitated the reconstruction of the venue. The track seems much larger than a usual track. In fact, the 1.5-mile circumference of the outside dirt track, aka the Big Sandy, makes it the longest in North America.
Winning the Triple Crown
The Belmont Stakes is certainly worth winning, but it also means a whole lot more to the jockeys and trainers who are looking at the Triple Crown title. In its long 150-year history, the Belmont Stakes has elected a Triple Crown winner 13 times with the first winner arriving nearly 60 years after the event started in 1919.
Here's the full list of horses to pull off the feat:
Sir Barton (1919)
Gallant Fox (1930)
Omaha (1935)
War Admiral (1937)
Whirlaway (1941)
Count Fleet (1943)
Assault (1946)
Citation (1948)
Secretariat (1973)
Seattle Slew (1977)
Affirmed (1978)
American Pharaoh (2015)
Justify (2018)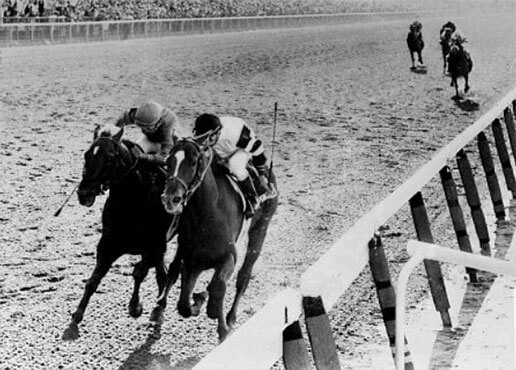 The Belmont Stakes is returning once again and everyone – from the bettors to the jockeys will be interested in securing a victory. The first-place prize is $800,000 which is not a negligible amount by any stretch. With Demling turning a-few-buck-wagers into thousand-worth winnings, you definitely stand to turn a pretty penny yourself.
Where to Bet on Belmont Stakes
Bovada is a perfect destination for both sports and horse races fans. With a tempting $250 welcome bonus, you can turn your nominal bets into a payday. The website covers all major races around the world and if you are based in the United States, you can make a wager on some of the biggest events in horse racing history.
The Belmont Stakes should be no exception. Whether you open an account just to keep track of the odds or place a wager, Bovada's horse racing book is equipped to provide you with a quick and intuitive way to look up all the info you will ever need.
If you think you have seen it all when it comes to promotions, you apparently haven't paid Intertops a visit. The website has a lot to offer when it comes to event-specific competitions, and as to the racebook – Intertops is as big as it gets. You can wager on a variety of events besides the 2020 Belmont Stakes.
The website is fully compatible with Android and iOS devices, so you can place your wagers remotely or as close to the date of the race as you see fit. Intertops offers an exclusive variety of promotions, including a $200 sign-up bonus.
MyBookie is definitely the venue to be for all things horse racing. The operator runs extensive horse racing options and whether you are betting on the Belmont Stakes 2020 or another race from halfway across the world, Mybookie will live up to your expectations.
Guide to Making Successful Bets
You can make successful bets at Belmont Stakes by considering certain factors before choosing the runner. They are:
Jockey's Experience
A lot of attention is given out to horses and the role of a jockey is often forgotten. Even though the stamina and speed of a horse are very crucial in success, a good jockey can extract or waste a horse's potential. Belmont Park's 1.5-mile track can test even the best horses to the limit. An experienced jockey certainly does not guarantee success, but it is a crucial factor.
Avoiding the Favorite
The common consensus is to go with the horse rated as favorite in the event. However, the concept of favorites seems to apply largely to Derby Stakes and Preakness Stakes. Over the last 40 years, a favorite has been able to win the Belmont Stakes at times.
The elusive Triple Crown is especially more difficult for favorites to overcome the pressure and end up being successful. American Pharaoh (2015) and Justify (2018) are some of the recent names to win the event despite starting as the favorite, but such outcomes have been far and few between.
Rest Schedule
It takes a lot of stamina and strength to come out successful at the Belmont Stakes. The 1.5-mile long track along with the condensed schedule can often result in surprise outcomes. Even if the horse has been showing great potential leading up to the event, it is a good idea to go with a runner which has not taken part in major events. Once again, American Pharaoh and Justify are the two horses to have picked up wins at Belmont despite taking part in Derby and Preakness.
Since Preakness and Belmont are scheduled within a few weeks of each other, it takes a remarkable horse to come out successful in the Triple Crown. History has shown us that only six horses been able to pick up a victory at Belmont after going through less than four weeks of rest.
Track Condition
The mile-and-a-half distance can take a toll on horses even in the best conditions. If the track happens to be wet, the outcome of the race can differ a lot. It pays to keep abreast with the weather conditions at the time of the race. Thankfully, there are plenty of avenues to get this information. Belmont Stakes has a reputation for being the best-maintained racing surfaces in the USA, but weather conditions can always bring about a huge difference.
Breed
Not all horses are being bred specifically to tackle Belmont Stakes and it takes a special set of skills to last through the 1½ miles. Even though it is difficult to predict the ability to last through the race, a good indicator will be the performance of sires over long distances. You can go with horses whose sires were able to last more than 1¼ miles. Now, it is better to stay away from horses that are only fit for going a mile or less. A great example would be champion sire Tapit, who has already provided winners like Tonalist (2014), Creator (2016), and Tapwrit (2017).
Inside Lane
The track may feature a long straight even before horses make the first turn. However, the importance of the inside lane has increased in recent years. It is seen as a favorable position since more than 20 Belmont champions have been starting from this position. This is a remarkable statistic when you consider that other positions have yielded less than twice this number. If you are not confident about the horse on the inside lane, post three and five are also seen as the next choices since they have produced more than 10 winners.
Betting Markets: Straight Bets
Win – This is as straightforward as it can get. The win market is also considered the easiest at Belmont. You only need to pick the winner among the host of runners.
Place – This is seen as a bet with insurance, as you can end up winning the bet as long as the chosen horse finishes first or second. The odds of winning the bet improves substantially, but the price for a place finish is not impressive. This bet can be a good choice when two horses are closely matched.
Show – A show bet pays when you pick a horse that will finish in one of the top three positions. The chances of success improve a lot with this bet, which is not known for paying out well.
Exotic Options
Quiniela – You need to pick horses that will finish in the first and second positions. Crucially, the bet is not focused on the finishing order. Even though this market requires two picks, it can pay off very well. You can also go with a Quiniela box, which is similar in all other parameters except that you can pick three or more horses.
Exacta – This bet is same as Quiniela but the exact order of finish is taken into account. The Exacta box is once again similar in terms of the requirement, but you can pick more horses.
Trifecta – You have to pick the first three positions at Belmont Stakes. Crucially, the horses that you pick should finish in the exact order. A trifecta box is a little easier since three or more horses can be picked and they can finish in the top three in any order.
Superfecta – Any success in a Belmont Stakes exotic bet requires luck and this is especially true of Superfecta where you need to pick horses for the first four positions in the exact order.
Latest Horse Racing Headlines