UFC Fight Night: Aspinall vs. Tybura Predictions, Fight Card, and Odds (Jul 22)
MMA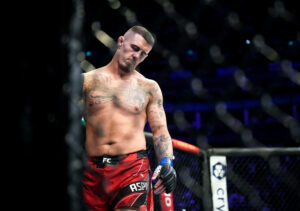 Tom Aspinall is coming back to the octagon after a bizarre injury a year ago.
Molly McCann looking for another stoppage win at The O2 in London.
Paul Craig could be the best underdog bet of the entire UFC on ESPN+ 82 event.
The Ultimate Fighting Championship is coming to the UK this weekend. The O2 Arena in London is where UFC Fight Night: Aspinall vs. Tybura will take place on Saturday, July 22, 2023. The event is also known as UFC on ESPN+ 82 for the fact that the main card fights will be broadcasted on this channel.
Speaking of which, we're now going to analyze each of the fights on the main card, sharing our top UFC on ESPN+ 82 predictions along the way.
---
Schedule and How to Watch
Where: The O2 Arena, London, UK
When: Saturday, July 22, 2023, at 3 p.m ET
How to Watch: ESPN+
---
UFC on ESPN+ 82 Predictions
Tom Aspinall vs. Marcin Tybura
Tom Aspinall is coming back to The O2 Arena almost exactly a year since he fought there the last time. "Fought" is the word that's doing a lot of heavy lifting here as the Englishman suffered a knee injury just 15 seconds after stepping inside the Octagon.
As a result, he lost by TKO, which was his first loss since 2016. Further, the injury tarnished his UFC record, which was 5-0 before the accident. For four of those wins, he was given the Performance of the Night bonus, which is proof of how good a fighter this guy is.
We think he's better than Marcin Tybura in practically all aspects of MMA, so if bad luck doesn't follow him on Saturday, he should have no problems recording another win.
Prediction:
---
Molly McCann vs. Julija Stoliarenko
In her most recent fight, Molly McCann suffered a round 1 submission loss to Erin Blanchfield in New York. The two fights before that, however, saw her beat Luana Carolina and Hannah Goldy, each by TKO. For each of those performances, "Meatball" was awarded the Performance of the Night bonus.
Another interesting fact about those two fights is that both of them took place in London, the same as the UFC on ESPN+ 82. But even if that wasn't the case, we'd still back her to beat Julija Stoliarenko. She's great on the floor but she just doesn't have the power that Molly possesses.
Prediction:
---
Nathaniel Wood vs. Andre Fili
Same as Aspinall and McCann, Nathaniel Wood is also fighting in front of his own crowd. The Englishman is favored to win, mainly because he's been pretty impressive in the cage in his last couple of fights.
He's coming off back-to-back wins, both of which happened by decision. Against Charles Rosa, he won over the judges' affection by putting on a great striking show. Then, against Charles Jourdain, he did great wrestling-wise, recording five takedowns.
Meanwhile, Andre Fili is still looking to get his UFC career back on track. He's won just one of his last four fights, and the win in question was somewhat controversial. It happened against Bill Algeo last year, with Fili winning by a split decision even though his opponent recorded more significant strikes.
Prediction:
---
Paul Craig vs. Andre Muniz
On paper, Andre Muniz looks like a straight-on favorite. However, you never know with Paul Craig. The "Bearjew" is a real giant slayer who's recorded wins over such elite fighters as Jamahal Hill, Magomed Ankalaev, and Nikita Krylov. It's needless to say that against all of those fighters he was seen as a huge underdog.
However, what's worrying is that he's coming off two straight losses. First, Volkan Oezdemir defeated him by a unanimous decision after outboxing the Scotsman. Then, Johnny Walker beat him by a first-round TKO. That said, his confidence might not be great ahead of the Muniz fight.
However, Muniz is no way near as good when it comes to striking as Craig's previous two opponents. Instead, his specialty is grappling. He's a BJJ expert who'll probably try to put Craig into submission, but this can easily backfire. And we think it will!
Prediction:
---
Jai Herbert vs. Fares Ziam
Jai Herbert is a former Cage Warriors champ whose UFC career started with two losses inside the distance. Then, he defeated Khama Worthy, but the hype didn't last for too long. In the following fight, he lost to Ilia Topuria.
Herbert bounced back again with a win over Kyle Nelson and was close to beating L'udovit Klein last March, but the fight was declared a draw. His forte is kickboxing, but so is his opponent's. The Frenchman is great when it comes to dodging strikes, suffering only 1.70 significant strikes per minute on average.
Ziam isn't great on the floor, but he's difficult to take down. We honestly don't think Herbert can do it. Instead, this is going to be a kickboxing duel, which Ziam will probably win in the end.
Prediction:
---
Lerone Murphy vs. Joshua Culibao
Lerone Murphy has 12 wins and one draw in his professional MMA career. Murphy is a sublime striker, but his wrestling is horrendous. So far in his UFC career, we saw him get taken down 17 times, with 10 of those happening in his last two fights.
READ ALSO: The Open 2023 Prediction, Preview, and Odds (2023)
He got taken down so many times, but his opponents just weren't able to finish him. Maybe that will change in London on Saturday? Probably not, as Culibao just doesn't have the grappling/wrestling prowess to beat this guy by submission.   
Prediction: