UFC on ESPN 47: Vettori vs. Cannonier Predictions, Fight Card, and Odds (Jun 17)
MMA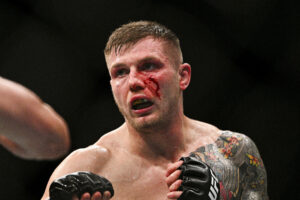 Marvin Vettori vs. Jared Cannonier headlines the next UFC event.
Arman Tsarukyan is a -1000 favorite in the co-main event against Joaquim Silva.
Check out our UFC picks for all the main card fights of the June 17 event.
We did great with our UFC predictions last weekend, going 4-for-5 with our betting picks. On Saturday, June 17, 2023, we believe we can go 100%. The event we're going to cover is UFC on ESPN 47, also known as UFC on ESPN: Vettori vs. Cannonier for its headliner bout.
---
Schedule and How to Watch
Where: UFC APEX, Las Vegas, Nevada
When: Saturday, June 17, 2023, at 10 p.m ET
How to Watch: ESPN
---
UFC on ESPN 47 Predictions
Marvin Vettori vs. Jared Cannonier
Marvin Vettori has never been finished, but at UFC on ESPN 47, he's locking horns with knockout expert, Jared Cannonier. "The Killa Gorilla" has promised to finish "The Italian Dream" which doesn't sound too crazy considering that his knockout-to-win ratio is 75.00%.
However, Vettori has already fought (and won against) great finishers in the past. For instance, he defeated Paulo Costa, who's got a finish rate of 85.71%. It was a fight in the UFC Light Heavyweight division and the Italian fighter won by unanimous decision. We think the same might happen on Saturday, June 17.
Prediction:
---
Arman Tsarukyan vs. Joaquim Silva
Arman Tsarukyan's UFC odds are -1000, suggesting that there's no chance of him losing to Joaquim Silva. In fact, if he lost Saturday's fight, it would be one of the biggest upsets in the history of the UFC. So, are we going to witness an upset?
It's highly unlikely. Tsarukyan is way better than his next opponent in pretty much all aspects of MMA. Silva does have great striking and is capable of putting his opponents down to the ground with KO/TKO, but Tsarukyan is great at dodging punches.
Prediction
---
Armen Petrosyan vs. Christian Leroy Duncan
Christian Leroy Duncan is 8-0 in his professional career with six of his wins happening by KO/TKO. The former Cage Warriors star made his UFC debut in March, beating Dusko Todorovic by TKO after the Serbian fighter injured his knee.
Now, he's fighting Armen Petrosyan, a Dana White's Contender Series alumnus who's 8-2 overall and 2-1 in the UFC. We don't think this is going to be an easy fight for Duncan, but we do think he's going to win.
Prediction:
---
Pat Sabatini vs. Lucas Almeida
Pat Sabatini (17-4) is a well-rounded fighter who was a collegiate wrestler and who's got a black belt in Brazilian jiu-jitsu. He's also great when it comes to striking. Even though he doesn't land too many strikes (1.67 per minute), his punches are incredibly hard.
His opponent is Lucas Almeida (14-1) who's fighting his second UFC fight on June 17. In his promotional debut, he defeated Michael Trizano by TKO in Round 3. This time, we doubt he's gonna do well. Instead, we think he's gonna get taken down by Sabatini, who's going to keep him on the floor until he taps out.
Prediction:
---
Manuel Torres vs. Nikolas Motta
Manuel Torres (13-2) is a well-rounded fighter, with each of his six last wins happening in round 1. His two most recent losses happened in the first round as well. This is because this guy takes a lot of risks while fighting, which could prove costly on Saturday.
READ ALSO: The Ashes 1st Test Prediction, Preview, and Odds (June 16-20)
The big question is whether Nikolas Motta can take advantage of Torres's sort of reckless fighting style. We think he might. He's a great striker, with great agility and decent TD defense, so we wouldn't be surprised if he won.
Prediction:
---
Raoni Barcelos vs. Miles Johns
Raoni Barcelos is 1-3 in his last four fights, but that's not as bad as it seems at first look. It was Timur Valiev who stopped his 9-fight winning streak by a majority decision. Then, he lost to Victor Henry by unanimous decision. He then won against Trevin Jones by unanimous decision before losing to Umar Nurmagomedov by KO.
This time, he's fighting Miles Johns, who's won two of his last four fights by KO, winning the Performance of the Night bonus each time. This guy definitely has it in him to upset the odds on Saturday. Although we're not 100% sure he's going to win, we do think Johns' UFC odds of +175 are too good to ignore.
Prediction: