NCAAF: Will USC Make the 2023-24 Playoffs?
NCAAF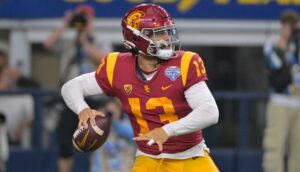 USC came up just short against Tulane in the 2023 Cotton Bowl.
QB Caleb Williams is expected to be the #1 pick in the 2024 NFL Draft.
The Trojans are projected to win the Pac-12, and could make the CFP as well.
As the 2023-24 college football season quickly approaches, let's take a look at USC's outlook and chances to make the College Football Playoff this year. They are expected to rank near the top of the Pac-12 again.
---
CFP Odds
Team News
USC was unable to defeat Tulane in last season's Cotton Bowl, but still had a fantastic season. QB Caleb Williams won the Heisman Trophy, and is widely expected to be the top overall selection in the next NFL Draft. With Williams, the Trojans should tear their way through a soft Pac-12 conference. They face the two biggest threats in the conference, Washington and Utah, at home. USC should win the Pac-12 in 2023.
The Trojans face their biggest test at Notre Dame, but should have enough talent to get past the Fighting Irish. They brought in some key defensive transfers, which should help to patch the holes that caused them to allow Tulane to score 47 points in the Cotton Bowl. If the defense holds out, USC should win the Pac-12 this year. That being said, going undefeated and making the College Football Playoff won't be easy.
---
Prediction
It's hard to feel confident picking a Pac-12 team to make the CFP, with it only happening two times in the past. That being said, the Trojans are uniquely set up this year. They have the best QB in college football, and a relatively easy schedule. I see them going 12-1 and cracking the CFP in their final year in the Pac-12.