NCAAF: Will Utah Make the 2023-24 Playoffs?
NCAAF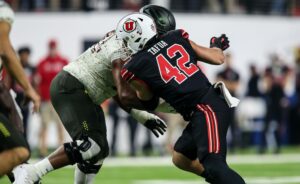 Utah was defeated by Penn State, 35-21, in the Rose Bowl.
QB Cameron Rising will be returning from his ACL injury.
The Utes are aiming for their 3rd consecutive Pac-12 title.
As the 2023-24 college football season approaches, let's take a look at Utah's playoff odds and weigh their chances to make the College Football Playoff this year. They are the 2-time defending Pac-12 champions.
---
CFP Odds
---
Team News
Utah has completely dominated the Pac-12 over the past couple of seasons, winning the conference and making the Rose Bowl in two straight years. Unfortunately, the Utes lost both Rose Bowl games, never getting the chance to really compete last year after star QB Cameron Rising suffered an ACL injury during the game. If Rising stays healthy this year, the Utes will once again be the cream of the crop in the Pac-12.
Despite their Pac-12 dominance, Utah still has a lot of work to do to have any shot at making the CFP. In a weaker conference, they'll need to be essentially perfect to be in the conversation. A road trip to USC in October will be the most crucial point in their season. Rising should be 100% by then, so I'd expect a back-and-forth shootout in that game. If they emerge on top, the Pac-12 South is as good as theirs again.
---
Prediction
The Utes have a tendency to be underrated, and should rise well into the top-10 again this season. That being said, I'm not sure they have a realistic path to the CFP. Games against Washington, Oregon State, and USC on the road provide plenty of opportunities to slip up. If they run the table, they'd surely make it, but I see Utah going closer to 10-2. They should have a good shot to make an NY6 bowl, but not the CFP.