Leagues Cup Preview: Los Angeles FC vs. Monterrey Prediction, Odds, and Picks (Aug 11)
Soccer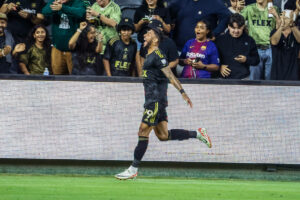 Los Angeles FC and Monterrey battle for the ticket to the final four of the Leagues Cup.
LAFC is the reigning champion of the MLS that's been brilliant in the 2023 Leagues Cup.
Monterrey advanced to the quarterfinal after beating the Liga MX champ Tigres UNAM.
Los Angeles FC vs. Monterrey is a clash between the reigning MLS champion and the team that knocked out the Mexican champ in the previous round. Both teams have been impressive since the start of the 2023 Leagues Cup, so their duel on Friday, August 11, is guaranteed to be a real barnburner. But who's going to win and advance to the semifinal? Let's find out!
---
How to Watch
When: Friday, August 11, 2023, at 10:30 p.m ET
Where: BMO Stadium, Los Angeles, California
How to Watch: Apple TV
---
Odds
---
Game Preview
Los Angeles FC won the MLS Cup last season when Gareth Bale exploded in the playoffs. In the regular season, it was Christian Arango who was LAFC's standout player. However, neither of these guys is still on the team.
This explains why LAFC hasn't been as dominant in the MLS as was the case last year. In the Leagues Cup, however, the boys from Los Angeles have been pretty good. They started their campaign in the knockout phase with a huge 7-1 win over Juarez, followed by a 4-0 win over Real Salt Lake.
READ ALSO: Leagues Cup Preview: Inter Miami vs. Charlotte CF Prediction, Odds, and Picks (Aug 11)
Still, neither Juarez nor Real Salt Lake are anywhere near as strong as LAFC's next opponent. Monterrey is one of the most expensive Mexican clubs, with a roster made up of talented players with plenty of experience.
These guys are great at the back, the evidence being that they've only conceded two goals so far in the 2023 Leagues Cup. In their most recent game, they beat the 2023 Liga MX Clausura winner Tigres UNAM 1-0, with the winner being scored in the seventh minute of the stoppage time.
---
LAFC vs. Monterrey Prediction
Monterrey seems like a team that can score against LAFC, but the question is whether the Mexicans can keep their net safe. We think not. Instead, the hosts are very likely to score more goals than them, thus booking the ticket to the semifinal of the 2023 Leagues Cup.
Free Pick: