Vegas Odds World Series Betting Guide: Game 1 Picks, Totals, and Prop Bets
MLB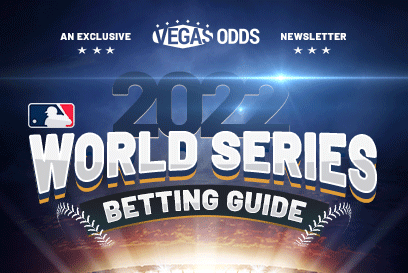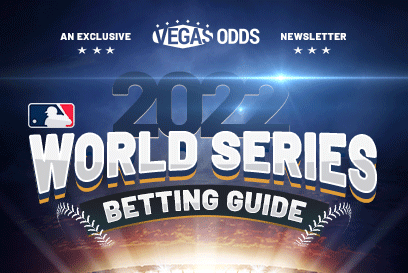 Everybody outside of Texas (and even some within) are rooting for the Philadelphia Phillies as World Series Game 1 gets underway on Friday night in Houston. There are still some repercussions lingering from the Astros cheating scandal over the Dodgers in 2017, but mostly Houston is a victim of their own success as casual fans are getting sick of seeing them playing for the championship.
Best World Series Betting Sites and Bonus Offers
9.7


First Deposit Bonus
50% up to $1000
9.4


Sign-up Bonus
125% up to $2500
9.2


Sign-up Offer
50% up to $250
9.5


Welcome Bonus
50% up to $1000
9.1


Sign-up Bonus
100% up to $1000
8.4


Sign Up Offer
100% up to $300
8.9


Sign-up Bonuses
100% up to $150
8.7


World Series Game 1 Pick
The Astros are not only at home, most of this roster is accustomed to playing in the intense pressure of the World Series. Jose Altuve and Alex Bregman have 20 World Series games under their belt and Yordan Alvarez has played 13 games in the Fall Classic.
Houston is a -164 favorite on the Vegas odds in Friday's opener, but likely Cy Young Award winner Justin Verlander is 0-6 in his career in 7 World Series starts. Verlander was 18-4 with a 1.75 ERA during the regular season but has a 6.30 ERA in the playoffs based mostly on his 6ER allowed over 4.0 IP in the ALDS against Seattle. The right-hander held the Yankees to just 3 hits and a solo Harrison Bader HR over 6.0 IP last Wednesday in a 4-2 win over New York.
Philadelphia is somewhat surprisingly going with Aaron Nola (11-13, 3.25 ERA) in World Series Game 1 instead of Zack Wheeler (12-7, 2.82 ERA). That's not necessarily saying that manager Rob Thomson is conceding the opener for a better chance of taking Game 2, but Nola did give up 6 ER over 4.2 IP last Wednesday against San Diego. Wheeler has a 1.78 ERA this postseason.
The fact that Houston has so much World Series experience, that they're 7-0 this postseason, and that they were 55-26 at Minute Maid Park this season has to give them the edge and by a decent margin.

World Series Game 1 Pick: Astros Run Line(-1.5) +135
World Series Game 1 Totals Play
Given the fact that Verlander has a 5.38 ERA in his career during the World Series and that Nola gave up 6 ERs to the Padres last Wednesday it's somewhat surprising that Friday night's total is just 6.5 runs. Both teams are loaded with sluggers who are also hot this postseason. Rhys Hoskins and Bryce Harper have combined for 10 HRs and 22 RBI while Kyle Schwarber has added 3 HRs after leading the N.L. with 46 this season.
Houston rookie Jeremy Pena has 3 HRs in his first-ever postseason and four other Houston players have two HRs even though they've played just 7 games these playoffs. Houston has scored at least 4 runs in 4 of their 5 home playoff games while 7 of Philadelphia's 11 playoff games have resulted in over 6.5 runs.

Game 1 Prop Bets
It's probably going to be the chalk play but you have to take the +110 odds for this. Bryce Harper will likely be gripping the bat a bit tighter in his first World Series appearance, but he wasn't too big for the moment with a 2-run HR in the 8th inning on Sunday to help beat the Padres 4-3. Harper also sees Verlander well, going 2-5 in his career against the Houston starter but also drawing 3 walks.
---
Hoskins is red hot with 3HRs in his last 7 ABs while knocking in six runs in the last two meetings with the Padres. Hopefully, the long layoff won't cool him off, but he's got an RBI in 5 of the last 7 games.
---
Martin Maldonado has multiple strikeouts in 3 of the last 6 games he's played this postseason and is 0-5 with 3 K's in his career vs. Nola. You pay to see it with +170 odds.
---
Jose Altuve was 0-23 to start this postseason including 0-8 in the famous 18-inning game against Seattle. There are signs he could be heating up though, going 3-9 in the last two games against the Yankees. He singled twice in Game 4 against the Yankees and scored both times.