PFL 7 Preview: Marthin Hamlet vs. Impa Kasanganay Prediction, Odds, and Picks (Aug 4)
MMA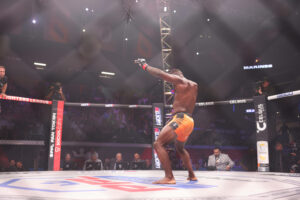 Marthin Hamlet and Impa Kasanganay fight in the PFL Light Heavyweight semifinal.
Impa Kasanganay is a former UFC fighter with a pretty impressive portfolio.
Marthin Hamlet has never won against such a good fighter as Kasanganay.
Marthin Hamlet vs. Impa Kasanganay is a 2023 PFL Light Heavyweight semifinal duel, which will decide which of these two will get to fight for the $1,000,000 prize in December.
---
How to Watch
When: Friday, August 4, 2023, at 9:00 p.m ET
Where: Boeing Center at Tech Port, San Antonio, Texas
How to Watch: ESPN
---
Odds
---
Fight Preview
Marthin Hamlet's fighting nickname is "The Dark Horse" which seems more than suitable in the 2023 PFL season. He's not considered a major candidate for the $1M prize, but the fact that he did qualify for the semifinals is proof that he's one hell of a fighter.
The Norwegian fighter is 12-4 overall, with two wins in the regular season of this year's PFL Light Heavyweight tournament – versus Mohammad Fakhreddine (submission) and Sam Kei (decision).
READ ALSO: UFC on ESPN 50: Sandhagen vs. Font Predictions, Fight Card, and Odds (Aug 5)
The problem for Hamlet is that he's now squaring off against a guy who is way, way better than either of those. The man in question is Impa Kasanganay, a two-time Dana White Contender Series participant who also fought in the UFC.
Kasanganay is 13-3 overall, with plenty of weapons in his arsenal. He tends to land a huge volume of strikes in every fight (4.96 significant strikes per minute was his UFC average). Plus, his takedown defense is superb, and he moves really fast in the cage, meaning that it's very hard to get him down to the ground.
---
Hamlet vs. Kasanganay Prediction
We think Impa Kasanganay will dominate this fight from the very start. He's going to land just enough strikes to win the decision, while not risking getting finished by the Norwegian fighter.
Free Pick: